First of all I want to thank each of you for tolerating my recent series of columns detailing various pizzas we created on the pellet-smoker stone-pizza oven attachment.
Honestly I have received more feedback on these articles from both clients and readers of this column than any other topic I have written about. Everyone loves pizza. The most controversial pizza recipe has been the mashed potato pizza, but in today's world that sort of "controversy" is a fun blessing. Today, we are going to talk some pasta.
If you are regular readers of this column you know that in addition to outdoor smoking and grilling, homemade pasta is also a culinary obsession of ours. While we do on occasion resort to dried and boxed "supermarket pasta," we do it as a time-saver and frankly, not very often.
If we are making a pasta dish and we have some time, our 25-year-old pasta machine comes out. Until you have eaten fresh, homemade pasta you haven't experienced a truly authentic pasta dish. Today's dish uses a small Italian dumpling called cavatelli. The good news is that in this case you don't even need a pasta maker. You can use the back end of a fork or to be totally legit, you can buy a small gnocchi board to make the pasta.
Cavatelli is a very small pasta that has ridges that are formed as you press and roll a small piece of pasta dough along the back of a fork or on the gnocchi board. The end shape and texture is perfect for holding the perfect amount of sauce on every bite.
We used 00 (double zero) Italian flour which is milled finer than normal flour. If you can't find that locally you can order it online, or you can substitute bread flour. While I don't have space in today's column to explain the making of the pasta (we will cover different pastas in a future column), I can report that the making of the cavatelli is easy once you get the hang of it.
There are a lot of tutorial videos online that show you how to make it. The bonus is that making this pasta is both fun and therapeutic. This recipe comes from "Essentials of Classic Italian Cooking" written by Marcella Hazan. I've tweaked the recipe slightly with the amounts and the addition of nutmeg. If you want to immerse yourself in authentic Italian cuisine, get this book. Let's get started on this quick and easy recipe that serves four people.
Ingredients
1 lb. of frozen or fresh baby peas
1⁄3 lb. of thickly sliced deli bacon
1⁄3 lb. ricotta cheese
1½ Tbs of unsalted butter — room temperature
Lots of shredded parmesan cheese
1 lb of cavatelli pasta (or your favorite pasta) Salt and pepper to taste
¼ tsp of freshly ground nutmeg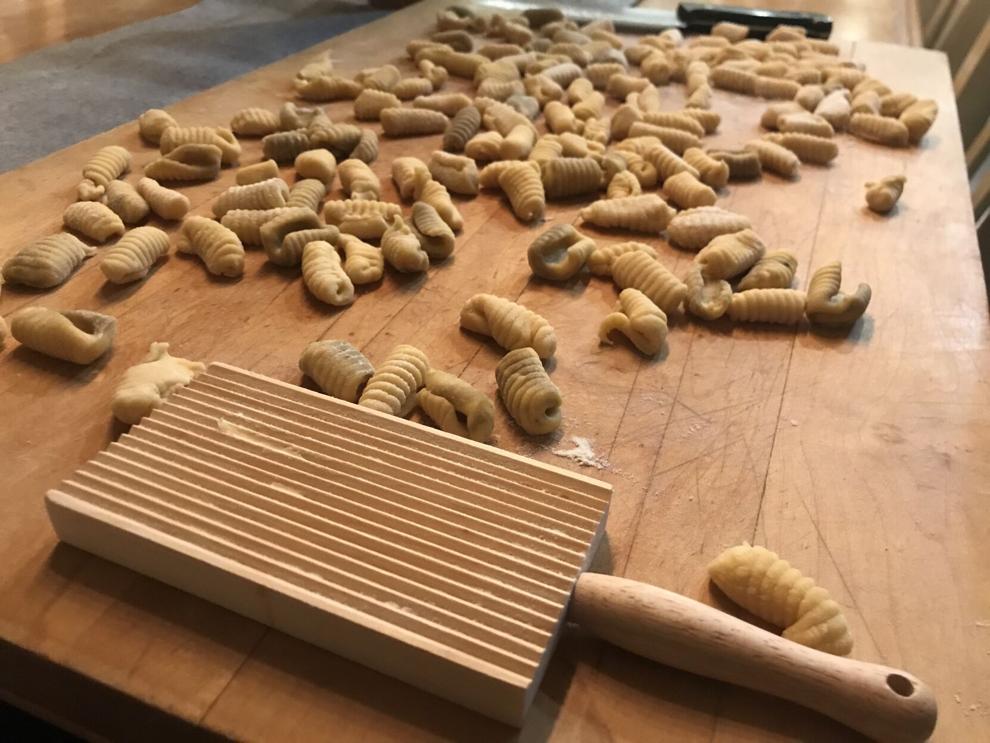 First, cut the bacon into fairly small pieces. Over medium-high heat, cook the bacon until it almost becomes crisp. There should still be a little give to the bacon. You don't want breakfast-crispy bacon. Now remove all but a couple tablespoons of the bacon grease. Add the peas to the bacon as well as the nutmeg. Stir and then lower the heat to low and put a lid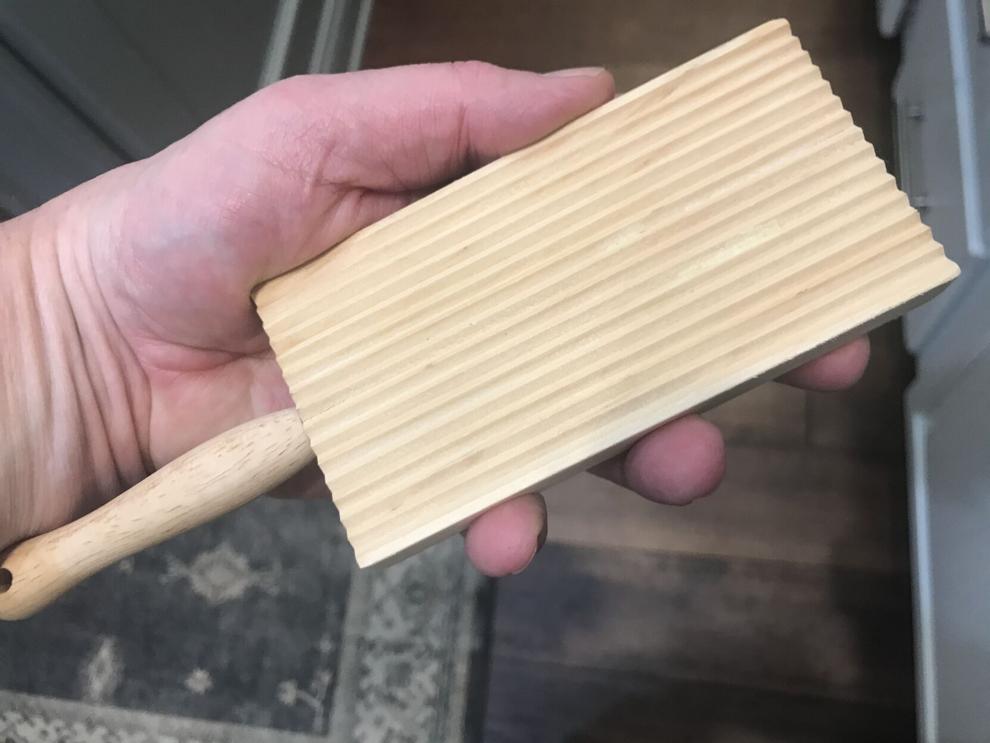 on the skillet. If it keeps bubbling you can turn the heat off. We just want to warm the peas through.
Place the ricotta, 1⁄3 cup of parmesan cheese and the butter in a large serving bowl. Cook the pasta in boiling and salted water. If using homemade cavatelli, cook until the pasta floats, then cook another three to four minutes depending on how thick your pieces of cavatelli are.
Drain the pasta and pour it (the pasta, not the water) over the cheese and butter. Mix until all is incorporated. Now add the bacon and peas mixture. Stir again and serve with a bit more grated parmesan, fresh ground black pepper, salt to taste (you may not need any due to the bacon) and garnish with fresh parsley. Enjoy!