CHARLESTOWN — After years of battling to keep their land and their homes, the remaining property owners in Pleasant Ridge are banding together, forming a five-year strategic plan.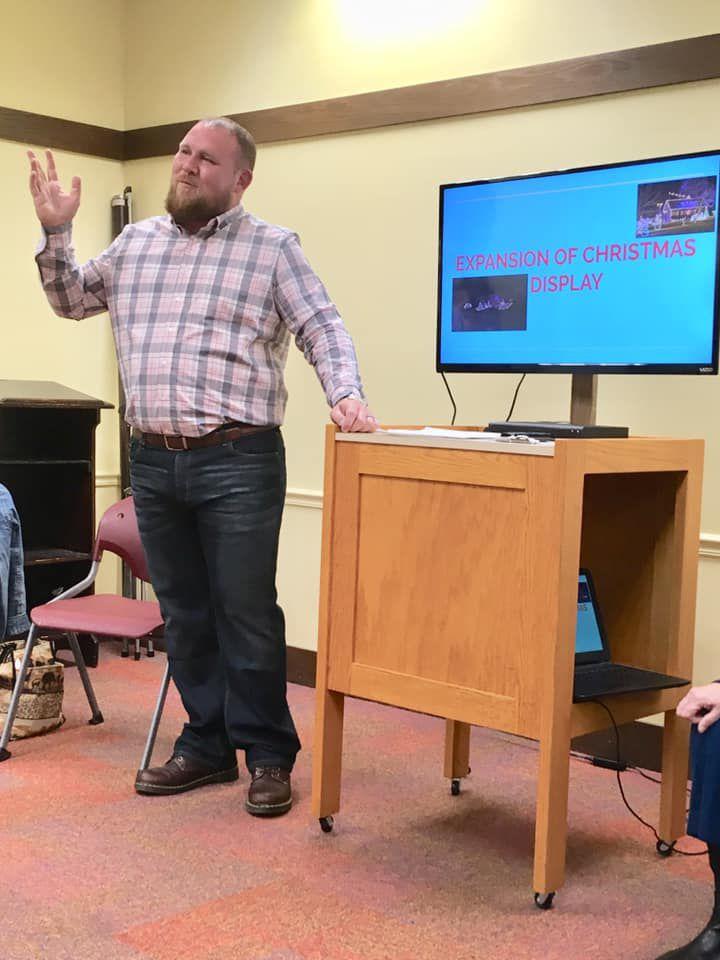 "This is a solid plan for our solid future," said Josh Craven, president of the Pleasant Ridge Neighborhood Association. "We've had a rocky road. We've been up and down for the past year or so. It hasn't been the greatest of times. There's been people who have said we were doomed for failure. But a lot of us kept the hope. I've always used the slogan, trust the process … I told everyone this is not going to be fun, but in the end there will be something for everybody."
Wednesday night, Craven met in a room filled with nearly 40 neighborhoods as well as a few community members to talk about a plan for the future – a plan created using ideas submitted from residents.
"These next five years will be filled with happiness, joy and owning our neighborhood," Craven told the group. "We will continue to give everyone a voice in what goes on in our neighborhood."
The plan included offering scholarships to Charlestown High School seniors, starting with the class of 2021, and offering many services to Pleasant Ridge residents, such as free gutter cleaning, as part of the Advanced Beautification Committee, led by Melissa Crawford.
"We will either have a volunteer do that or we will hire someone for you," Crawford said of the gutter cleaning. "This is a major benefit for those who aren't able to financially or physically do it themselves."
The big finale was Craven announcing plans to purchase property and build a shelter house and community garden that will also have a shed with gardening tools for residents. Residents asked if he will indeed be able to purchase a lot. Craven said although more than 200 of the total 354 lots have already been purchased by developer John Neace, he was confident in his plan.
"We'll get a lot. I have faith in it," Craven said, adding that everything he is proposing is within what is allowed by the city without needing prior approval.
The new initiatives are being funded, in part, through neighborhood association dues and fundraisers. Craven said this plan marks a turning point for the neighborhood.
"These past years have been filled with craziness, lawsuits, craziness and lawsuits," Craven said. "I didn't work for five years … to just be considered someone who lives on the hill, fighting a losing battle, fighting the inevitable. This program is designed to tell people, hey we're moving on… we're steering this thing and this is where we're going. We want to take pride in our neighborhood and we care about Charlestown."
In a civil lawsuit between the neighborhood association and the City of Charlestown, the neighborhood association alleges that the city had unfairly imposed property code violations on a property the association owns while not fining developer Neace, who was purchasing homes from landlords at $10,000 a piece. The case will be heard in court on Nov. 12.
Melanie Benit, with the Institute for Justice, was also at the meeting to provide an update to residents.
"I know the past five years have been extraordinarily difficult for everyone. Things like this five-for-five plan and the revitalization and dedication you have given to Charlestown is paying off," Benit said. "This [trial] will create an opportunity for people to tell their stories… we want to show the judge that you are Ridge strong. Together we will win this case."
Benit encouraged all residents to show up to court to show their support for their neighborhood.
Craven said he hopes Wednesday's meeting has a lasting impact on the residents.
"I hope it builds morale. I hope it builds the ability for those within the neighborhood to see we have some kind of path. The path has always been save your home. I'm past that. We're all past that," Craven said. "In our mind, we're not going to lose our houses … I've said this for five years, I've never lost sleep over losing my house and I wish everyone else would do the same."
Residents said they liked the ideas presented.
"It's nice. I liked it. I think they have a lot of great ideas," resident Dianna Griffin said. "If they can get a lot of the community to work with them, I think it will definitely work out."
"I like the whole thing," Julia Bettler, another resident, said. "They listened to what people wanted.
Many also said they feel strongly the neighborhood will win in court.
"We've mastered a lot of storms, but it's the community coming together for one common cause," said Carry Craven. "We're not giving up. We're not going to give up. I believe we are going to win. I really do."
— Reporter Aprile Rickert contributed to this story.