JEFFERSONVILLE — Mayor Mike Moore pointed to a field along Charlestown-Jeffersonville Pike on Wednesday and proclaimed there will be a future for the former farm land.
"There's going to be a new crop growing here," the Jeffersonville mayor said. "It's houses."
So far, the yield has been overwhelming. Since 2012, more than 1,400 homes have been built in the area, Moore said.
With that growth comes a price. The narrow road has experienced a doubling in traffic count since new subdivisions began sprouting, and as a result, the city is set to roll out a $17-million improvement effort that will include additional turning lanes, sidewalks, and curb and gutter work.
But the changes won't happen overnight or even this year. The plan announced by Moore during a news conference calls for a five-year timeline with construction not slated to begin until 2024.
"Saying you want to widen the road sounds like a simple project," Moore said. "This is a massive project."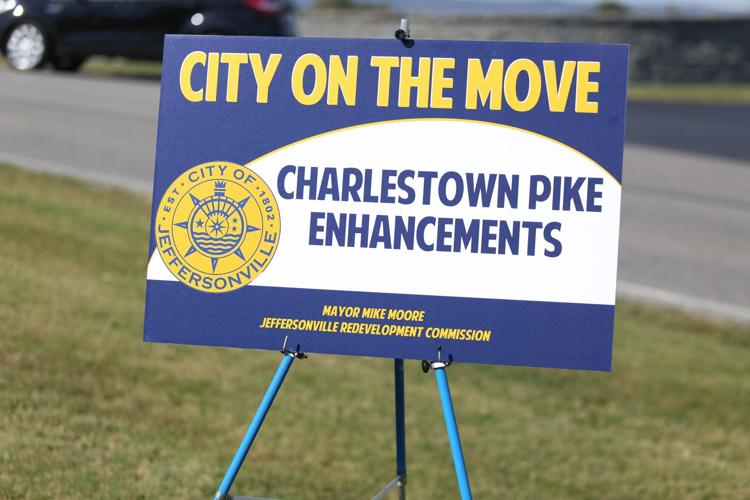 About 3.5 miles of roadway will be upgraded through the project, stretching from Holmans Lane to Salem-Noble Road. Jeffersonville also plans to improve Utica-Sellersburg Road between Ind. 62 and Charlestown Pike as part of the effort.
The project, if ultimately approved through the Jeffersonville Redevelopment Commission and Jeffersonville City Council, will be enabled through a tax-increment financing bond.
Moore said that's good news for all city residents.
"We're going to build this project and it's not going to have any impact on the taxes that you pay," Moore said.
"We're building this road with the TIF dollars collected on all of the new businesses that have come to Jeffersonville."
The redevelopment commission received a status review of its TIF districts in the summer. The analysis was that TIF dollars are strong in Jeffersonville and are likely to continue to be a solid funding source for infrastructure improvements.
"We get very high-caliber people to look at those numbers to make sure, and yes, everything is fitting into place and we also have a pretty good cushion on top of that," said Scott Hawkins, president of the redevelopment commission and a council member.
Hawkins is an at-large councilman, but during his first term, he represented the Charlestown-Jeffersonville Pike area.
"Every meeting we had, everyone was concerned about this road," he said. "This is a dangerous road."
The plan likely will be considered by the redevelopment commission this month. Moore said he anticipates unanimous support by the commission and believes the city council is also on board with the improvements.
Hawkins said he will support it.
"It's a win for everybody, even though it comes at a very high price," he said.
According to the timeline announced by Moore, design will begin in early 2021 followed by right-of-way and land acquisition in 2022. Utility relocation will follow in 2023 with construction slated to begin in 2024 and conclude in 2025.
Addressing a question about traffic concerns while the project is ongoing, Moore said there will be some adjustments but added that's part of improving a roadway.
"There's no project you're going to do that's not going to come with some kind of detour," he said.
Moore said Jeffersonville's strong financial position allows it to take on a project like the Charlestown-Jeffersonville Pike improvements.
"At a time when a lot of cities are rolling back and looking for ways to cut costs, we see an opportunity," he said.