JEFFERSONVILLE — Alan Muncy calls his business approach "disruptive innovation."
At the newly opened headquarters for his arc development company in downtown Jeffersonville, that philosophy is on full display.
Big-time.
"We want to set the standard for a new way of looking at the same thing," Muncy said Wednesday inside his 22,000-square-foot, orange-hued homage to corporate creativity smack dab in the heart of his hometown.
No detail was left unchecked, no expense was spared in the nearly $3 million facility that replaces the former Horner Novelty Building on Spring Street, and disrupts the status quo of uninspiring, cubicle-mired workplaces along the way.
"The goal is to show there's a different way to build an office," Muncy said. "There's a different type of environment today than yesterday."
At arc, it's an entirely different world.
Here are some of the highlights: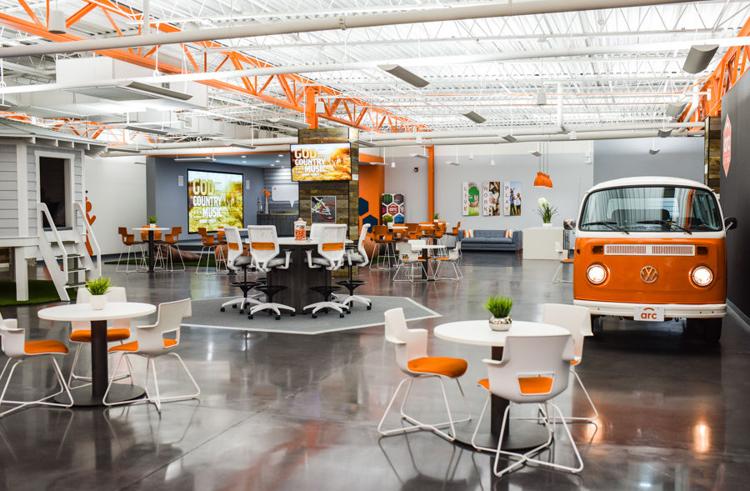 OFFICE SPACE: Every office in the building is wrapped in glass, and all are located on the east end of the building. Outside the offices are custom-made fake trees made with real wood with hand-placed leaves, situated atop blankets of fake green grass. Each office is tailored to the individual's responsibility, with automated furniture (a desk can be raised with the touch of a finger, for example). Custom-cut and back-painted glass message boards adorn the outside of each office. Custom-made whiteboards, in the shape of idea bubbles, inside each office inspire creative thoughts. (Inside Muncy's office is a doghouse and his 1971 Suzuki GT 500 two-stroke motorcycle, painted with orange highlights, of course, for display purposes only.)
"I wanted them to have a comfortable environment," Muncy said of his 12 employees who work out of the office (arc has 19 total). "They're in glass because I don't want them to feel enclosed or boxed in. I wanted them to have ownership. The space belongs to them."
CONFERENCE ROOM: The centerpiece of the conference room is a 9-foot-by-9-foot life-size "Muncyopoly" table patterned after the iconic Monopoly board game. Each real estate space, instead of Park Place, for instance, is named after arc-owned property. The Community Chest and Chance cards are life-size, too, with company slogans or tidbits about arc employees written on each. Instead of going to jail, players go to "Alan's office." Even the chairs surrounding the table are color-coded to match the spaces on the game. The table was built inside the room because it was too big to bring in from the outside. Steve Jobs' "Crazy Ones" quote is stenciled on a wall.
"I don't sleep much. We had no set plans for this other than floor plans when we first started," Muncy said of his inspiration for the headquarters, which took four months to build. "Everything in here was ad-libbed."
PRESENTATION AREA: In a corner of the office is the presentation area, with a 75-inch touchscreen smart board on one wall that links to a 12-foot video wall on another. Between the two is an elevated stage for addressing a group of people (University of Louisville officials were there recently to discuss a project). Anything on the touchscreen can be broadcast onto the video board, allowing participants to view content in real-time, together. Afterward, whatever was presented on the smartboard can be sent via email. Everything in the headquarters is wireless.
"We don't feel like we have any limitations here, and if this office doesn't express that, then we didn't do our job," Muncy said. "Any idea is welcome in this office."
THE LOUNGE: Picture dark gray walls. Exposed brick. Eighteen whiskey barrels — Jack Daniels, Evan Williams and Wild Turkey — stacked high on one wall, the odor of the alcohol still detectable. Aviator-themed brown leather chairs made of aircraft aluminum. A custom-made in-house bourbon sign. And you'll have the 1,800-square-foot lounge, complete with a commercial bar that "makes for a pretty nice environment," Muncy said. Opposite the bar on the other end of the lounge is a top-of-the-line Trackman golf simulator with a 16-foot-by-9-foot full aspect ratio screen, the exact set-up used by top PGA Tour pros.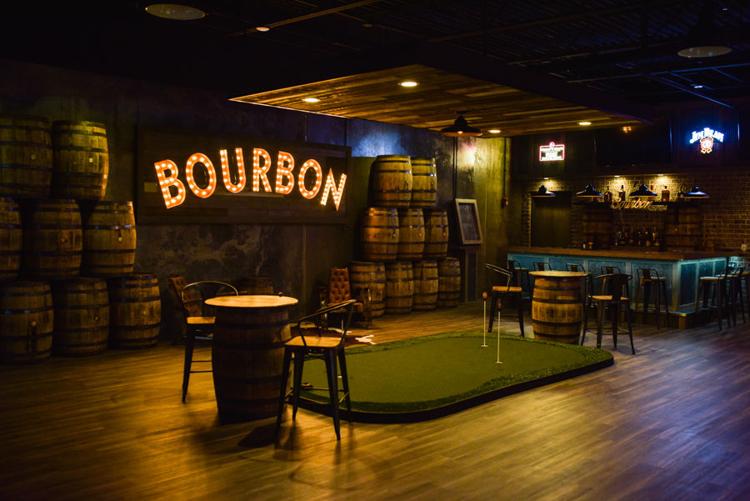 MISCELLANEOUS: Reclaimed barnwood is spotted throughout the office. An old Volkswagen bus has been repurposed into a meeting space, complete with Bluetooth speakers and revolving chairs. A basketball court that extends to the three-point line features a refurbished — and workable — scoreboard from River Valley Middle School. The basketball court is next to a fitness center with free weights and treadmills. Nearby is the hubzone, an elevated treehouse with Xboxes, a 55-inch flatscreen TV and board games.
"I'm hoping to spur creativity. That's my goal with this," Muncy said. "I want to open people's minds to this type of environment."
The new facility has already begun to generate buzz.
Next week a group from the Kentucky Science Center will visit arc's office to hear Muncy's thoughts about branding and marketing. After all, the new headquarters is a giant billboard for arc's ingenuity.
Color Jeffersonville Mayor Mike Moore impressed.
"I'm proud to have it in Jeffersonville," he said. "Obviously Alan Muncy is proud of his hometown and wants to invest his money here. I love the fact that people take so much value in our city. Alan's built an incredible office space, and personal playground."
The tone for the office is set outside with the words "live, work, play" — a philosophy Muncy has taken to heart. With the completion of arc's headquarters Muncy has invested nearly $24 million in downtown Jeffersonville projects.
"I love being able to put it in my hometown," he said of the office. "I just hope that Jeff can appreciate it. That I chose to make that investment here."