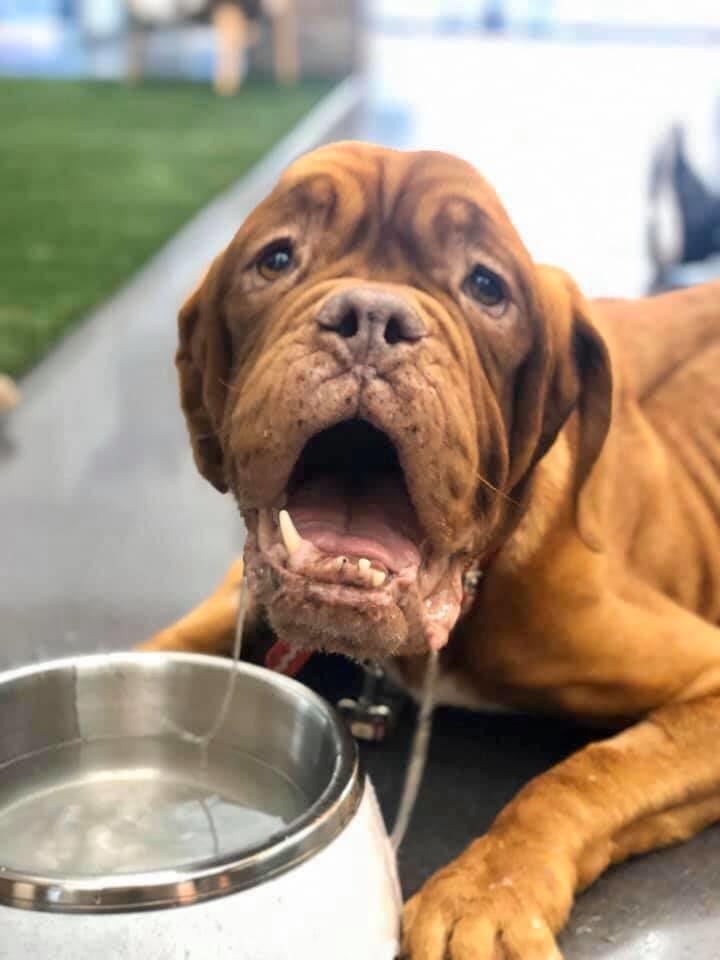 Onlookers watched the dog that walked into a Jeffersonville courtroom on Saturday, trying to figure out her situation. Ribs could be seen protruding from Mae, the 5-year-old French mastiff with chestnut fur. Her underbite revealed only several sparse teeth.
Judging by her looks, life hasn't been easy on Mae.
And yet, those who meet the pup can't help but smile.
The person with the biggest grin, Southern Indiana Animal Rescue foster mom Elizabeth Starck, brought Mae to the courtroom. The annual event allows children to "adopt" their newly acquired toys, pledging to love and care for them. In front of Clark County Judge Vicki Carmichael, the 36-year-old Starck promised to continue doing both — and more — for Mae. And they left the court a judge-ordained family.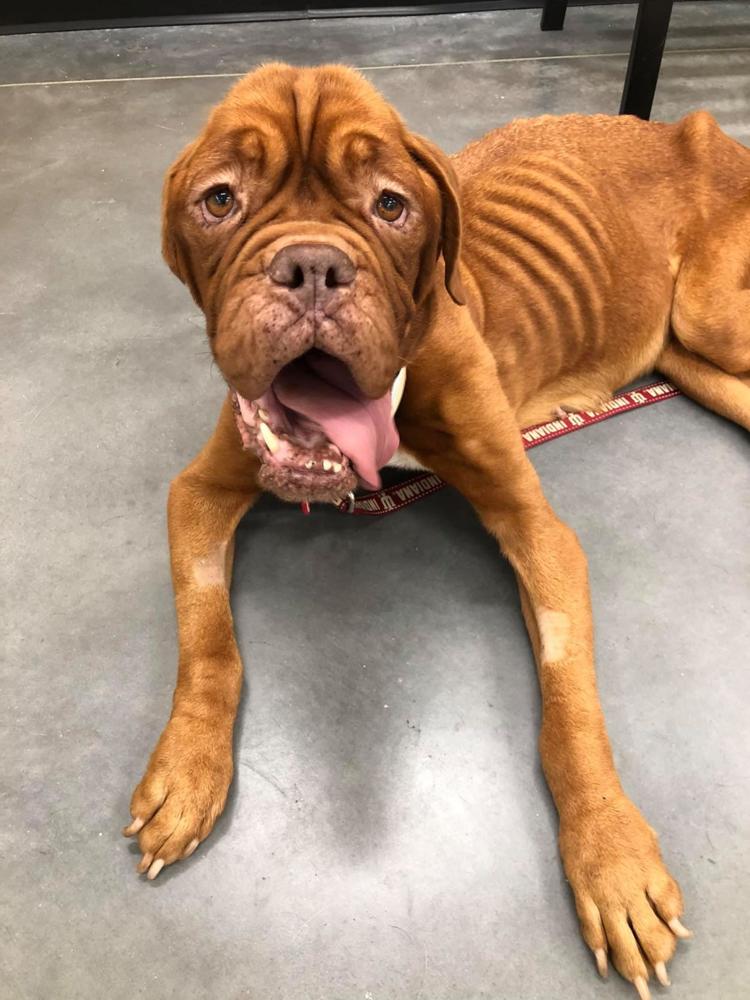 Here Mae will spend her last days.
Mae has terminal cancer. Starck didn't know this when she picked up the stray from an area animal shelter on Oct. 29th of this year. But it wouldn't have made a difference. Nearing 400 fosters under her belt in the nine years she's been volunteering with the rescue, Starck strives to save as many pups as she can. If she can't, she provides them a safe, comfortable place until their bodies can go no longer.
"I love the old ones. I love the ones that just need a place to go until it is their time," Starck said the day after Christmas, Mae lounging at her feet. "Just knowing whether they are with me a week or for two years… I hope that their time with me is wonderful for them. It changes their life hopefully."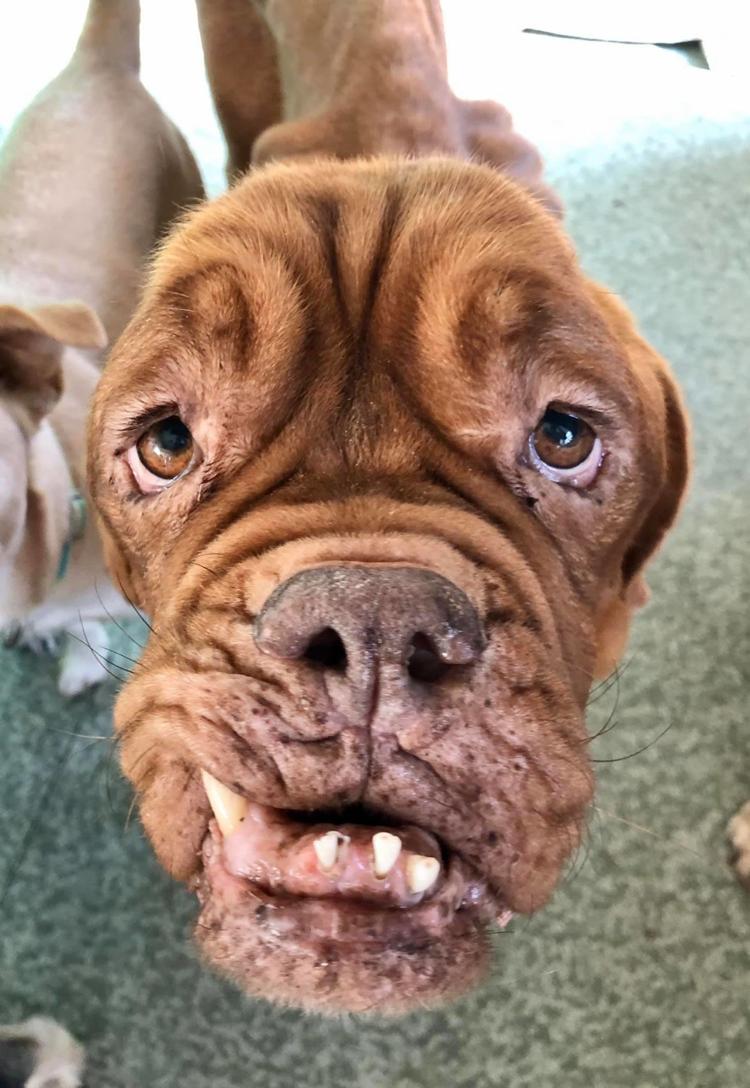 Mae has changed lives, too.
Six weeks ago, the vet gave Mae anywhere from two weeks to two months to live. Since then, thanks to social media updates from Starck and visits throughout the county, the once stray pup and her foster mom have inspired the holiday spirit in the Southern Indiana community.
She's also acquired quite an online fan club.
After reading about Mae's sweet demeanor and colossal eating habits — the underweight canine can eat up to 12 cans a day — folks from as far away as Hawaii donated either money or food to the beautiful beast and the rescue organization she represents. At present, close to 800 cans of wet dog food have come in to help feed the pooch and, when she leaves this world, others like her. Strangers in stores, too, stop and hand the foster mom as much as $100 in honor of the sweet French mastiff.
"You can see the good in people. People really do care," Starck said. "Everyone is looking for that Christmas miracle that she will survive."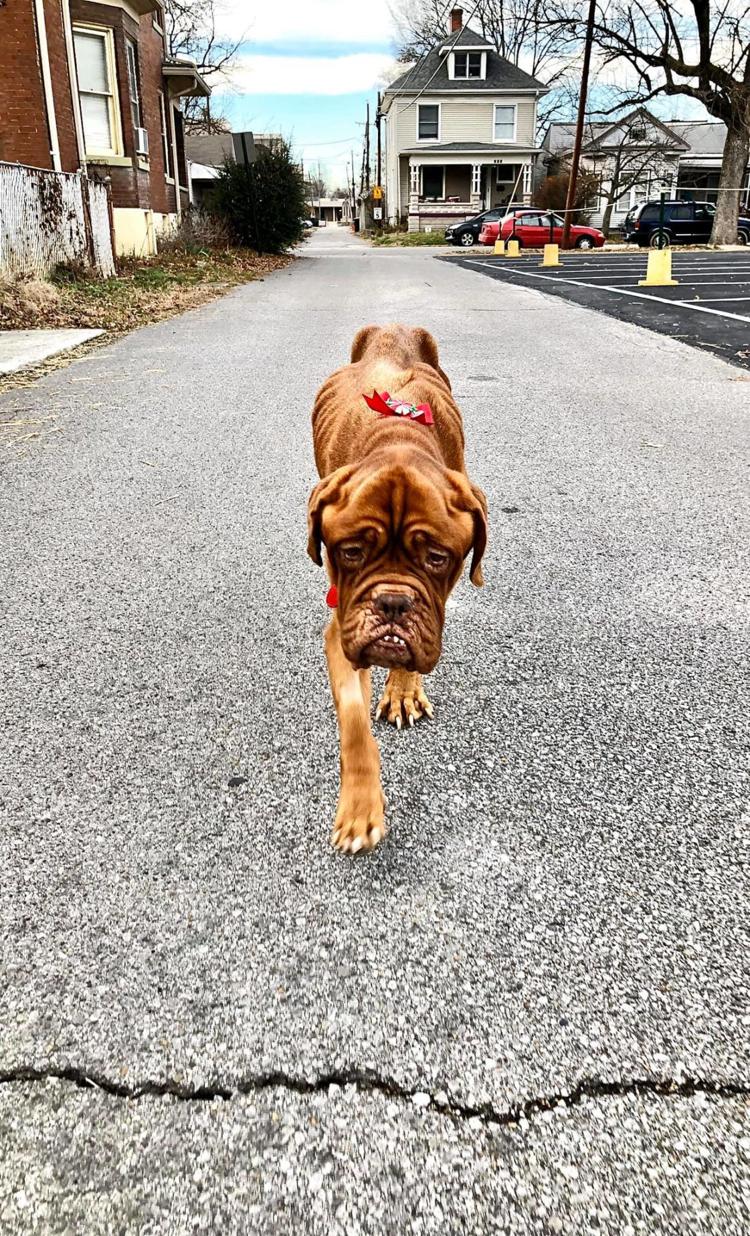 Her mom knows she's not. Still she loves her anyway to the end and beyond.
There's something about Mae that brings out this decency. Maybe it's the way she greets everybody in the room, leaving no one out. Or those sweet eyes that beg for love — and food — as she cherishes both. Or perhaps it's that in her final days, after a life of unknowns, she has found security and peace.
"Her story pulls at people," Starck said. "Mae as a whole is what rescue is — giving somebody a second chance, whether it be a dog or a human."
And isn't that what the holiday season is about?
— Amanda Beam is a columnist in Southern Indiana. Her work has been recognized by the National Society of Newspaper Columnists. The views expressed here are her own.