BORDEN — A Southern Indiana teacher was recently honored as an Indiana Teacher of the Year nominee during College Football Playoff National Championship events.
Joe Oakes, a science and math teacher at Borden High School, was invited to attend Monday's national championship game in Indianapolis, and along with teachers across the country and the state, he participated in events leading up to the football game.
Oakes was one of 18 Indiana teachers honored at the events, as well as other teachers across the country. Last Friday, he went up to Indianapolis with his wife to attend a variety of pre-game activities for teachers.
The events were presented by the 2022 Indianapolis Host Committee and the College Football Playoff (CFP) Foundation. Teachers were treated to a four-night stay in Indianapolis, and they were guests at events such as the Extra Yard 5K and Taste of the Championship.
This is Oakes' 21st year as an educator, and he teaches upper level math, chemistry and physics classes. In 2021, he was named teacher of the year at the school level and district level.
He taught for the first 17 years at Corydon Central High School, and he has taught for the past four years at Borden High School.
In Corydon, he taught math, science and physics classes, and when he moved to Borden, it gave him the opportunity to teach chemistry, which is what he originally wanted to focus on when he went through college, he said.
Oakes said he has never been to a national championship football game. He was among the teachers from across the country holding up the Pac-12 flag on the field during the singing of the national anthem. His wife, Shannon, is also a teacher, and was among the people holding up the giant American flag on the field.
"It was kind of surreal just being on the field," he said. "The way fans reacted and everything during the national anthem was a really neat experience. We were on the field when the national teachers were recognized."
Borden High School Principal Charlie Gardner said for Oakes to be recognized at the national championship events "is a great honor for our area, district and school."
"In Mr. Oakes time here, he's just been a huge asset to us," Gardner said. "He is always willing to go above and beyond."
Gardner said Oakes is focused on the "best interest of the child." During the pandemic, the teacher has helped run the virtual program in the district, and he has adapted his classes to help students when they have to learn from home.
"Mr. Oakes adapted and flipped his classroom approach, and he actually records his lessons and posts online," he said. "If a student is absent or didn't understand what happened in class, they can always go back and watch the lecture. Everything is online for their disposal. He has adapted 100%."
Borden-Henryville Superintendent Johnny Budd said he was excited to see Oakes recognized for the work he has put into his teaching.
"He's a valued member of our staff and a key component of what we feel is the high quality education offered at Borden," he said. "He has an ability to and desire to reach students, and he truly does whatever it takes to make sure kids receive what they need."
Oakes said being able to hold the banner at the game was just the "cherry on top" of his outstanding experience over the past few days.
"They made sure to go out of their way to make us feel special and award the things that we do," Oakes said.
On Friday, he attended a reception at the Indianapolis Artsgarden, and on Saturday, he went to the NCAA Hall of Champions and Conference Center for the Extra Yard for Teachers Summit, an event featuring guest speakers, networking and a reception.
At the teachers summit, he had the opportunity to meet the U.S. Secretary of Education Miguel Cardona. On Sunday, Oakes participated in the Extra Yard for Teachers Day, which included a 5K run and another reception.
Oakes said he simply tries to do his job to the best of his ability, and he doesn't focus on the recognition. But to received the honor of teacher of the year for Borden High School and Borden-Henryville School Corp was "quite rewarding."
"I felt really humbled to receive that," he said. "It's just one of those things — I'm often just worried about doing my job the best I can, and whatever comes that way comes that way, and I'm not too worried about that side of things."
As an educator, it's rewarding to see the students grow, Oakes said.
"I often have them three to four times in their high school careers, and I see them grow as individuals and see them learn. Watching them grow is the reason that I do what I do."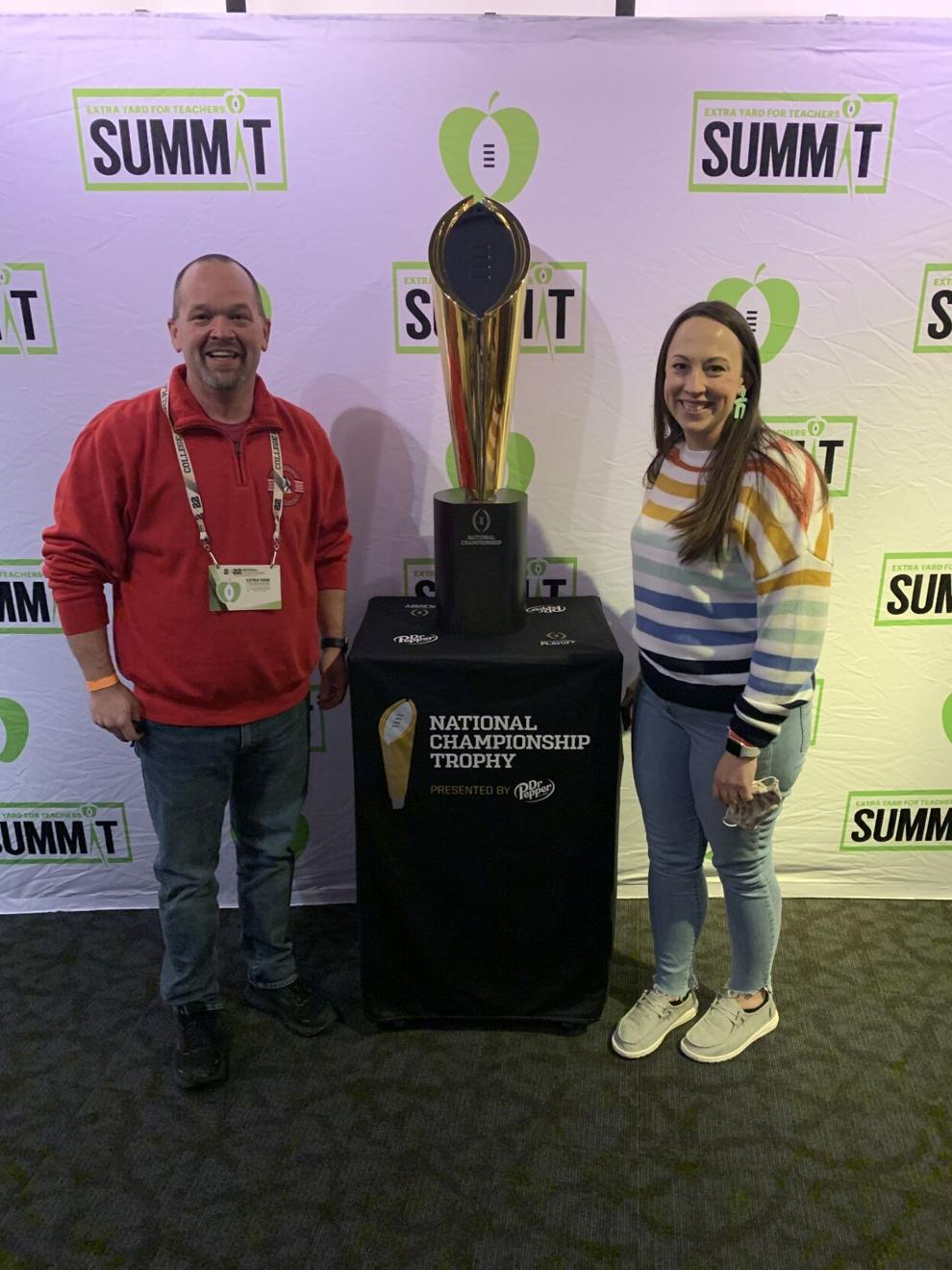 Oakes said teaching at Borden High School has been a "blessing."
"This was just a culmination of that blessing, and it's been an honor to represent our building and corporation and all of our students," he said.