BORDEN — More than a dozen Borden community members and town leaders waited in the brisk wind Tuesday afternoon for a special delivery — the long-awaited walking bridge connecting the existing part of Borden Community Park and the new space being developed.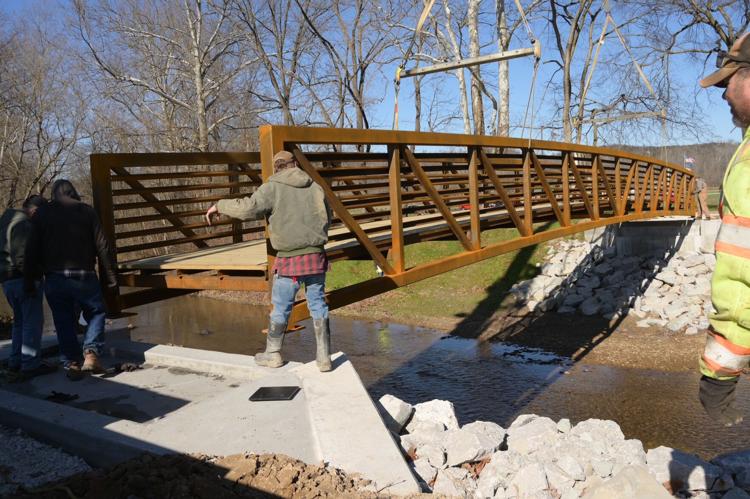 The bridge, a 20-foot-long, 5-foot-wide, 20,000-pound bridge built by Atlanta-based company Bridge Brothers, was shipped across the country in one piece from its origin in Wisconsin. It was placed just before 2 p.m.
"We're very excited about it," Brenna LaDuke, community coordinator said. "When you've worked on something for two, two and-a-half years, it's a big thing."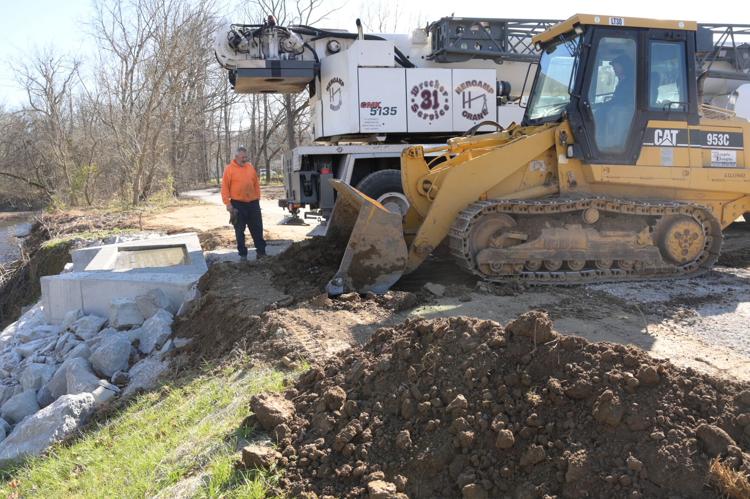 The project, which includes redevelopment to the newer part of the park closer to Indiana 60, was born out of plans laid out in the Borden Comprehensive Plan, ratified several years ago.
It was made possible through a $200,000 matching Land, Water Conservation grant from the Indiana Department of Natural Resources, for which applications began in early 2018. Locally, Borden was gifted $100,000 of their match from an anonymous donations and 14 acres of land donated by the Koetter family,which was equivalent to another $100,000.
"It's a huge project for us, to bring in that much money on one certain project," LaDuke said, adding that they'll be applying for a second round of funding for continued projects.
The project will bring the original 27-acre park, established in 2000, to more than 41 acres. With the bridge in place, the mile-long walking trail can be completed; it's expected to be paved this week with finishing touches including bricking added around the bridge.
"The quality of life is important to everybody out here and we have lot of people that walk that path every day," LaDuke said. "There's a lot of people in the community that are excited about this."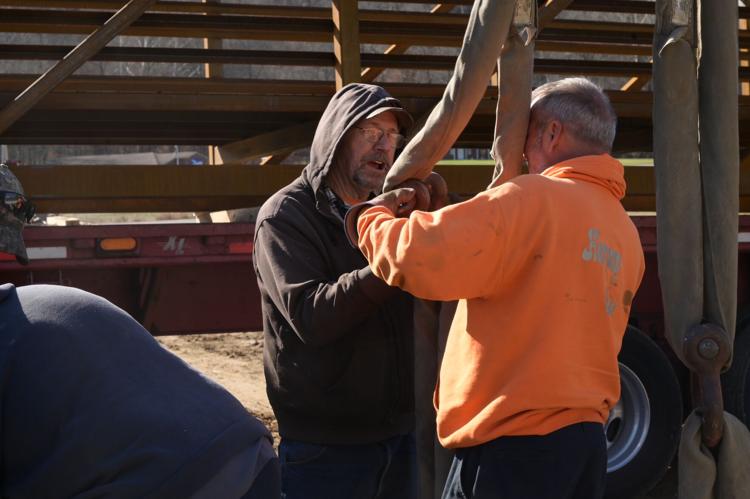 By summer, the town plans to have completed a dog park within the larger community park, and the goal is to finish by spring an amphitheater.
"We want to have a lot of small events at the amphitheater — concerts in the park, movies in the park and be able to rent it out for the school," she said. "Whatever need to be done in the community."
Kevin Akers, who lives across Indiana 60 from the park, said he's glad for the recreational space, which is expected to include more space for softball. He also brings his grandchildren to the park often.
"It's great," Akers said. "It's a really big improvement for the big park we're going to have here when they're done."
Borden Town Council President Paul Brewer, who was there when the bridge was delivered and set in place, said it was a historic moment to see the two sides connected and to kick off the next phase of development at the park.
"It's been a while getting here, but it's a community effort and I think everybody is going to really appreciate it," Brewer said.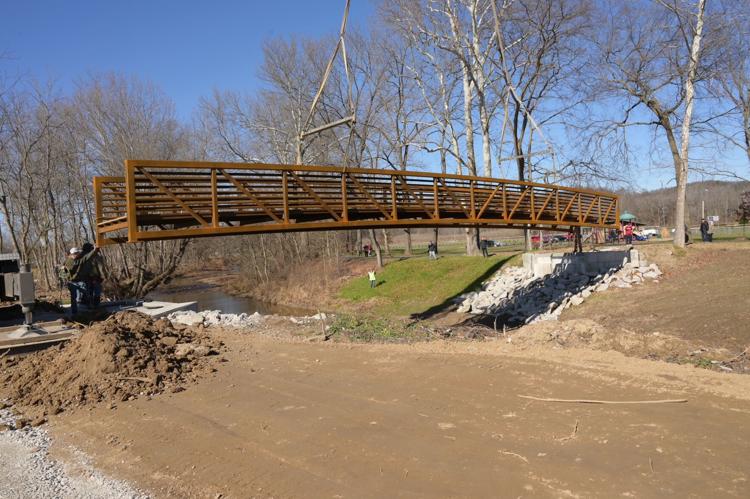 A dedication ceremony for the new bridge is expected to be announced at a later date.