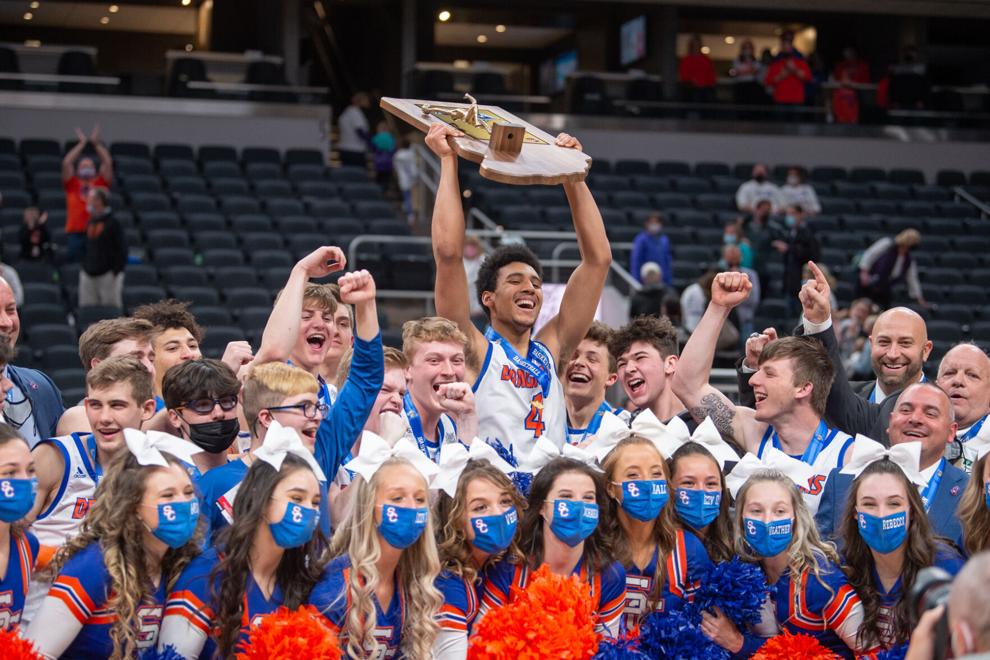 INDIANAPOLIS — As the final seconds ticked off the clock Saturday night, Silver Creek boys' basketball head coach Brandon Hoffman raised his arms and turned back toward his team's bench.
Meanwhile three Silver Creek seniors (Kooper Jacobi, Trey Kaufman-Renn and Isaac Hinton) and two juniors (Trey Schoen and Branden Northern) stood and smiled on the court at Bankers Life Fieldhouse as their teammates on the sideline rushed to chest-bump and hug them.
The Dragons had hung on to beat Leo 50-49 in the Class 3A game of the Indiana High School Athletic Association State Finals, giving Silver Creek its second consecutive championship. The Dragons won the first state title in 2019, then were 25-2 and ranked No. 1 in the state when the tournament was halted by the coronavirus pandemic last season.
"It means a lot. There's a really small percentage of high school players that can say they ended their season with a win in their last game and ended their career with a state championship. I'm considering it a three-peat because we were ranked No. 1 last year," senior Nolan Gilbert, a key reserve for the Dragons, said. "I'm super-happy that I can do it for this town because they're the most important people we could possibly have."
Silver Creek is state champs again. @SCHSBoysBball @newstribscores pic.twitter.com/vSQ2pVqfYi

— Josh Cook (@joshcooknewstri) April 3, 2021
As was the case many times this season, and countless times throughout the past four years, Silver Creek was led by its dynamic duo of Jacobi and Kaufman-Renn.
Jacobi, a 6-foot-7 forward headed to Toledo University, tallied 18 points and 18 rebounds while the 6-9 Kaufman-Renn, a Purdue-signee, collected 13 points, 10 rebounds and four blocked shots.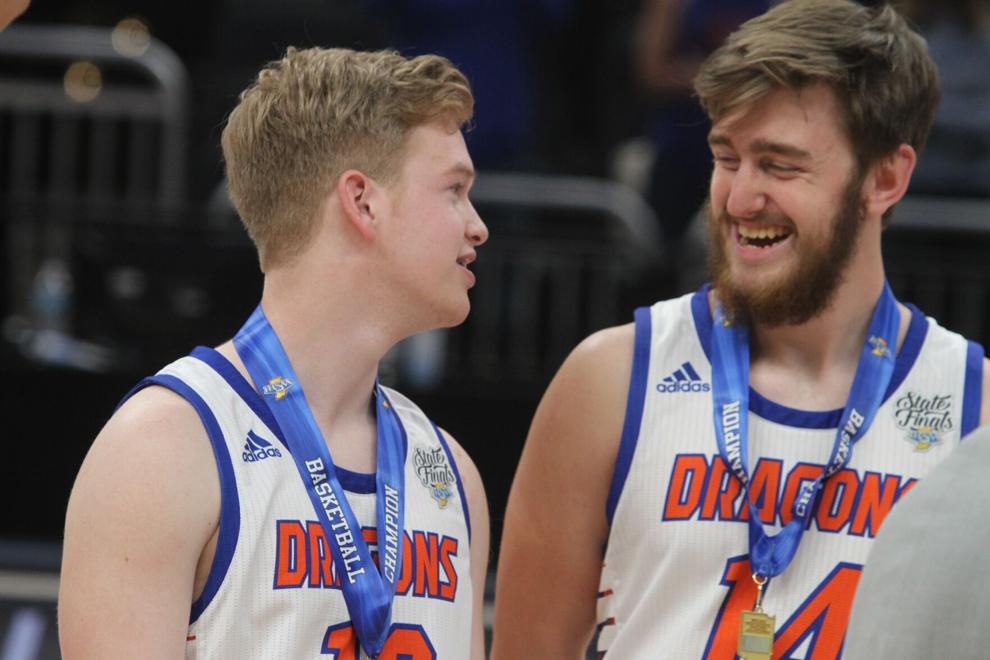 "They've been in our program since (the) third grade. Just seeing them grow up and mature, the way they've carried themselves, their work ethics — we're talking about two Indiana high school basketball legends," Hoffman said. "There's hundreds of coaches in the state that don't get to coach one player like Trey is, or Koop is, and we had two of them in the same class. The Lord has blessed me beyond belief to get to experience this."
During their high school careers, Jacobi and Kaufman-Renn helped Silver Creek to 95 varsity victories, four sectional titles, two regional crowns, two semistate trophies and two state championships.
"There really is (no better way to end it)," Kaufman-Renn said. "Obviously if COVID wouldn't have happened last year we want to say that we would've won it then too. Having two, maybe even three state championships, with the guys that I've grown up around, the coaches I love, the guys I love, there's nothing better than that."
But Jacobi and Kaufman-Renn didn't do it alone. Hinton had seven points, hitting a couple of timely 3-pointers, to go along with four rebounds and two assists. Schoen and Northern scored six points apiece while Northern dished out four assists. Gilbert and freshman Hayden Garten also provided valuable minutes off the bench.
"Everybody contributed, and that was one of the things we knew we had to do at the beginning of the season," Kaufman-Renn said. "It wasn't going to be us — me, Kooper and Branden — that's going to win a state championship, it was going to be everybody."
But like several of Silver Creek's postseason games, Saturday night's state final came down to the end.
The Dragons led the Lions by 10 (46-36) with 5 minutes to play before Leo rallied to score 11 of the next 12 points and pull within one, as Silver Creek suffered through some turnovers and missed free throws.
"We blew a lead there —which coach didn't like, which no one liked and wasn't best-case scenario — but we pulled it out," Kaufman-Renn said. "The regional games were the same way, we kind of blew a lead, but we pulled it out in the end and that's what matters."
"A lot of the coaches were talking about heart problems and stuff, keeping the games so close through the tournament," Gilbert added. "I'm just glad we could finish it the way we wanted to."
In addition to becoming the third school to ever achieve the girls-boys state title sweep in the same season (the SCHS girls' team won its first title Feb. 27), Silver Creek also became the 18th program to win consecutive state titles (after Fort Wayne Blackhawk Christian was the 17th earlier in the day).
"We had a great team, obviously," Hinton said. "Hopefully now we'll be known as one of the better teams ever."