CHARLESTOWN — The youngest and newest member of the Charlestown City Police Department — an 8-week-old golden Labrador K-9 puppy — bounded into town last week ready to do her best for the department, students and community.
Hurley, when she's finished with training, will serve alongside Charlestown Police School Resource Officer and K-9 handler Adam Clark, who works at both Charlestown Middle School and Jonathan Jennings Elementary School. She's named after fallen Charleston Sgt. Ben Hurley Bertram, who lost his life while in pursuit of a suspect in December. Bertram's mother also carries the same middle name.
Charlestown Police Chief Keith McDonald said the new addition is a great way to both help continue the connection between students and the officers, and to carry on Bertram's legacy in the community. He was well-known as an excellent K-9 handler in a department rich with the tradition, and the two had talked before his death about how to expand the program.
"I think this is a perfect way to do that," McDonald said at a ceremony Wednesday at Charlestown Middle School. "We can connect with our youth even more, and [she] can become a mascot to both schools. The kids can see the dog progress not only from [her] age, but training standpoint.
"And with her being so young, it's going to break down any barriers [students] may have. They certainly have a lot of challenges."
Hurley will be trained in narcotics and will eventually help Officer Clark with the D.A.R.E programs at both schools, along with going where needed in potential drug cases.
The department has never gotten a new K-9-in-training at such a young age — usually they get dogs that are about a year old — and McDonald recognizes there may be challenges, but he's confident in her background and what she's already shown. Hurley comes to Indiana by way of Trial by Jury Kennels, of Kansas City, Mo.
"We start with good genetics, a good breeding program," he said. "We think she's got those good attributes that we look for — those hunt drives — that we think she will work out really nice. She's got that spunky attitude already; she's got that swagger."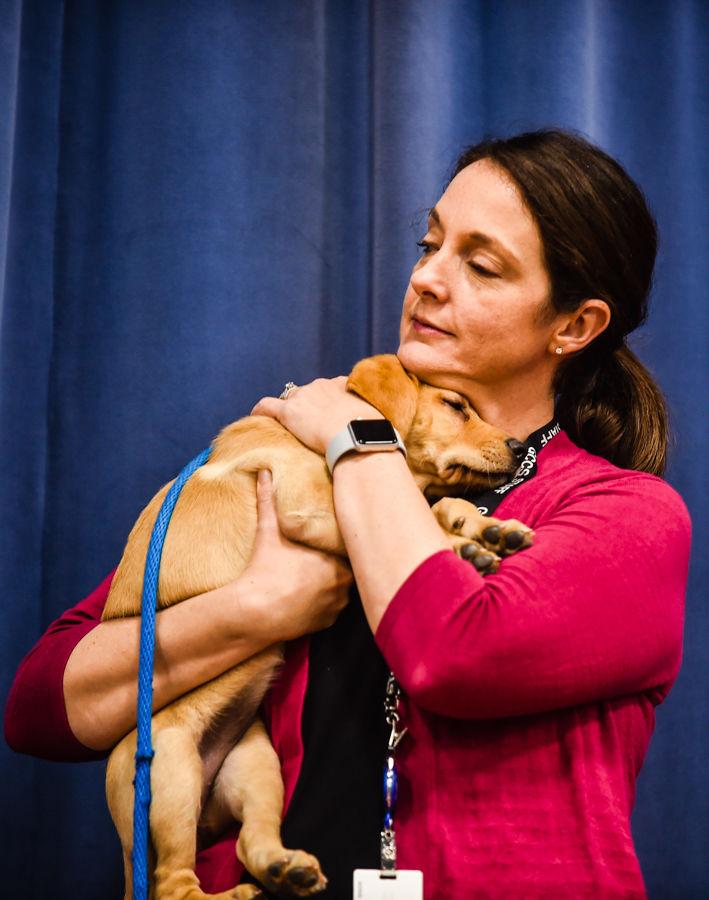 Karen Wesely, principal at Charlestown Middle School, said the puppy is a welcome addition to the school — as both a way to remember Sgt. Bertram and a calming presence to students.
"Having Hurley here is emotional, it's exciting and it's important," she said. "We were thrilled to be a little part of how they're going to honor Ben's memory ... [and] a lot of our kids are going to benefit just from having this animal in the building — from the safety standpoint and to be able to calm anxieties.
"It's immeasurable how we're going to be able to help our kids with this program."
Officer Clark said he's humbled to be able to continue the tradition with this puppy, keeping up with what Bertram had helped strengthen.
"K-9 Hurley, what she means to me is honor and dedication," Clark said. "I plan on giving the same dedication to my profession as a K-9 handler, trainer and officer as Sgt. Bertram did."