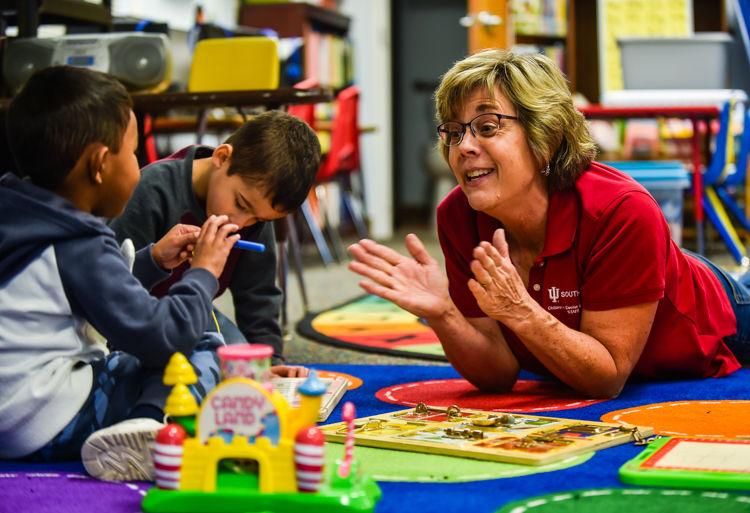 INDIANA — Tabitha Walker worked in the banking industry for three years and loved it. Her husband, CJ, works at Ford. CJ worked a chaotic schedule typically required in the manufacturing field and, with no family in the area to lend a hand, Tabitha decided to stay home with her children.
"It was extremely hard to go from two incomes to one. But we made the decision due to paying more in daycare and it wasn't going to be worth it," she said.
She stayed home for a few years and when she did go back to work, it was hard to find a job and care for children. Now she works as a teacher's aide. Her income would barely have covered the cost of a private babysitter for five hours and all the daycares were full and had waitlists, but Tabitha got lucky and a friend recommended an in-home babysitter who charges just $30 a day. That was the lowest cost Walker could find and the reason why she's been able to go back to work.
Walker's family isn't alone in their struggle with child care. There are nearly 400,000 working parents with children under the age of 5 in the Hoosier state. There has always been the narrative that it's simply cheaper and easier for one parent to stay home while the other brings in income until their children are school-aged. What hasn't been known is the financial toll of that arrangement, and what the overall lack of affordable and available child care has on the economy – until now.
A study released last month revealed that inadequate early childhood education costs Indiana companies, taxpayers and the economy big time. Conducted by Early Learning Indiana, a nonprofit dedicated to early childhood education, and the Indiana University Public Policy Institute, the study takes a deep dive into early childhood education and child care by looking at long-term costs and possible solutions to a statewide problem.
BILLIONS LOST
A major issue, according to the study, is simply the lack of child care. In 2015, there were 19.9 licensed child care slots available per 100 children under age 6. In 2016, 5,290 children were on the waiting list for child care vouchers and there's a projected deficit of more than 8,000 early childhood education workers.
Another issue is the cost of child care. According to the study, a family composed of a single parent with one child living in poverty would have to pay 54 percent of their income to child care in 2016.
Finally, incompatibility of standard child care hours and shifts other than first proves a challenge.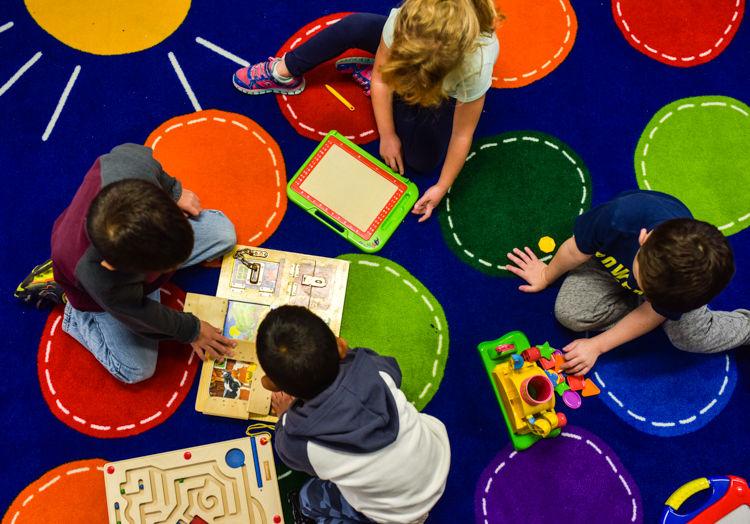 "We've heard stories over and over again in manufacturing where young people who may have to work second or third [shift], they have a child because they're younger and childbearing age, and then they can't find child care at night, can't find child care in the evenings, so they've left the workforce and that hurts business," said Jeff Harris, director of Public Affairs for Early Learning Indiana.
Those stories are what led the nonprofit to create the study to begin with; the effect early childhood education has on an individual's education and future career is relatively well-studied, but how the lack of child care affects the workforce and economy in the short term hasn't been.
"When you calculate all of the challenges on the workforce, it's hard not to include some of the social issues such as child care, transportation, addiction issues. It's hard not to mention those and it's hard to quantify those," said Wendy Dant Chesser, president of One Southern Indiana.
According to the study, Indiana employers lose $1.8 billion each year due to child care-related absenteeism and turnover. The study found that the average employee misses 13.3 days of work a year due to child care issues, which results in companies either paying another employee overtime, paying a temporary worker or suffering reductions in productivity. Furthermore, 2.8 percent of working parents resign to tend to their children, which means the employer must use resources to find, hire and train a replacement.
When it comes to the economy, $1.1 billion is lost each year. That number is calculated using absenteeism and turnover. The loss of workers' earnings "cuts into spending, which affects business and the state economy," said Harris.
"If you don't have a job, you're not spending money, and that hurts the economy as well," he said.
Finally, almost $119 million is lost in Indiana tax revenue, from a decline in parents earning money as a result of absences or leaving the workforce.
"People don't always think of early education, don't think of it as an economic issue, makes the case quite clearly that it is," Harris said.
FAMILY FRIENDLY COMPANIES
While there are obvious shortfalls made evident by the study, some companies in the state are innovators in their approach.
Borshoff, an advertising, public relations and brand development firm in Indianapolis, allows new parents to bring their child to work until they are 6 months old.
Karen Alter, a principal of the company, was an employee when the program first started and her son, Matthew, was the second to go through it.
"It was more or less a really cool benefit a small company could offer," Alter said. "We are a women-owned business. We thought it would make sense to allow mothers or fathers it they want their baby with them, it may ease them into the work routine."
In the 18 years the program has been in place, 17 babies have completed it. The new mother (so far, no father has taken advantage) is given a private office space and is typically offered help by her peers.
"There's just something about a baby. It just lightens the mood. We work in a high-stress environment, we are on deadline, problem-solving for our clients in a fast-paced, dynamic environment. A lot of time the baby brings levity, laughter, drool, diaper changes and all that. I think that was one of my biggest surprises, how the staff embrace the baby."
In her case, Alter was 37 years old when Matthew was born. She was already established in a career she didn't necessarily want to give up but still wanted time with her newborn son. The program was "the best of both worlds," she said.
The Susan F. Matthews Bring Your Baby to Work Program, named after the woman who implemented it, works well at Borshoff, a women-owned business with around 50 employees.
On a larger scale, Heartland Payment Processing in Jeffersonville employs hundreds. Heartland offers many amenities for employees such as a 24/7 fitness center, a walking path, a cafeteria and an on-site early childhood development center.
When the center was designed in the early 2000s, it was done so with the employees in mind, according to Erin Castile, Human Resources director for the company.
"It was as much about the organization's culture being one of trying to make sure our employees are taken care of," Castile said. "It gives a sense of convenience and new parents having ability to connect with a child while they're on break, on lunch and they can participate in activities that can happen in the daycare space."
The company provides the space and contracts with Bright Horizons to run the program, a company Castile says they picked because of its strong curriculum and emphasis on education.
The better program brought a higher cost, but the company lends a hand.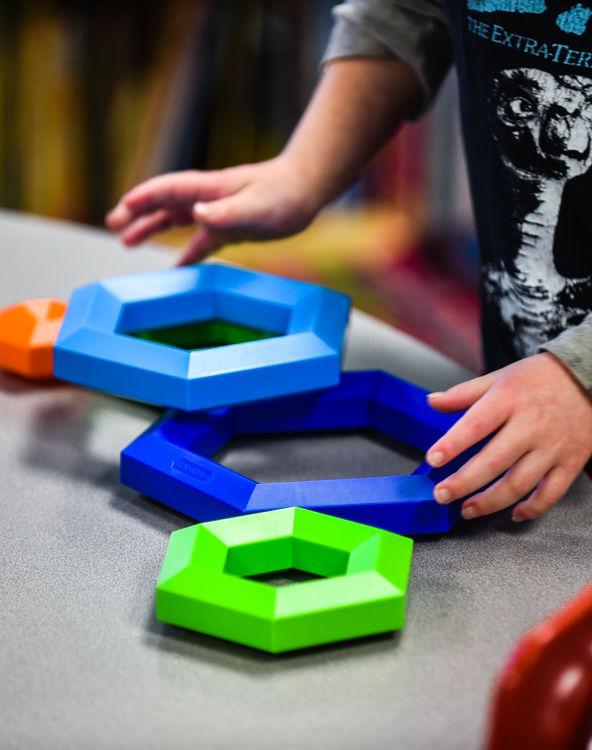 "When we decided that's something we wanted to provide to our employees, we knew we wanted to go above the grade as far as what you see on average in a common daycare," Castile said. "It was a rather prestigious selection with regards to our choice of care provider to the point that we subsidize the cost at almost half in order to provide our employees ability to pay a rate comparable to what'd they see in the marketplace."
The center has a capacity of 86 learners and, though it took some time to get it to full capacity, there is now a waitlist.
Chris Hargett, director of Operations at Heartland Processing, said the amenity doesn't always strike prospective employees, who may not have children or who have older children, but for those who can use it, it's a great perk.
"If more companies could do something like this, it's a huge perk for employees to take advantage of if they chose to," Hargett said. "The early educational platform versus a standard daycare, that's very important. Not only do [children] get the care and somewhere to go while mom and dad work, they get an education …I think the value of the education is unique and important."
OTHER SOLUTIONS
Companies like Borshoff and Heartland Payment Processing are doing their part to help their parent-employees, but there needs to be significant changes at the state level, according to the study, to bring about widespread change.
Two such programs are already in action. "On My Way Pre-K" is a pilot program in 20 of the 92 counties in the state. The program foots the bill for high-quality pre-K for families who meet certain income guidelines and use the time their child is in school to work or go to school themselves.
And the Indy Preschool Scholarship Program helps children from low-income families living in Marion County gain access to quality preschool.
These programs are making gains, but the study committee recommended four solutions to child care/education availability:
• using tax credits incentives for businesses that donate to childhood education providers or offer early childhood education scholarships;
• creating social impact bonds that would pair private investors;
• putting together alliances that connect smaller early childhood education providers, allowing them to reduce costs, improve management systems and standardize processes; and
• tapping into local revenue sources, such as a referendum or county food and beverage taxes.
Ultimately, there are different options for a simple solution: workers need access to child care and early education for their children. If that's done, the return on investment is substantial. The study argues that investing in high-quality early education results in a $4 to $16 return for every dollar invested.
"The study proves without a doubt the link between early education and child care and the economy and workforce. That's no longer in dispute. When Hoosiers cannot find or afford child care, they cannot work. That has a ripple effect on our businesses, economy and state and local government," Harris said.