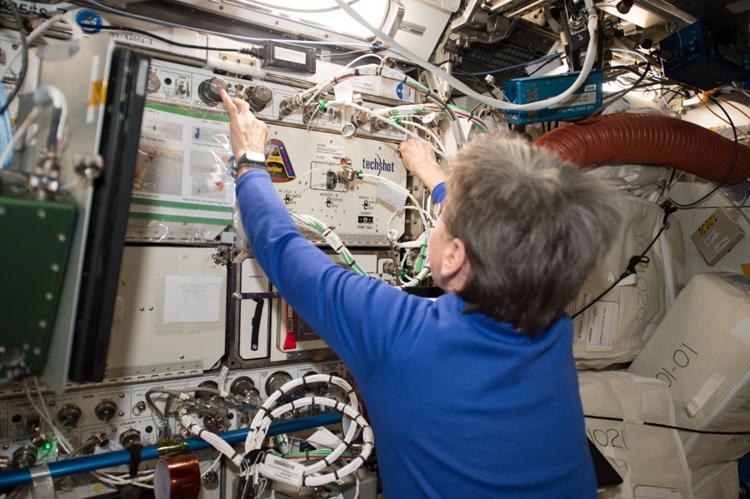 GREENVILLE — When Rich Boling spots his employer's logo — a sliver of moon peeking out from behind the word "techshot" — floating inside the International Space Station, his heart swells.
For him and the roughly 40 others who work at the Greenville-based "innovation engine," the logo represents months, even years, of hard work.
"It's one of the big payoffs, seeing that logo in space," Boling said. "This small company in Floyd County, Indiana, putting things aboard the space station, [it] never gets dull or routine for any of us."
Boling, Techshot's VP of Corporate Advancement, admits there are some lingering misconceptions around what exactly Techshot does. When the nondescript beige and green building was built on U.S. 150, Boling says people stopped in to make bank deposits.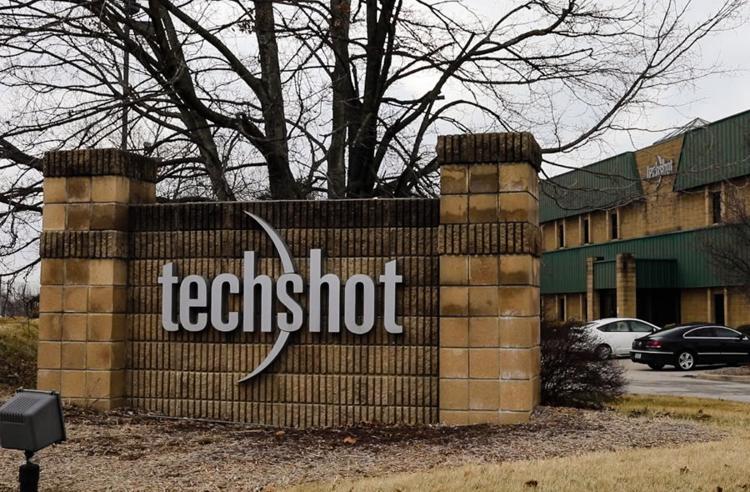 Then there were those who might have thought (understandably so) that Techshot was some sort of hatchery. That would have been a better guess, but not quite right.
It's true that Techshot began with chicken embryos. As an eighth grader, Techshot co-founder and Indiana native John Vellinger posed a big question: What would happen if you put an embryo into space?
Vellinger had the chance to explore that question in a science fair competition sponsored by the National Science Teachers Association and NASA. The idea piqued the interest of all the right people.
By the time he was a freshman at Purdue University, NASA came knocking at Vellinger's door. The space agency along with KFC — yes, Kentucky Fried Chicken — wanted to help bring Vellinger's middle-school idea to life.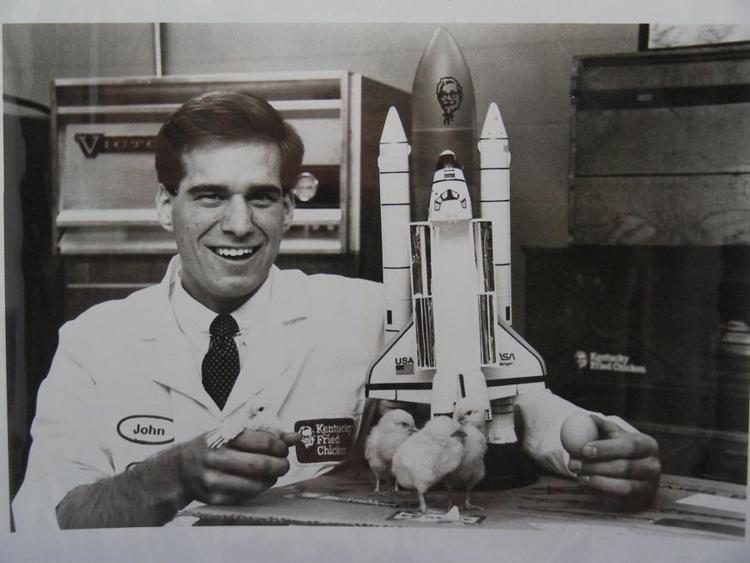 Dubbed "Chix in Space," the space-based embryo incubator was slated to rocket into space on Jan. 28, 1986, aboard the Challenger on mission STS-51L. But 73 seconds after liftoff, the Challenger exploded, killing all seven astronauts aboard.
"Here's something you think would be fairly routine and unfortunately there's really not as many routine things in life as you think," Vellinger said in a recent phone interview.
Vellinger went back to Purdue University where he would earn a bachelor's degree in mechanical engineering. In March 1989, he and Mark Deuser, an engineer for KFC and future Techshot co-founder, got a second chance to launch Chix in Space. This time, the mission was successful, and a company was born.
Since then, Techshot has grown to a team of dozens of engineers developing one-of-a-kind payloads for the International Space Station. The company's work in aerospace is undoubtedly cool, but it's not the whole picture.
As Vellinger put it, Techshot is also in the business of helping "mankind on the ground," specifically in the areas of medical and defense solutions.
Carlos Chang, Senior Scientist and biomedical engineer, is working on an ongoing project aimed at creating large human blood vessels for soldiers who are severely injured on the battlefield.
"The gold standard is to use a patient's own vessels," Chang said. "Unfortunately, if you have a lot of serious injuries, that's just simply not an option."
The technology uses synthetic and biological materials to create a vascular graft.
"And when it's put into the body we've designed this to perform in such a way that cells will recognize it [and] they'll start to attach and move into the material, and then over time, break it down and turn it into a real vessel," Chang explained.
"So that's a pretty cool, pretty cool technology."
To say the least.
Techshot engineers also have managed to bioprint a piece of human heart 30,000 feet above the Gulf of Mexico in zero gravity and developed and launched the space station's first X-ray machine.
Next month, the company plans to launch a more recent project developed with Tupperware that could change how plants are grown on the International Space Station. Aboard the same launch will be Techshot's MVP, or multi-use variable gravity platform.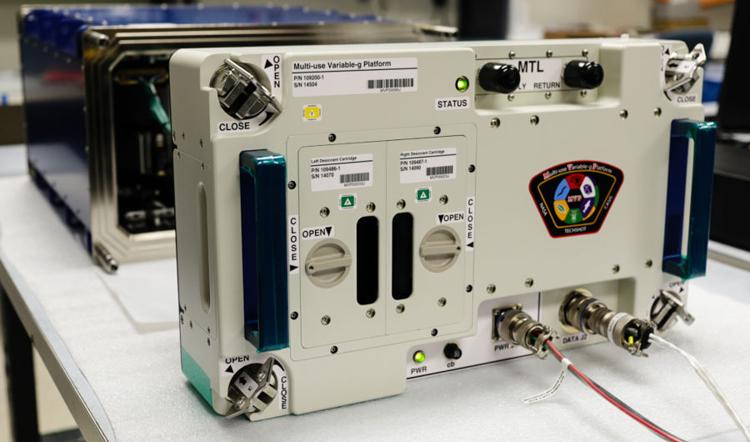 "MVP, you can think of it as an artificial gravity machine," Boling said.
The machine — about the size of a microwave — will allow scientists to reproduce gravity on the moon, Mars or even asteroids, and conduct experiments with different organisms, like fruit flies. The goal? To find out how much gravity is enough to sustain human life.
"If we're going to go back to the moon and live for a long time on a base, or if we are going to go to Mars, we have to know how much gravity is enough to be healthy," Boling said.
It's just another big question for a small company in Floyd County, Indiana.