WASHINGTON D.C. — When Vice President Mike Pence addressed a room of accomplished innovators during the third meeting of the National Space Council in the East Room of the White House on Monday, one guest stood out among the others.
Pence introduced John Vellinger as president and CEO of Techshot, "a space company based in Greenville," before he lifted his head, nodded with pride and finished his sentence with, "Indiana."
The only people in the room more proud than Pence were Vellinger and Techshot VP of Corporate Advancement Rich Boling. Back in Greenville, the space company's employees would later revel in the shoutout.
"We all just went crazy over [that]," Boling said. "It was great to get recognition just for this path that we've been pursuing for a long time."
That pursuit began in 1989 when Vellinger and engineer Mark Deuser founded Techshot. The company develops research equipment and tools for spaceflight, launching many of its creations to the International Space Station. At Monday's National Space Council meeting, Vellinger highlighted one of Techshot's biggest projects: a 3D bioprinter.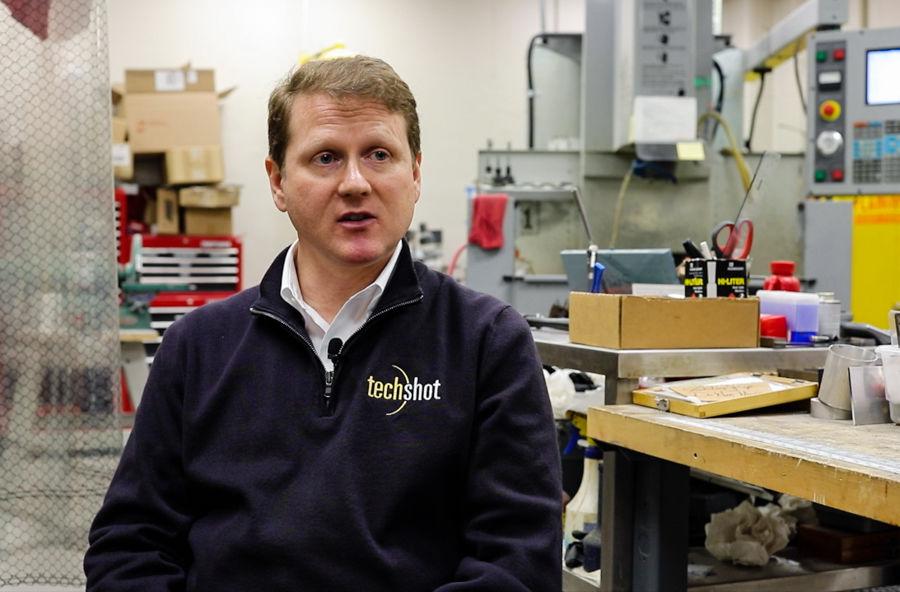 The bioprinter is expected to launch to the space station next year, with the goal of manufacturing human tissue. The machine could one day be used to produce food and pharmaceuticals, aiding in deep space exploration.
While Southern Indiana residents have come to recognize Techshot's work over the years, and the company has earned plenty of government contracts, a nod from the vice president of the United States in front of a room of some of the country's brightest minds was another level of awesome.
"I can't ever imagine being in a room like that again," Boling said, noting that he was in the company of two "moon walkers" (including Buzz Aldrin).
Boling and Vellinger were also in the room when President Donald Trump declared a move to develop a sixth branch of the U.S. military — the space force. The proposed branch would be aimed at national security and making America a leader in space exploration.
Boling said he and others in the industry had heard this idea tossed around before, but Trump's declaration came as a surprise.
"Wow this is really happening," is how Boling described the reaction in the room.
Techshot already works in military defense, but with a space force on the horizon, opportunities abound.
"[It] certainly brings to mind all sorts of other implications that we hadn't considered to" support defense.
The revival of the National Space Council and the push for a space force are just two examples of the Trump/Pence administration's support of space exploration and research.
"Space is absolutely important to this administration, and I would say that in more than just words, but in deed," Boling said, citing a slight increase in NASA's budget and plans to return to the moon.
In his remarks on Monday, Vellinger called it an "unprecedented golden age of space flight."