FLOYD COUNTY — Though he wasn't successful in attracting the birds to roost, Terry Herthel's grandfather inspired his admiration for Purple Martins.
Herthel recalled that his grandfather always had a martin box outside of his house, but the martins never showed.
Almost 30 years ago while working in Louisville, Herthel struck up a conversation with a man who was a bit of a martin expert. There was a simple yet important part of his grandfather's operation that was missing — gourds.
Herthel learned that martins prefer gourds for shelter. Drill a hole, clean out the gourd and hang it high and it becomes a nesting spot for martins. Much to his grandfather's chagrin, Herthel's initial colony drew martins thanks to the gourds.
"My grandpa couldn't believe it," Herthel said. "He said 'All of those years trying to get martins and you got them the first year.'"
Herthel has installed and managed his own martin colonies since 1997. He has two — one in Georgetown and one at Mount Saint Francis — with a combined 48 gourds for martin lodging.
Herthel joked as he said he pretty much operates a bird hotel. He collects eggshells from a local restaurant that he places on a baking sheet atop the gourd stand. Martins — which prey upon flying insects and are good about controlling pests like mosquitos — supplement their diets with eggshell.
This year, the first male Purple Martin arrived at Herthel's colony on March 20. They typically show up within a week or two of that date each year, leaving in late July or early August.
"When the babies have fledged and are strong enough to make the journey they will group up in large roosts of sometimes as large as several thousand martins," Herthel said. "They will rest and feed at these roosts to prepare for the trip south."
Martins are typically found in areas east of the Rocky Mountains, and they migrate to Brazil during colder months.
Herthel takes down the gourds at the end of each season, cleaning them and preparing them for the next spring. Before they're re-installed, Herthel adds wiring to keep snakes from climbing up the polls and into the nests. Other precautions are also taken to keep raccoons away.
But why does Herthel host Purple Martins?"They depend on humans for their survival," Herthel said. "Almost all of their nesting habitat is provided by humans."
But his reason for maintaining the colonies is deeper than just the environmental benefit.
Herthel has been in emergency response and worked as a firefighter for over four decades. He's the deputy chief for the Lafayette Township Fire Protection District. He's passionate about his career, but it takes a toll. Taking a drive out to Mount Saint Francis to watch the Purple Martins flying across the peaceful waters is an escape for Herthel.
"This is sort of a relaxation for me. I get away from some of what we see on a day-to-day basis," Herthel said. "I just come out here and watch the birds."
Purple Martins are social birds that congregate in large numbers and generally enjoy human interaction. While he doesn't use any sort of tracking device, Herthel said martins are known to return to familiar roosts each year.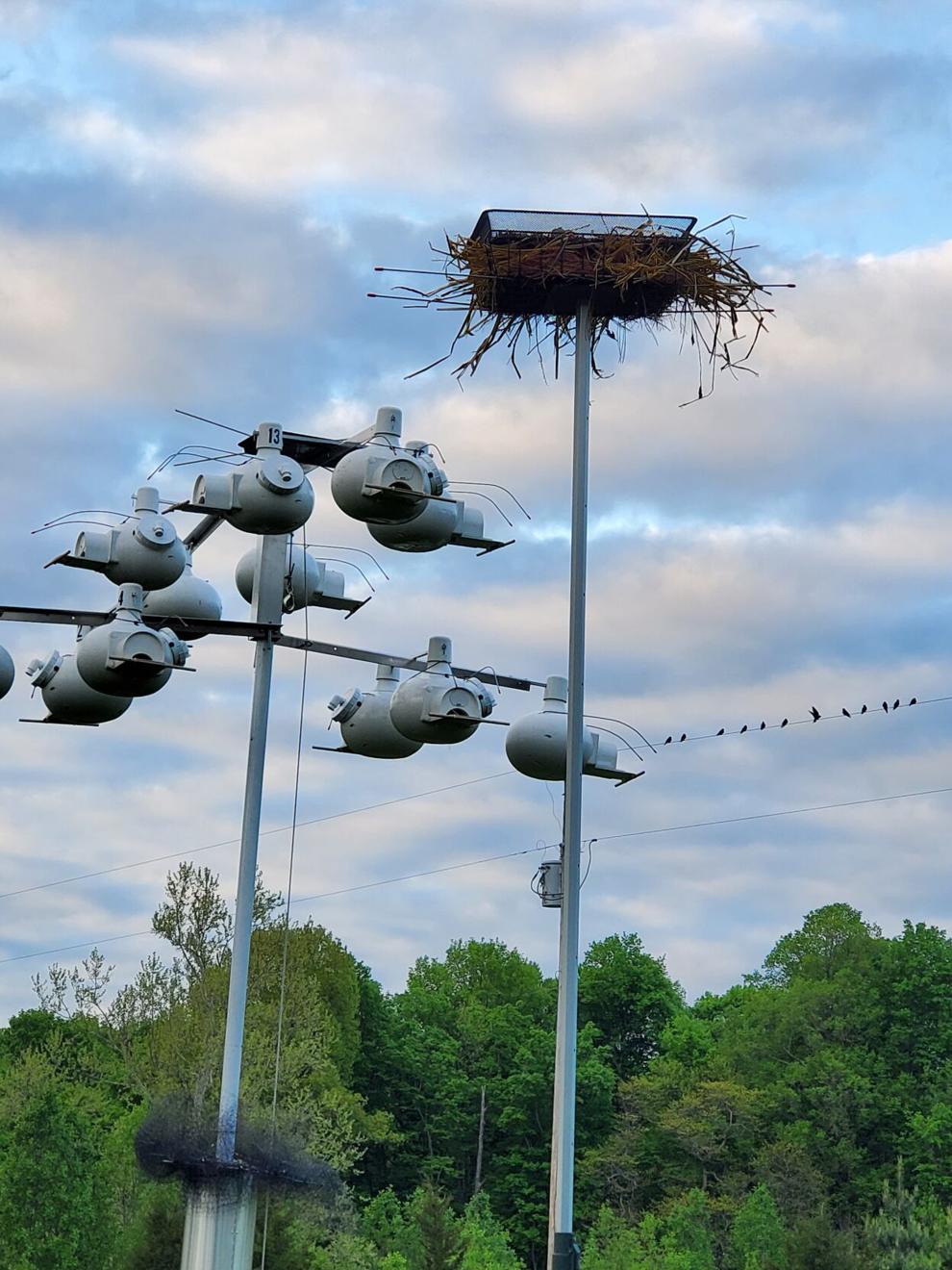 Herthel reports on the status of the colony at Mount Saint Francis to the center's board. The groundskeeper at Mount Saint Francis, Jim Moberly, was on board with Herthel's proposal to install a colony. It's part of Mount Saint Francis' mission to encourage spiritual engagement with nature.
"Saint Francis was the patron saint of animals," he said.
Herthel is part of the Purple Martin Conservation Association, and he recommends those interested in starting their own colony to visit the organization's website at www.purplemartin.org.