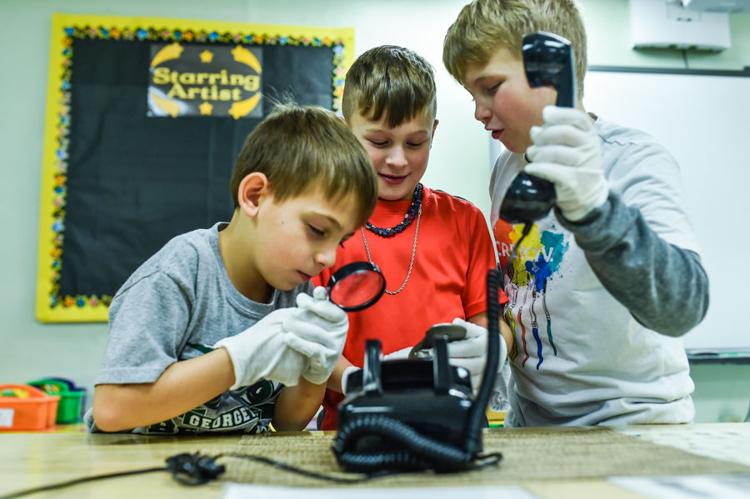 GEORGETOWN – With gloved hands, 8-year-old Peyton Fetz eagerly grabbed a 1900 Kodak Brownie, a boxy vintage camera, and held it up to his eye, backward.
"It's a camera!" Fetz exclaimed, attempting to look through the lens.
On Tuesday, Georgetown Elementary students got to experience history hands-on as part of the Speed Art Detectives, a program put on by the Speed Art Museum.
Sally Daughtrey, teaching artist with the Speed Art Museum, said the program brings "obsolete technological artifacts" to area art students so that they can study the art behind the creations. The technology items included a rotary phone, audio cassette tape, flip cell phones, film for cameras and more. Art students in grades 2-4 participated in the lesson.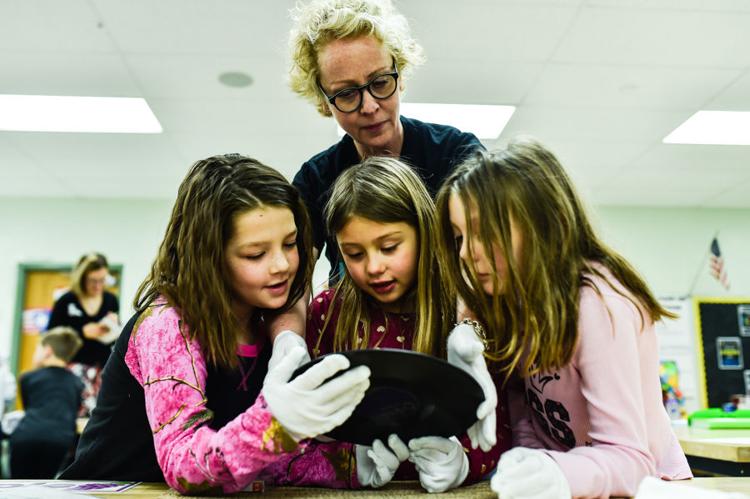 "Everything we use today, the design of it was created by an artist," said Mary Arnold, elementary art teacher leader for the New Albany-Floyd County Consolidated School Corp. "The technology may not have been, but the design of it was created by an artist."
Students got to examine all the artifacts with gloved hands.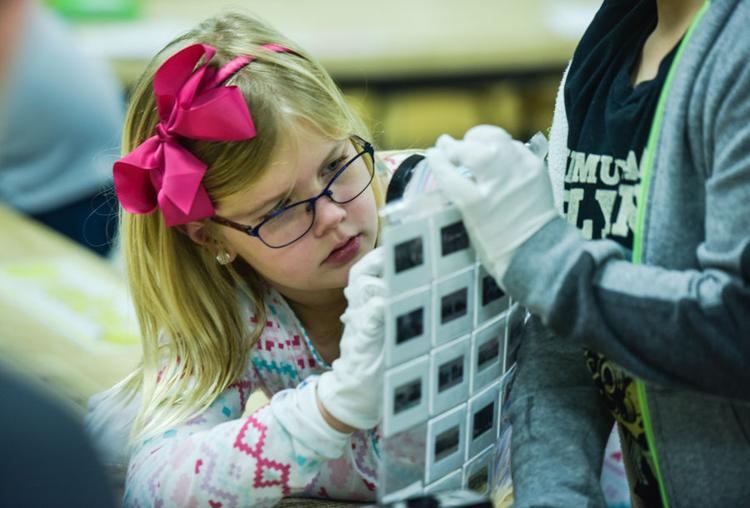 Laura Lester, 8, pretended to make a call on a second-generation flip phone. At first, she described the phone as "cool," but that response quickly changed.
"It doesn't do anything!" Lester said. "We can't play games."
"I seen one of these in the movies!" 8-year-old Brooke Davis announced, dialing a rotary phone and then putting the receiver to her ear. "These [flip phones] came out a few years after. They're old phones."
Students were then challenged to create a new phone, one that could be the phone of the future. Some envisioned phones that fly, another wanted one that was magnetic, so that it could not be lost and put on the refrigerator. Cash Becht, 8, drew a circular phone, that fits on a necklace.
"So you don't lose it," he explained.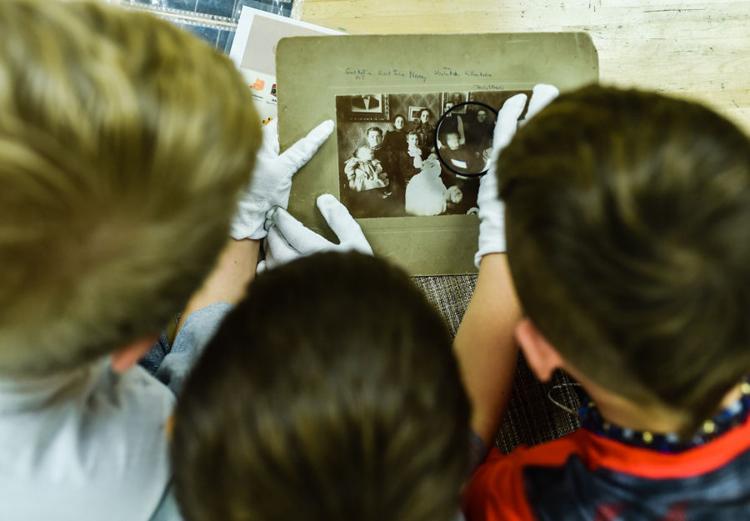 Arnold said she hopes this activity encourages students to think outside the box.
"I hope they get inspired about what technology can be, because as they're growing up, technology is going to change," Arnold said. "And, if we can inspire kids to want to take a part of that change, the more people we have in those technology fields and in those art fields, the better our products are going to be."
Arnold said the program, which is funded by a grant from the Duke Energy Foundation, will be at four of the district's elementary schools, including Floyds Knobs Elementary, Green Valley Elementary and Fairmont Elementary. She said she hopes to apply for more grant funds to expand it to all the district's elementary schools.