JEFFERSONVILLE — The Ind. 62 corridor continues to boom with new construction.
This week, ground was broken on the first two houses for a 22-home patio community, Shungate Commons, near the intersection of the state highway and Salem-Noble Road.
"We chose the area obviously due to the rapid growth of the east end of Jeffersonville," said Mark Hack, developer of the site through GreenTree Real Estate Services.
The homes are being marketed at around $200,000 to serve as a mid-range option for buyers, he continued. Once constructed, the 1,600 square foot houses will feature a three-bedroom, two-bath design.
"It fits a need for Southern Indiana. We don't have a lot of mid-level priced patio homes," Hack said of the reasoning behind the design.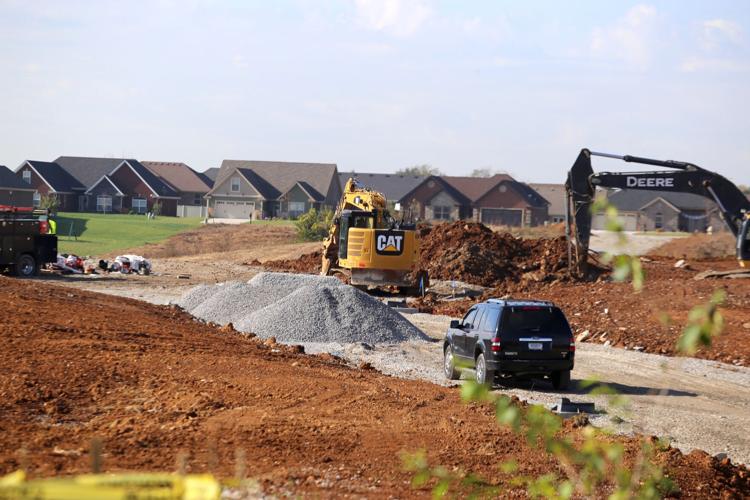 About a mile away, construction crews were busy Thursday developing the site for the future Whispering Oaks II subdivision.
The rapid residential growth in the area was one of the main reasons Jeffersonville Mayor Mike Moore cited for a massive redevelopment project of Charlestown-Jeffersonville Pike. The proposed $17 million project is slated to include widening of Charlestown-Jeffersonville Pike.
The costs of living in Louisville along with the availability of land have helped to spur housing growth in Southern Indiana, developers and realtors said. And even the coronavirus hasn't slowed down the momentum.
"Our sales are great and they've been great even throughout the pandemic," said Chase Murphy, owner of Murphy Homes.
Jeffersonville and Charlestown are "absolutely on fire" with new residential development, and Floyd County is also seeing growth especially in the Georgetown area, he said.
Like Hack, Murphy said patio homes are becoming more and more popular. Their appeal isn't centered around just one demographic, as Murphy said he has clients ranging from a couple in their early 20s to those who are retired that have purchased patio homes from his company.
"They don't want the maintenance, so they wanted a smaller home," Murphy said.
A similar home in Louisville could cost about 30% more than in Southern Indiana, and that's a driving force behind the boom on the north side of the Ohio River, Murphy said.
Home resales are also trending, but once a property is sold, it creates a dilemma for the owner as they have to find a place to live in a competitive market, Southern Indiana Realtors Association CEO Glenda Gasparine said.
The biggest problem is that they're aren't enough homes to meet demand, she said.
"We have such a lack of inventory, we just do not have enough homes that I think [buyers] are taking what they can find," Gasparine said.
Not all homebuyers are looking for traditional styles, and that's affecting new construction especially inside urban cores, she continued. It's important for cities to have diverse housing options to meet those demands, Gasparine said.
"Young professionals when they're ready to start their careers, they're looking for nice condos that they can purchase, and that's just not something you see a lot of in Southern Indiana,' she said.
Hack recently started marketing the new patio homes of Shungate Commons, and he believes they could be completed in about four months.
Looking ahead, Gasparine anticipates the existing housing trends will continue in Southern Indiana for the near future.
"Prices are still going up, value is going up, and I look for that to continue next year," she said.