NEW ALBANY — Throughout his long career, Frank Oz has originated and performed many of pop culture's most iconic roles.
He's Yoda from "Star Wars." He's Cookie Monster, Grover and Bert from "Sesame Street." He's Miss Piggy, Fozzie Bear and Animal.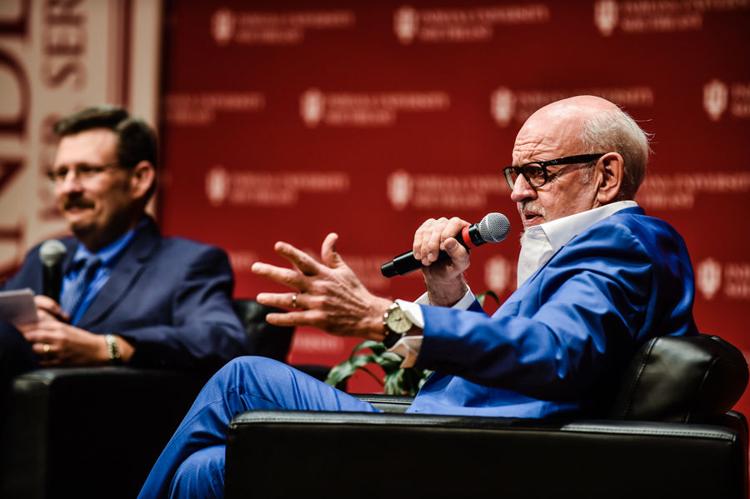 Oz, a four-time Emmy Award winner, spoke Tuesday at Indiana University Southeast's Paul W. Ogle Center. He was the keynote speaker for the university's annual Sanders Speaker Series.
He discussed his many years of collaboration with Muppet creator Jim Henson. They worked together on hundreds of projects, including "Sesame Street," "The Muppet Show" and "Saturday Night Live."
He originated the role of Yoda, the small, green Jedi Master who first appeared in "Star Wars: The Empire Strikes Back." His latest performance as the iconic character was in 2017's "Star Wars: The Last Jedi."
His career has not been limited to voice acting and puppeteering — he has also directed many films, including "The Dark Crystal," "The Muppets Take Manhattan," "Little Shop of Horrors," "Dirty Rotten Scoundrels," "What About Bob?" and "Death at a Funeral."
Oz's parents practiced puppetry as a hobby, and at a young age, he became involved with the art as well. He never intended to become a puppeteer, he said, but eventually, he ended up in New York City, where he started working with Henson at age 19.
He had low self esteem when he was young, he said, but he found relief through his work with puppets.
"I realized only later in adulthood that the puppets helped me because I couldn't take rejection," he said. "I think the puppets were a shield. If they didn't like something, the puppets would be rejected and not me, and I realized that later on. It was a safe way to express myself."
While many people mainly think of the iconic voices Frank Oz has performed in his career, including Yoda and the Muppets, the voices are only a small part of the characters, he said. Rather than thinking of the voices, he thinks of the characters.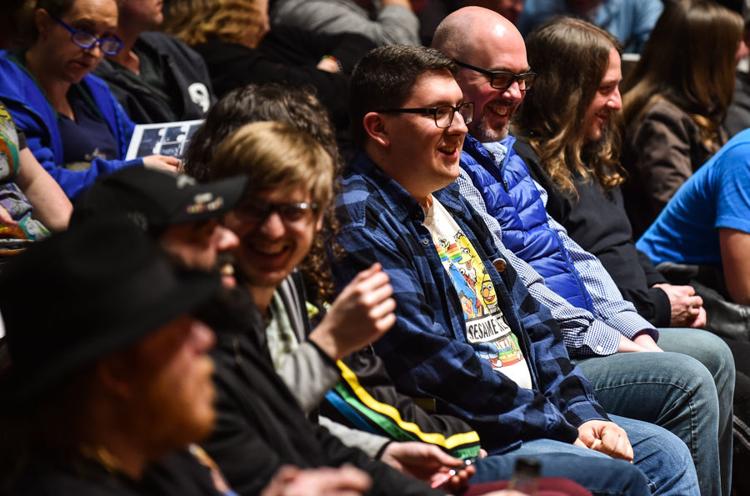 Oz didn't speak in the voices of any of his famous characters at the talk. In fact, he doesn't even use the voices outside of his performances with the puppets — and he hasn't performed as any of his Muppet characters for about 10 years.
"They mean a lot to me," he said. "I have to keep them pure. If the characters aren't pure, they're not going to connect with you. So if I start doing the voice, it's like a party trick, and their purity's gone. I need to be able to protect them, and that's why I don't do the voices."
When he first started working with Henson, Oz didn't even perform voices for about four years because he was "scared to death," he said.
"Just because I'm here and now you think I know all these voices doesn't mean it comes easy," he said. "It also doesn't mean that just because you can't do something now that you can't do something later."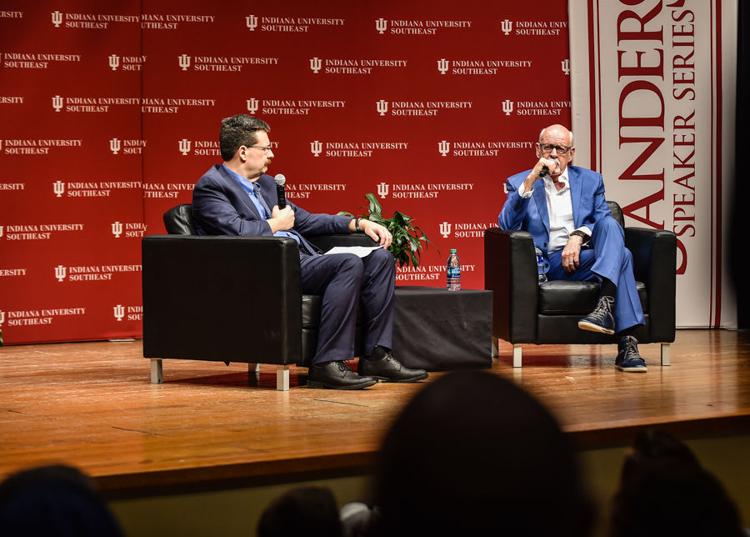 He discussed his years working with Henson, who created a collaborative, supportive environment where the creators and performers didn't have to worry about making mistakes. They were "competitive in a loving way," he said.
"That's why we did good work — because of the culture that Jim created," he said.
Neither Oz nor Henson were in the business for the money, although they found great financial success through their work — it was always about the creativity, he said.
"My attitude on money is that if you do something for money and you fail, then you have nothing," he said. "But if you do something because you love it and you fail, then at least you've done something you loved."
He also shed light on the behind-the-scenes work that went into his roles, including Yoda. It wasn't just controlling the puppet — his movements were was also controlled by three others, and they had to constantly rehearse to "make four people look like one."
He doesn't know exactly why the Muppets were successful, but he stressed the significance of the performers and creators viewing them as characters, and not just puppets. He gave most of his character back stories for that reason, including a complex story for Miss Piggy.
"The reason I do a back story is that you don't have to know it, and you don't know it," he said. "You will never know it. But I have to have a full, rich character to be comfortable enough to do good work. If I don't know and I don't sense the true insides of a character, then it's going to be superficial work."
AN INSPIRATION
New Albany resident David West Reynolds, who attended the talk, is among those who have been influenced by Oz's work. He grew up loving the "Star Wars" films, and later, he even turned his passion for the series into a career.
As an archeologist, he found artifacts from the lost sets of the "Star Wars: A New Hope" in Tunisia. He later scouted locations for the first "Star Wars" prequel and wrote a number of "Star Wars" books.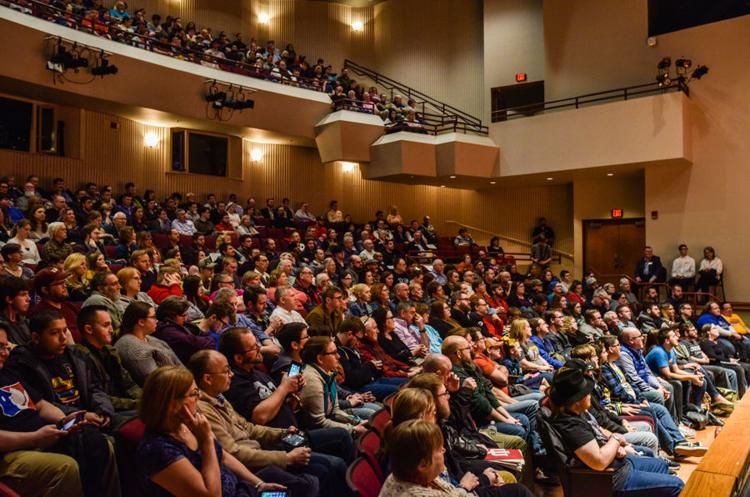 When he was young, he first knew Oz as the talent behind his iconic characters on "Sesame Street" and "The Muppet Show," and he was happy to see his "familiar, gravelly voice" as the iconic Jedi Master in 1980's "The Empire Strikes Back."
Yoda was his favorite part about "The Empire Strikes Back." Oz created a teacher and mentor "that we could look up to, even though he's only three feet tall," he said.
While working as a location scout for Lucasfilm, Reynolds was inspired to watch Oz perform as Yoda on the set for "Star Wars: The Phantom Menace." He transforms the puppet into a character he could respect and relate to, which he described as an "extraordinary form of magic."
"[Yoda] teaches Luke Skywalker that you have to believe in yourself before you can reach your full potential," he said. ""Frank Oz gave us that message through the hand puppet of Yoda, but he also gave us that message through his extraordinary career. If you believe in yourself, you can accomplish the full measure of your potential. He's taught us that in so many wonderful ways."
Oz ended the talk with words of inspiration for the audience, encouraging them to do what they love, even if they struggle with low self esteem like him.
"Just understand that actually, you guys are good enough," he said. "You can do what you want to do. That's all."