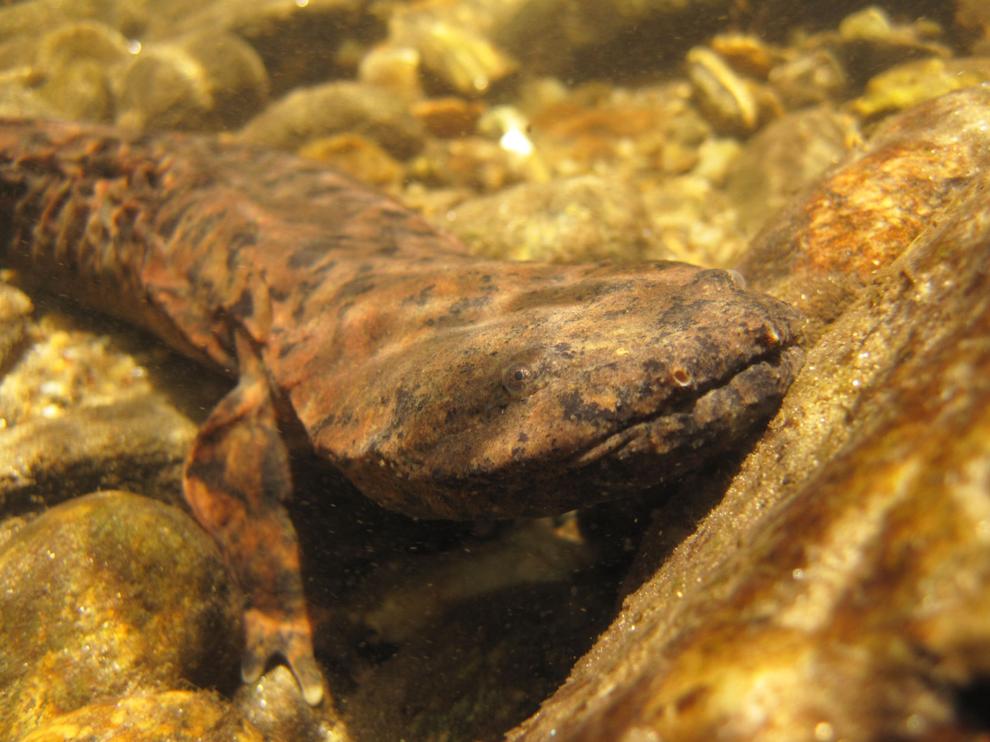 SOUTHERN INDIANA — Tucked away in an undisclosed nook of the Blue River near Corydon lives an ancient amphibian in need of modern-day humans.
Some might call it cute, but then again, some people need glasses. Words you're much more likely to hear used to describe this creature: slimy, snotty, creepy, big and neat.
"It feels a lot like, sort of a lot like mud, so really slimy mud," Purdue University research biologist Nick Burgmeier explains. "But they're very squirmy, so they're very hard to hold on to."
This squirmy not-so-little sucker is most commonly known as the Hellbender, and at up to 2-feet long, it's North America's largest salamander. While affection for and conservation of Hellbenders have ramped up over recent years, the salamander is on Indiana's endangered species list and is being considered for the federal endangered list.
"The short answer is that there just aren't many of them left," Burgmeier said.
People like Burgmeier and his colleagues at Purdue, along with the Indiana Department of Natural Resources, hope to stop the decline of the Hellbender before it's too late.
"You don't really get do-overs with these things."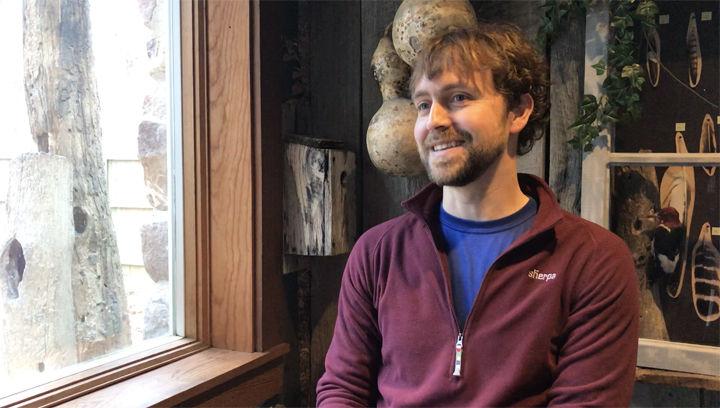 A HOME FOR THE HELLBENDER
The Hellbender (also knowns as: snot otter, devil dog and grampus) is a river rat (not an official nickname). It lives under large rocks in cool, flowing rivers. The problem is, Hellbenders have a particularly low tolerance for polluted water.
That's because the salamander breathes most of its oxygen from the water through its skin. If there's runoff from deteriorating riverbanks, oxygen levels get too low for survival and habitats too muddy for comfort. And if there are pesticides or other chemicals in the water, the Hellbender cannot thrive.
For now, the only natural home for Hellbenders in Indiana is in the Blue River near Corydon, in an area where there's less development and where wooded riverbanks hold strong. And they're there thanks to Purdue University's Help the Hellbender project.
Funded by the Indiana DNR, another organization committed to helping the Hellbender, Purdue's project began in 2007. First, researchers learned all they could about the salamander's behavior, habitats and reproductive health. Researchers then began setting up artificial nesting structures and releasing small groups of captive-reared Hellbenders.
"Now we're in the phase of sort of full-blown reintroduction," Burgmeier said.
Eighty juvenile Hellbenders were released into the Blue River in November 2017, and another 38 this summer. Each Hellbender has a radio transmitter implanted in its body cavity so researchers can track and monitor them. Burgmeier expects the radio transmitters to last another five months, at which time researchers will start analyzing the data.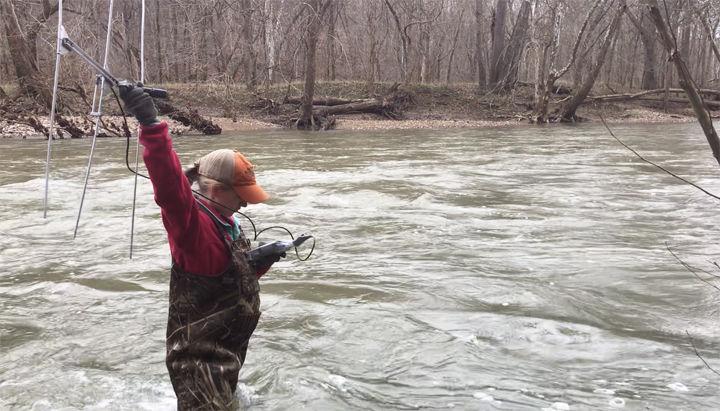 IT TAKES A VILLAGE
Purdue and DNR rely on more than just each other in the crusade for the Hellbender. Zoos in Evansville, Indianapolis and Fort Wayne are raising the salamanders and helping with research and education.
State parks have adopted Hellbender programming to spread the good word. Falls of the Ohio State Park held a Hellbender event last month and O'Bannon Woods State Park (where the Blue River runs) is on verge of opening an exhibit with live Hellbenders.
"This will be one of the only state nature center-exhibited Hellbenders," O'Bannon interpretive naturalist and facility manager Jarrett Manek said.
Manek (who describes the salamander as an "elusive" "muddy tube sock") said the exhibit will expose some of its roughly 30,000 annual visitors to the amphibian.
"And the more you can have something visible and educate folks, the more they're going to take ownership of them and be able to help protect them."
Hellbender education has also made its way into classrooms, including Marci Skelton's 4th grade Wilson Elementary School class. Skelton is married to Burgmeier, who has visited her classroom for the past 10 years to talk about the Hellbender.
"He spends a whole lot of time answering any and every question, which is fantastic because the kids always have the best questions," Skelton said.
Skelton's students are most surprised by "how ugly it is" and love when Burgmeier calls the salamander a snot otter (and they only refer to Burgmeier as "Nature Nick").
But the lesson is more than just fun.
"It's a real-world connection," Skelton said. "A lot of the times you can tell kids about all of these science things, and it's kind of over their head .. until you put something real in front of them."
HELP THE HELLBENDER HELP YOU
Burgmeier has loved wildlife since he was 4 years old. Caring for the Hellbender comes naturally. The same could be said for DNR herpetologist Nate Engbrecht. Causes like the Hellbender are what drive people like Engbrecht.
"We've come a long way and we've taken years of research and we're now converting that into real-life conservation with actually raising these animals and putting them back into their environments," he said.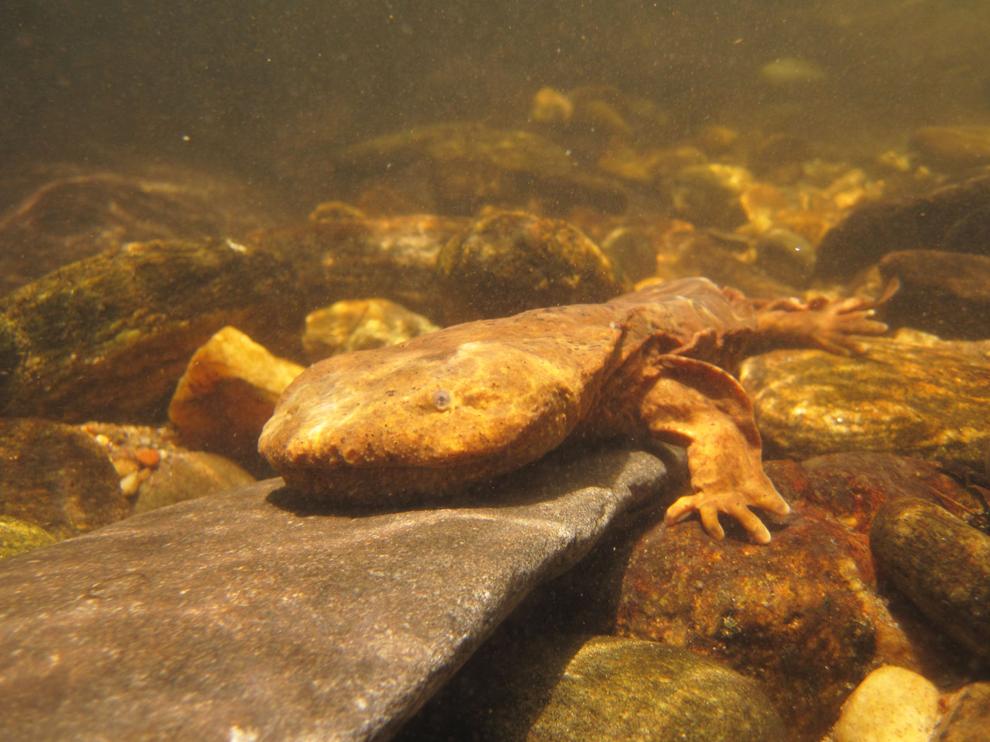 For those who don't get quite as excited about saving endangered wildlife, Burgmeier says there's a reason to. Helping Hellbenders means improving water quality. And in an area with fishing and other recreation, better water is a win for all.
"... pretty much everything we do to conserve Hellbenders benefits other animals and people," he said.
Burgmeier worries about the future of the Hellbender, and he knows it will take a long time to see if all those conservation efforts are working. But he's hopeful about the rallying of resources across the country.
"In almost every state that has Hellbenders now, there's at least one or two dedicated people working on" them, he said. "So there's a pretty big community of people working on Hellbenders."
---