JEFFERSONVILLE — Jeffersonville High School is life for Nancy Molnar, who has spent her career as one of the Red Devils' most enthusiastic cheerleaders.
And although she is retiring after decades as a teacher, that's not about to change.
After 37 years, Molnar is retiring from her job as a special education teacher at Jeffersonville High School — she taught her final classes Wednesday.
She has contributed to the school in a myriad of ways over the course of her career. In addition to teaching special education, she has led the high school's Anchor Club, an all-female service organization connected with the Pilot Club of Jeffersonville. She has advised student councils, worked to raise funds for school activities from theater to basketball and organized many events.
Under Molnar's leadership, the Anchor Club, which now has several thousand graduates, has organized and participated in many community service activities over the years, including school fundraisers, Salvation Army bell ringing, canned-good collections and senior citizen proms/luaus. She has organized events ranging from pep rallies to the annual Red Rose dance, an event for special-needs students.
For Molnar, retiring from Jeffersonville High School is bittersweet, and she will miss her students and her usual routine. But her work at the school isn't quite complete.
She will continue as an advisor to the Anchor Club, and she will continue to volunteer at other school events and activities, including the graduation reception, Top Scholars and the Breakfast of JHS Champions. She is currently working to create an archive of items from Jeffersonville High School's history, which will be displayed in a school hallway.
"That's how I solved it for my emotions, is to not let it totally go," Molnar said.
Julie Straight, Jeffersonville High School principal, has been Molnar's friend and colleague for several decades. Over the years, Molnar has been like the "heart of Jeff High" through her work in the school, she said.
"She has a rhythm to everything that happens, and it goes through the school year calendar," Straight said. "She doesn't ever skip a beat. It is year-round. It is constant, consistent support and making sure everything is going as it should."
Molnar's service to the school and the broader community has not gone unnoticed. Jeffersonville Mayor Mike Moore recently proclaimed her a "Commodore of the Port," the city's highest leadership honor, to recognize her years of service.
Moore said he was "tickled to death" to bestow the "Commodore of the Port" honor on Molnar, saying she has played a major role in thousands of kids' lives over the years. His own daughters thought highly of her when they were in Anchor Club, he said, and she and her husband used to be frequent customers at his family's diner, Jerry's Restaurant.
"She goes beyond the duties of the school system," he said. "She is just a committed volunteer, and she is committed to our kids."
SERVICE ABOVE SELF
Molnar has been a Red Devil for her whole life. She grew up in Jeffersonville on Court Avenue near the Nachand Fieldhouse, and she graduated from Jeffersonville High School in 1977.
She started teaching special education at the high school in 1983, where she has stayed for her entire career. She has always had the "heart of Jeff High," she said, and she just kept moving forward to support the school.
She hasn't served the school for all these years in order to seek recognition. In fact, she's uncomfortable being in the spotlight, and she didn't want a big party even after receiving the "Commodore of the Port" award.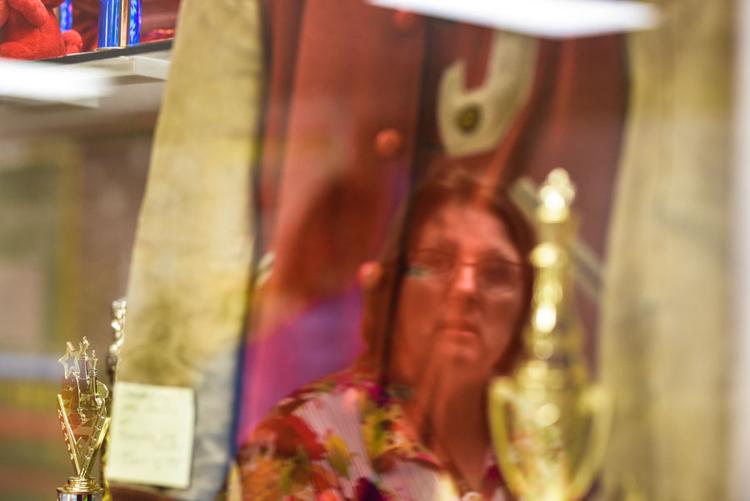 "You don't expect a thank you," Molnar said. "You do it because of who you are. You don't expect all this hoopla or recognition or anything. You just do it because it's good for the school. I'm the one just picking up the pieces behind and cleaning up the halls. That's just who I am."
Northaven Elementary School teacher Kelly Allen, who was a member of the Anchor Club from 2005 to 2008, cannot think of anyone more deserving of the "Commodore of the Port" honor than Molnar. As a mentor for the club, Molnar touched the lives of many students throughout the years, she said.
"She cultivated a passion for serving others," she said. "She was always looking for opportunities to serve the people around her. She just had this way about her that made you feel your work is valued."
Some of Allen's favorite memories of Molnar include planning the Anchor Club's annual dance. Students would have meals with her to discuss ideas for the event, she said, and the conversation always led to other topics, such as ways they could serve the community after graduation.
Shelonda Darling, who graduated from Jeffersonville High School in 1999, knew Molnar as a mentor when she served as class president. The teacher helped mold Darling into the "face and voice" of her class by giving her a variety of leadership opportunities, including leading pep rallies and presenting announcements at the end of the school day, she said.
She said Molnar provided her with lasting leadership skills, and they remained connected even after she graduated high school.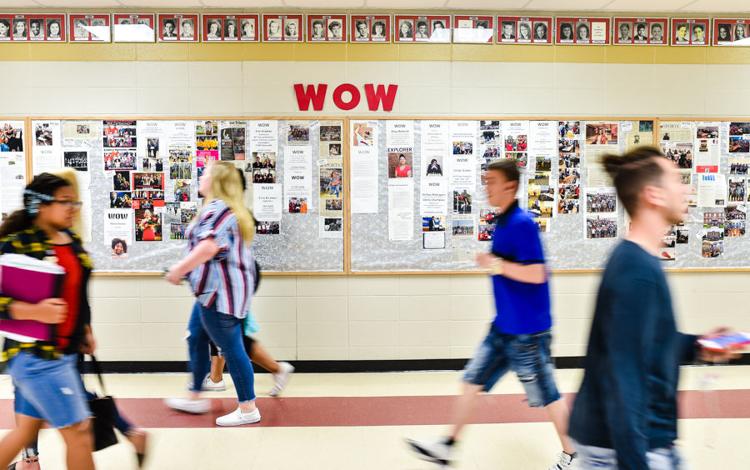 "She just really encouraged me and saw something in me," Darling said. "She saw some potential that I would have influence and gave me opportunities to grow and use that."
Jenni Herfel, a French teacher and counselor at Jeffersonville High School, is friends with Molnar, and they have worked together for more than 30 years. They also know each other from St. Augustine's Catholic Church, where Herfel's daughter and Molnar's son also became close friends.
As a former theater director, she knows firsthand how supportive Molnar is of the programs at the high school. Because of her fundraising efforts, she was instrumental in 1997 in helping about 100 theater students make it to Lincoln, Nebraska, for the International Thespian Festival, according to Herfel.
Molnar is all about "service above self," she said.
"I've never quite met anybody like her," she said. "Just about everything that is Jeff High, rah rah, go team go, you'll find her fingerprints on it —everywhere from the athletic department to student council to the Anchor Club to the theater department."