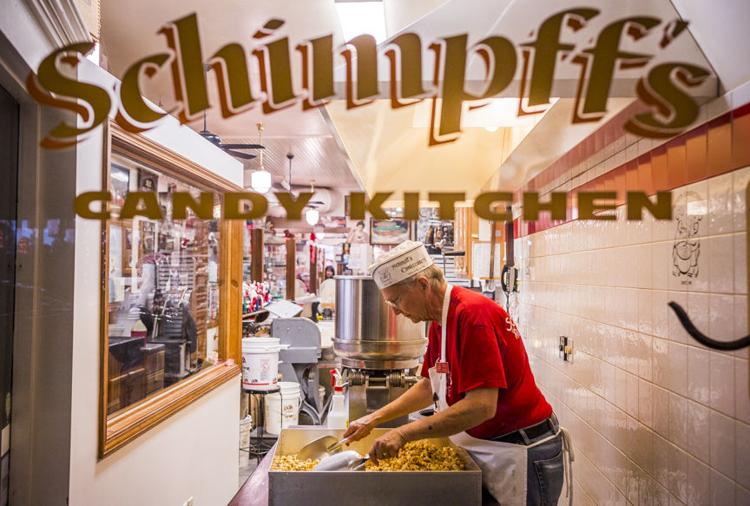 It certainly is beginning to look a lot like Christmas in downtown Jeffersonville, and the holiday season officially kicks off tonight, Thursday, with the 15th annual Downtown Merchants Holiday Open House from 6 to 9 p.m.
Schimpff's Confectionery has the candy canes covered. And the silver lanes aglow? Well, giant holiday snowflakes will be aglow from lampposts, so that's pretty close.
There may not be toys in every store, but there are certainly gifts for kids of all ages available at the 22 local businesses participating in the event.
Jeffersonville Main Street, along with the Downtown Merchants Association, encourages shoppers to come out and preview holiday items, stock up on gift cards, and maybe grab a meal or a drink.
"It's reminiscent of a time gone by, when people would stand outside storefront windows to see all the new merchandise for Christmas," said Jay Ellis, executive director of Jeffersonville Main Street, Inc. "See the snowflake lights, ride the trolley, shop, or browse and go back later to buy gifts or gift cards."
"We want people to just enjoy that Christmas setting," he said. "Come out and get to know your local business owners. They're putting their best foot forward for this event every year."
Free trolley rides will make it easy to visit all the participating businesses, situated primarily along Spring Street with some additional spots on Court and Michigan Avenues, Riverside Drive, as well as Pearl, Maple and Market Streets.
Each trolley will feature live music, and roving musicians will wander the area, serenading shoppers on the streets and in businesses as well.
Many of the shops will feature specials and sales for the evening, along with free sweets or beverages for shoppers.
"Our downtown has grown tremendously over the last 15 years," Ellis said. "We've gone from an area with modest investment to an area that has very few vacancies now. Our bar and restaurant scene have really picked up.
Looking for a bite to eat or a gift card to stuff in a stocking? Adrienne & Co Bakery & Café, Flat 12 Bierworks, H.M. Frank's O'shea's, Pearl Street Taphouse, Ramiro's Cantina Express, The Red Yeti, Schimpff's Confectionery, and Too Tired Coffee, Tea & Treats are all participating in the Open House.
Shops, boutiques, and salons participating are: APA Purr-Fect Treasures, Blessings on Spring Boutique, Brilliant Bumblebee Toys, Designer Fragrance & Gifts, Gold's Jewelry, Lavender Hill Floral & Gifts, The Shop at LL&A Interiors, Maker 13, Sapphire on Spring Boutique, Sugar Maples Antiques and Gifts, Sweet Annie Vintage Finds, The Springs Salon & Spa, Tru Bliss Boutique, and VIP Quality Awards & Gifts.
The Holiday Open House is just the beginning of the holiday season in downtown Jeffersonville. Saturday, Nov. 24, promises to be a big day as Small Business Saturday coincides with the Light Up the Holidays Parade and Light Up Jeffersonville.
New Albany also has events planned for Nov. 24, including its annual Holiday Fest/Jingle Walk.
Small Business Saturday started in 2010 on the Saturday after Thanksgiving to encourage people to Shop Small to support local businesses.
"The holiday shopping season is a critical time for these small businesses," said Ellis. "We realize you've got limited holiday dollars to spend, consider spending some of that money locally."
"This year you could really do it up," he said. "Have lunch at a downtown restaurant, visit the Schimpff's for their candy cane making, do a little shopping, and stick around for the city's Light Up Jeffersonville and parade. Make a full day of it."
Light Up festivities begin at 4 p.m. in Warder Park on Court Avenue with the parade starting on Market Street at 6 p.m. Light Up Jeffersonville at 6:30. The evening includes train rides, inflatables, live entertainment, hot chocolate and cookies, and visits with Santa and Mrs. Claus.
"Downtown Jeffersonville is such a vibrant place. It's a place where people want to come to shop and dine. A healthy downtown is always an indicator of a healthy community. We hope people realize that Downtown Jeffersonville is everyone's downtown, regardless of which part of the city you live in."
Visit Jeffmainstreet.org or the Jeffersonville Main Street Facebook page for more information, a buy-local directory, and a complete list of holiday events.
---