CLARK COUNTY
The first couple weeks of 1968 in Clark County were filled with the mundane happenings of everyday life: government officials squabbled, children reveled in school snow days, police kept busy sorting out "clashes" among residents and "smashups" involving vehicles.
Casting a shadow over local life was a war being fought more than 8,000 miles away in Vietnam. Regular announcements in the Evening News recorded deployments of Clark County residents overseas. Occasionally, the news was grim: Reports of Clark County soldiers killed in action were stamped onto the pages, the reality of war hitting home in black and white, accompanied by formal portrait photos of the soldiers in uniform.
Then Jan. 17 happened.
It was perhaps the most turbulent year in modern history — the deadliest year of the Vietnam War; the year many cities erupted in violence after the assassination of Rev. Martin Luther King Jr. It was also the year in which President John F. Kennedy's dream of reaching the Moon was realized.
In the early morning hours of that Wednesday, spotty fog in Scottsburg grew thicker the farther motorists drove south on Interstate 65. Visibility in the Sellersburg area was reduced to less than 50 feet. Sensing danger, Indiana State Police troopers set out flares and flagged motorists in an attempt to slow down traffic.
It wouldn't prevent the carnage that would follow.
A chain-reaction crash involving 18 vehicles, mostly semi-trucks, would claim five lives and injure another eight, making it the deadliest accident in Clark County history.
Here's how the Evening News' story began that night:
Death crashed through a dense early morning fog on Interstate 65 at Sellersburg today and claimed five and possibly six lives because someone thought it was possible to drive 60 miles an hour at "visibility zero."
The grinding smashup was the worst in Clark County history.
Three Indiana State Police inquests following the accident revealed "nightmarish aspects" of what happened that fateful morning.
Because of the dense fog, the Evening News reported from one of the inquests, witnesses who gave testimony saw only "isolated crashes" and none got the "big picture" of the 18 vehicles crashing into each other. With such low visibility "some did not see the vehicles with which their own vehicles collided."
The chain reaction apparently began when a car, being driven by 19-year-old Betty Hogue, was rear-ended by a semi owned by Ziffrin Truck Lines. In the car were Henryville attorney Homer Hostettler (Hogue's grandfather) and Hogue's 19-year-old brother, David.
Here's what happened next, according to the Evening News story:
The automobile then burst into flames and [Indiana State Police trooper Gerald C.] Hayes ran to obtain a fire extinguisher. He discovered that Hostettler was still in the car, but that Miss Hogue and her brother, David, had climbed out the window of the left door when they found that the car door was jammed.
Hayes then hailed two drivers ... who pulled Hostettler from the car through the left window...Seconds after Hostettler was pulled from his car, the automobile was completely engulfed in flames.
All survived their injuries.
In another inquest, witness Town Marshall Robert Campbell described what he did after the Hogue crash:
I saw that a truck ran into a semi and ignited. But I couldn't get the doors open. Then I started back north behind a pick-up truck on the west side waving fuses. I guess three semis passed me ... and I could hear them crashing.
Other notable events
• Federal government approves southbound ramp off Interstate 65 in Jeffersonville.
The ramp was to be built from the I-65 approach to the Kennedy Bridge and curve westward to the intersection of Market Street and Indiana Avenue, continue westward to Illinois Avenue, where traffic would turn north to Court Avenue, the Evening News reported. The ramp would "open up Jeffersonville from Spring Street west," Mayor Richard Vissing was quoted in the paper saying.
• Proposed landfill operation is target of bitter protests.
"We don't care what you call it. We don't want a dump out there." That's how the Evening News began its story about a proposed landfill, quoting a resident voicing her opinion at a Clark County Plan Commission meeting.
At the meeting the commission deferred action on a petition from Clifford Graves to rezone a parcel of land roughly bounded by Potter's Lane, the Penn-Central Railroad and west of Hamburg Pike, which would be the first step in locating a landfill there.
• A new school takes shape.
On Feb. 27, Jeffersonville-Utica Community Schools approved a contract for construction of the $1.3 million Northhaven Elementary School, which would contain 20 classrooms.
• Skirmish fought in "battle" of Riverside Central.
A public hearing by the Jeffersonville Redevelopment Commission detailed plans for the urban renewal of the "blighted" Riverside Drive area downtown, dubbed the Riverside Central project. The project was a long time in the works. In 1965, the Indiana Supreme Court had ruled that the redevelopment commission's initial session "did not afford urban renewal opponents adequate [options]."
Resident Lawrence Smith took a verbal shot at officials: "If city ordinances were strictly enforced, in health, fire and police matters we wouldn't need urban renewal," the Evening News reported.
FLOYD COUNTY
While 1968 may have shaped our country in many ways, and not all good, there was also plenty of change happening in New Albany and Floyd County.
Two big ongoing projects grabbed a lot of the news headlines in The Tribune during the first three months of that year. They included construction of the new New Albany-Floyd County Public Library and the ongoing construction of Interstate 64 west, from the Sherman Minton Bridge to Edwardsville.
The library opened at the corner of West Spring Street and Scribner Drive a year later, in 1969, but the staff and architects used 1968 to pick out the colors and equipment for the new building.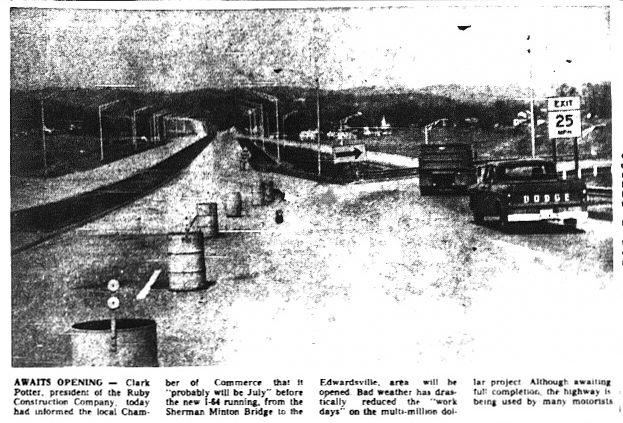 In March 1968, Ruby Construction Company Inc. said the I-64 extension would be completed in July. I-64 definitely changed the way we travel to and from Floyd County.
There were also other highlights in the first three months of 1968 worth mentioning. Like our country that year, Floyd County and New Albany were going through plenty of change, but high school basketball made it to the front page on numerous occasions as the lead story. New Albany residents love their Bulldogs.
January highlights
• A large fire on Captain Frank Road Jan. 4 killed 17 horses.
• Some things never change. Floyd Memorial Hospital was "swamped" with flu cases. The hospital was 50 patients above capacity. State statistics showed that 2,248 cases of the flu were reported in the first week of 1968.
• Historic New Albany was hoping to have work on the Town Clock Church bells wrapped up. The cost to get the clock and bells working was $4,500.
• Blue Note Cafe, corner of Vincennes and Main streets, was destroyed by fire.
• Larry Fischer was appointed to the New Albany City Council to replace Stu Gibson, who had earlier resigned.
• Early in the month, motorists were met with snow and icy streets. On Jan. 3, Home Transit bus line was forced to cancel runs due to weather.
Ken Veron still remembers the day he heard about his cousin's death. He was not quite 6 year…
• Ron Weigleb, a New Albany High School graduate and football player, was highlighted in an article about his success on the gridiron at Taft University. Weigleb is best know for being the longtime football coach at Floyd Central.
• Stamps went up to 6 cents.
• Graceland began a $113,000 addition to its church at 2778 Charlestown Road.
• Nite Owl Food Mart, 2415 E. Spring St., was held up by a "lone bandit" who got away with $1,100.
• Who doesn't like a good sirloin steak? Several newspaper ads stated you could buy sirloin for 95 cents a pound.
February highlights
• Providence defeated New Albany 81-73.
• The headline in the Feb. 9 paper read "Big Drive Made on NA Rats." Several rat holes were found in the rear of Roseview Terrace and city officials were determined to rid the city of the problem.
• A Floyd County Church was doing everything it could to keep a Floyds Knobs drug store from getting a liquor license.
• Zurschmiede's Grocery, on the corner of Indiana and Roanoke avenues, was damaged by fire.
• The month ended with the start of March Madness as Jeffersonville knocked off New Albany 63-57 for the basketball sectional title.
March highlights
• After Jeff won the sectional, the Red Devils opened the month of March with a 72-70 victory over Holland in the regional.
• The top news story in March was an $85,649 shortage in New Albany-Floyd County corporation funds found by the State Board of Accounts. Superintendent Glen Barkes said he would "overhaul" his administration following the shortage. A Floyd County grand jury was convened later in the month to look into the issue.
• New Albany's Larry Ricke decided to continue his football career at Ball State. Ricke threw for 1,400 yards and 12 touchdowns in the 1967 season.
• On March 24, a big snow storm hit the area and dumped 13.2 inches of snow on Floyd County.
• There was plenty of discussion on what to do with the old library building — now the Carnegie Center for Art & History.
• Floyd County Parks was also still celebrating the big year it had in 1967 when Community Park was opened.
The turbulent 1960s reached a boiling point in 1968, when world history seemed to change daily, often in dramatic and consequential ways.