NEW ALBANY—For decades, New Albany actress Charlotte "Charlie" Douglas spread her passion for theater to students in the Louisville area.
Charlie died in November, but her legacy as an educator will be remembered by her family, students and other community members through an upcoming production directed by her own daughter.
On Friday and Saturday, Presentation Academy, a Catholic college-preparatory high school for young women in downtown Louisville, will present three performances of "Godspell" in Charlie's honor. She had taught drama at the school since the early 1990s, and under her direction, significantly expanded its theater department.
Charlie's daughter, Heather Douglas, has spent many years working professionally as an actress, director and choreographer in London, but the 1987 New Albany High School graduate returned to the area to direct the musical in memory of her mother.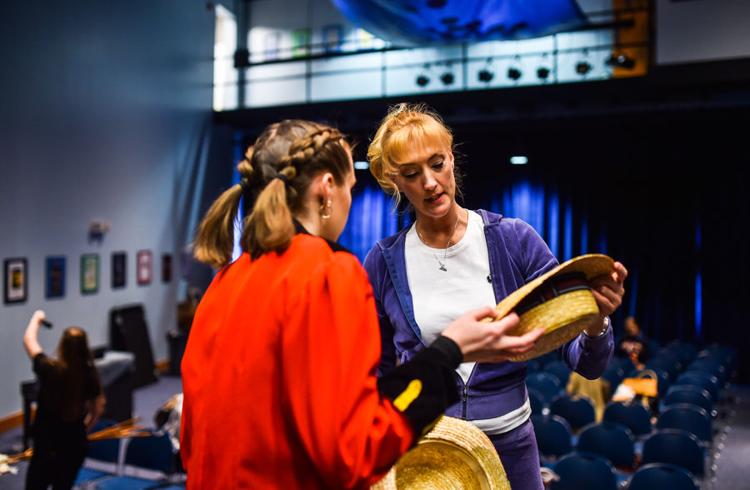 At the Saturday matinee, the Presentation Academy's theater will be dedicated to Charlie, and the school will present a reception for theater department alumnae.
Charlie's death was sudden, Heather said. She had just undergone knee replacement surgery, and shortly after, she died from issues related to congestive heart failure.
"Nobody expected this to happen," she said. "She should have been here."
Charlie had been planning to direct Presentation's Academy's production of "Godspell," so when she died, it seemed right for the show to go on as a tribute, Heather said. So, she decided to take her mother's place as director and help make something special.
The production of "Godspell" has been a bittersweet project for all those involved, Heather said. She has been trying to prevent the kids from crying throughout the rehearsal process.
"I know that when it comes to Saturday night, everyone will be in complete tears," she said. "We're asking them to hold on until we're done with the show and then let it out. I'm sure they will — they've been bottling it up for months."
THE ACTING BUG
Heather said her mother caught the "acting bug" at a young age — it was something she truly loved. Charlie was born and raised in New Albany, and she frequently acted in plays at New Albany High School. As she got older, she started acting frequently in productions in the Louisville area.
She eventually met Heather's father, Ken Douglas, who worked as a DJ at Louisville's WKLO and WAKY radio stations, and they moved to California. In Los Angeles, she studied at the prestigious Actors Studio West, and she acted in TV and film roles and became a lifelong member of the Screen Actors Guild.
Charlie was never completely comfortable in LA — she was always "such a New Albany girl," Heather said. After years of living in California, Charlie moved back home, and while continuing to act in local theaters, she also began her career as an educator.
She started teaching in the area in 1984 when she took over the drama department at Scribner Middle School, where she taught as its director for a decade, while also helping out with the NAHS theater department. Heather said during this time, she inspired drama students such as Josh Dallas, an NAHS graduate who went on to star in TV shows such as "Once Upon a Time" and "Manifest."
In the early 1990s, Charlie took over direction of Presentation Academy's theater program. They started out performing plays in a classroom, but the program grew as more kids became interested in performing in plays and musicals, according to Heather.
Eventually, the school created a theater facility that allowed for bigger productions. She also started teaching theater at St. Agnes Catholic School in Louisville, and many of those students continued to learn from her in the program at Presentation.
Charlie gave many students the confidence they needed to pursue a career in theater, including many who have gone on to become professionals in the field, Heather said. She counts herself as one of them.
Charlie had a charming personality, a childlike positivity and an enthusiasm for theater that rubbed off on her students, according to Heather. She said while theater is a tough profession in which to succeed — and many parents don't encourage it for their children — her mother encouraged students with the talent and passion for acting to pursue their dreams while letting them know about the challenges of the profession.
"Mum had acted in L.A., and she knew what she was talking about," Heather said. "She didn't candy coat anything, but she didn't ruin hopes or dreams either."
Last month, Charlie was posthumously honored with a "Theatre Educator of the Year" award from Broadway World and Arts-Louisville. Her partner, Tom Luce, accepted the award on her behalf, and she was remembered in tributes from students and colleagues.
FROM MOTHER TO DAUGHTER
From a young age, Heather was used to seeing her mother as an actress, and she remembers watching her in her acting classes in L.A. She was also surrounded by others who had found success in the profession — her father met many actors in his managing job at a prominent fashion retailer in Hollywood, and he was close friends with Davy Jones of the Monkees.
She became involved in dancing as a child, and when they moved to New Albany, she starting training at the Louisville Ballet School. She starred in theater productions at NAHS, where she learned from her mother.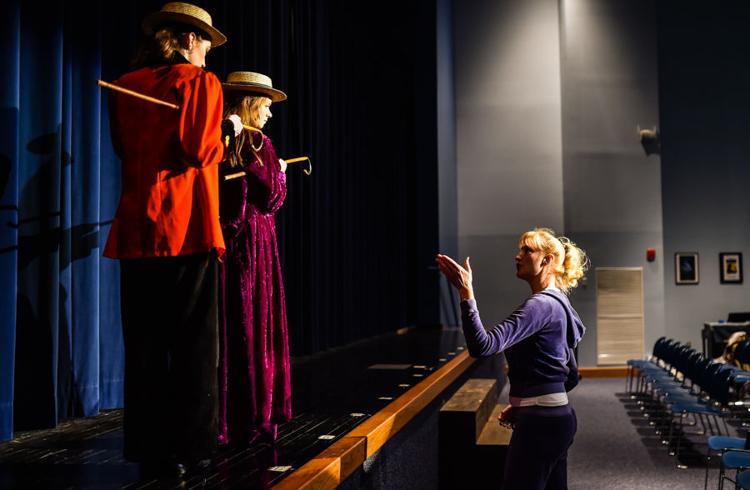 Heather studied theater at Wright State University, and she soon found success performing Disney. She eventually made it to Broadway, and before long, she was performing in shows such as "Cats" and "Chicago" in London's West End.
Now, she works as a choreographer and director in London, and her work has taken her across the world. Her mother would attend almost every show she was involved in, she said.
Heather said Charlie's passion, love and support along her career journey is one of the factors that helped her find success in the profession, along with the rigorous training.
"If my mother had never exposed me to that world, I would never be where I'm at now," she said.
Heather said her mother loved "Godspell" for its simplicity and its message of working together as a community. By stepping into her mother's footsteps, it has helped her learn how amazing Charlie was and how hard she worked in her years as an educator.
In theater, professionals have the responsibility to teach and pass on their knowledge to the next generation, and that's something Charlie did well, Heather said. Now, she is doing her part to carry on her mother's legacy.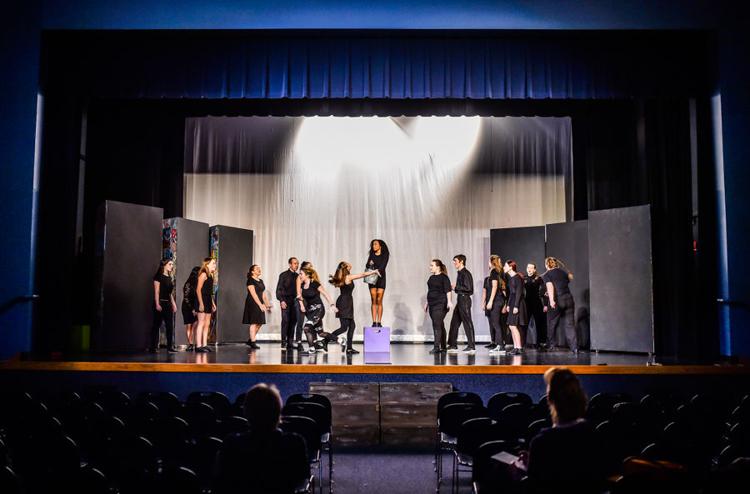 "Theater is an art form you have to pass on," she said. "It's not something you learn in a book ... It's something you have to physically do, and you have to have an innate passion for it."