FLOYD COUNTY – As the teacher sang, "This way, that way, port side, starboard … ," the sea of children shuffled their small feet, moving from one side of the room to another, creating a sort of dance.
The Green Valley Elementary third- and fourth-grade students acted out and even sang the words of the book "Port Side Pirates," bringing literacy alive with music and theater Wednesday morning.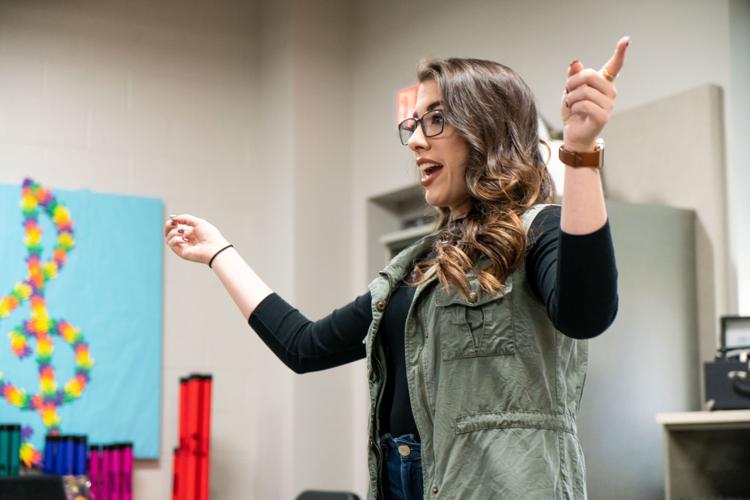 Myranda Thomas, with Stage One Family Theatre, came to the school to lead the special lesson.
"We like to come in and teach kids the fundamentals of theater to kind of add a fun dynamic to the classroom," Thomas said. "Theater is good in all kinds of ways. It helps give you confidence, it's good for public speaking skills and it's good for collaboration. It teaches you a lot of fundamental skills that not only you can use as a child, but you're going to use throughout your whole life."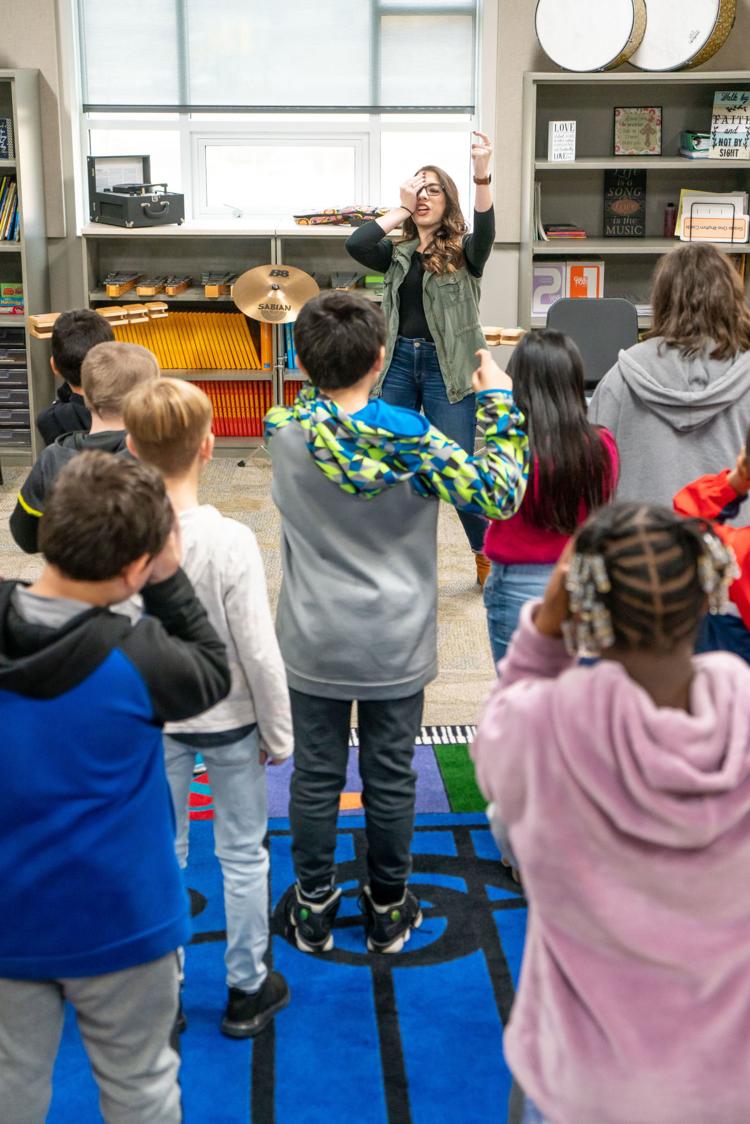 The program is being taught at all the New Albany-Floyd County Consolidated School Corp. elementary schools, for their third- and fourth-grade students, thanks to a grant, said Sally Barrett, elementary music coordinator for the district.
After performing moves to go along with singing the rhyming book, students sat down to talk about how music impacts their life.
"I like listening to rock music," said 8-year-old Dakota Minton. "It helps me calm down."
"I hate homework and it helps me focus when I listen to music," 8-year-old Micah Milby said. "It helps me, because calm music makes me calm."
Ariyah Muir liked how the lesson made reading a different experience.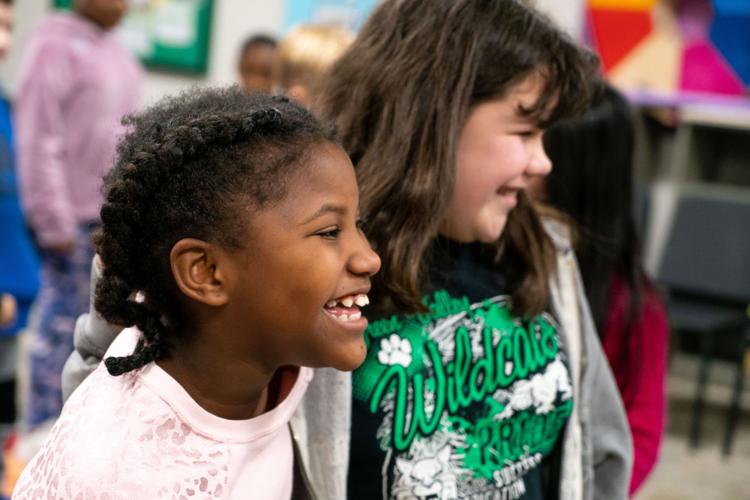 "That's the awesomist thing in the world to do," Muir said of the special lesson. "Usually, when you read books, it's boring and you just read. This one, you get to sing and dance and we got to meet new people and have partners and do everything. I want to do more acting like that."
Barrett said she hopes this lessons opens the students' eyes to the possibilities that lie within the arts.
"I hope that they're inspired to look at the arts as possible careers and see different ways that the arts do have opportunities for viable careers," she said. "But, I also hope that even if they're not inclined toward an arts career that they are able to see how music can help them in their daily life and make their life more fulfilled."
She said the benefits are vast.
"It's proven scientifically that by listening to music, it releases endorphins in our brains, serotonin and dopamine and that helps us to concentrate. It helps us to feel more relaxed. It helps us feel energized, depending on the choices of music that we make," Barrett said. "It also alleviates stress and it alleviates depression and it is just wonderful."