NEW ALBANY — Nathan Love directed the excavator to and fro after removing a load of soil while carefully following the safety precautions that are so important when it comes to construction and heavy machinery.
The elements — right down to the weight of the dirt and the mechanics of the excavator — are as close to reality as it gets. But Love wasn't physically on the job site, but rather sitting comfortably in front of three computer screens in his basement.
Instead of a hard hat, Love was equipped with simulation goggles that placed him on the scene as if he were part of a work crew. The software allows the user to step into real-world situations without the dangers that could come along with it, and some believe the programming is the future of education and workforce training.
"This will essentially allow kids to get hands-on training time without actually having to be on the machine," said Love, founder of the New Albany startup Love Gaming, LLC.
The name of the business isn't misleading. The technology used to create such simulations often saw its roots in the video gaming industry, but it has been developed into a means that can help students learn, employees train and businesses avoid liability issues.
Love began mastering the craft at his current employer, Samtec, and has turned it into a side venture with major prospects in the works. Love Gaming has been in talks with technical schools and universities as they seek ways to instruct students in a safer environment.
But the idea behind the simulations spawned from business interest. Love envisioned scenarios where businesses could benefit from having simulation programs available, and that has spurred additional ideas and opened other doors.
Love's educational background wasn't focused only on technology. The Georgetown native and Indiana University Southeast graduate earned degrees in psychology and business administration. He loves instruction and said the desire to train others was fostered through a relationship with a mentor in the Big Brothers, Big Sisters program.
That mentor is Jason Graves, southern regional director of the Indiana Office of Work-Based Learning and Apprenticeship.
"Nathan is the start of something that's going to happen in a lot of places," Graves said of the training programs developed through Love Gaming.
"You think it's years and years away, but it's here, it's now, and it's affordable."
The excavator software Love Gaming has developed was designed for technical schools like Prosser Career Education Center in New Albany. Such schools typically only get in-seat instruction time for seniors, but a simulation offers the opportunity to expand that experience to underclassmen.
There are other reasons why such technology is attractive to educators.
"An excavator is a heavy piece of equipment," Love said. "This provides a safe environment to where if they make mistakes, nobody is getting injured, nobody is getting killed."
Augmented Reality, or AR, and Virtual Reality, or VR, technology isn't as expensive as when it first hit the market, but Love said that doesn't mean it's cheap.
"It's still custom software development," he said.
But buying an excavator is also expensive, Love added.
A client could spend about $100,000 on a one-time purchase of the simulated-training software versus about $60,000 for a new excavator, he said.
The computer hardware would be an additional expense of about $2,000, but multiple students can be trained on the simulation program while there are limits to the number that can operate an excavator at a given time.
The technology also lives up to its billing in that it provides a realistic simulation.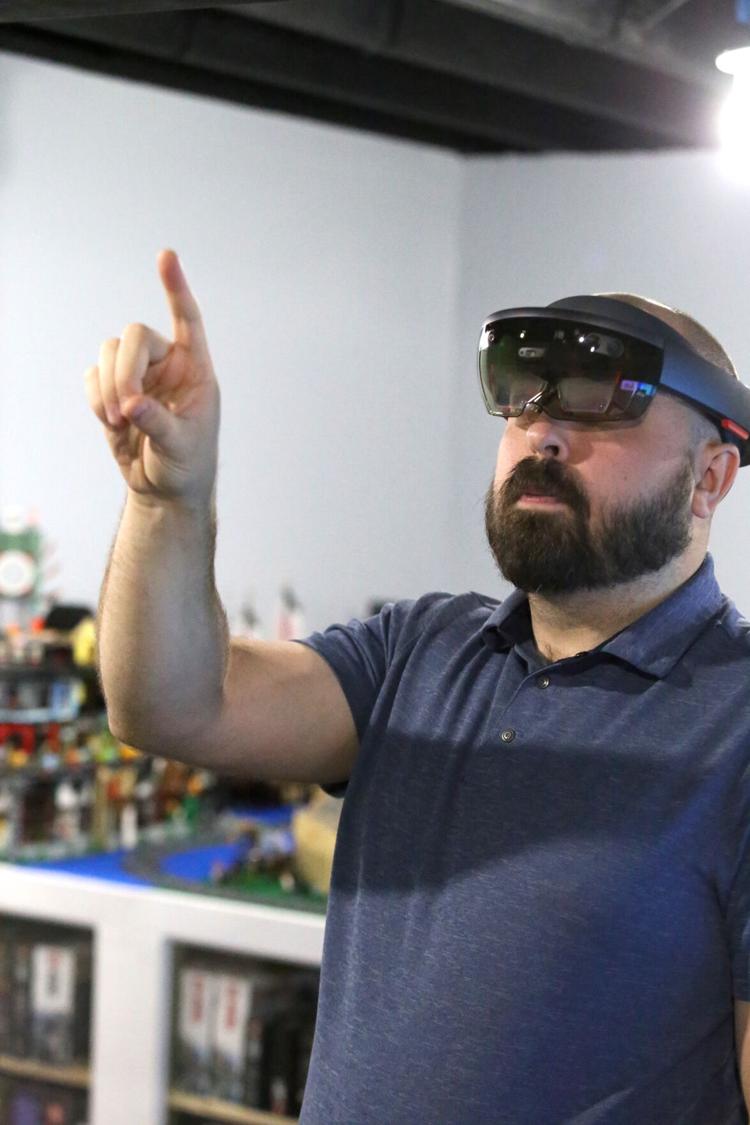 Love Gaming develops each aspect of the program to match what an excavator operator would encounter on a job. The material being removed is weighted to match its natural components. The operations of the excavator are the same as if the user was sitting behind the wheel. The program can track how much material is being removed to determine if the load collected was sufficient, or if, for example, the user failed to collect the desired amount.
Such features can be tracked and points awarded to the user, so that it almost becomes a competition. Love said that's a hat-tip to the gaming side of the technology. It encourages users to try to best their score, or the scores of other users, which means they get better and better at their craft.
Love is joined in the business by partner Bill McCrary, a software architect with coding and web design experience. Love said they combine their skills to offer a gamut of programming, from e-learning software to AR/VR experiences.
"What the company does that's so unique is that we have the whole tool bag," Love said.
Though Love Gaming has been developing software for the past few years, the pandemic has highlighted the importance of such technology, especially in the education world.
"So much of that is shifting right now, especially with COVID," Love said. "It's kind of hard to get up in front of a class and teach right now."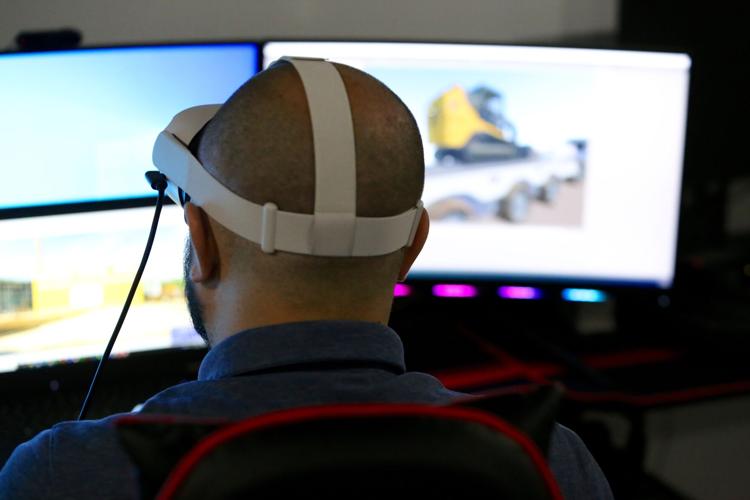 The software can also be utilized beyond the classroom. For example, Love Gaming is capable of building programming to allow for virtual tours of facilities. A person could wear the AR head piece, tour a plant and see virtual demonstrations of what kinds of tasks are completed in certain areas.
Employees could also obtain training from off-site locations, accessing the same simulations the instructor is seeing and being able to participate in a hands-on demonstration without physically being anywhere near the person on the other end.
Graves said it's game-changing technology that will "have a massive impact" on just about any type of mechanical training, from automotive to manufacturing.
He described it as next level, "Iron Man" innovation.
It's also an example of education and business partnering to meet real-world demand.
"We're going to need a lot of skilled workers. It's changing about as fast as it can. What's exciting to me is that what Nathan's doing is going to open a lot of doors for a lot of people to scale up," Graves said.
"It's going to be probably one of the most significant tools in training in the next 20-25 years."