NEW ALBANY — It will not be mandated, but the New Albany City Council may approve a resolution later this month requesting people wear a face covering in public in response to the continued rise in COVID-19 cases.
Councilman Greg Phipps said during Monday's council meeting he would be willing to sponsor such a non-binding resolution.
"I've had numerous calls from constituents asking for a resolution or an ordinance," Phipps said during a phone interview Tuesday.
"I think it sets an example. It's the city council on record saying we support something in the interest of public health and safety."
No action was taken during Monday's brief meeting, but Council President Bob Caesar also offered his support of such a resolution.
"Wearing a mask is for the other person, it's not for yourself," Caesar said.
A face covering is already required of entrants into some public spaces. The City-County Building in downtown New Albany reopened Monday, and those who enter must wear a face covering.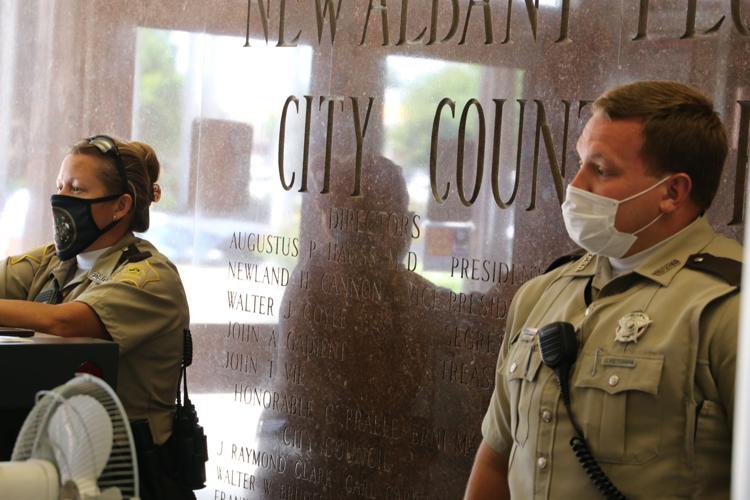 The city council was scheduled to hold an in-person meeting Monday night, but they conducted business virtually after Gov. Eric Holcomb delayed proceeding to the next phase of the state's reopening plan.
Beyond the interest of public health, Phipps is also concerned about the effect of another shutdown on the economy.
"What we can do as citizens to collectively minimize the COVID outbreak is going to help keep those businesses open," Phipps said.
As of Tuesday, four Indiana counties — Marion, LaGrange, Elkhart and St. Joseph — were set to mandate face coverings in public.
Phipps said he may bring the resolution before the council at its next meeting, which would be July 16.
New Albany Mayor Jeff Gahan said he would support the resolution.
"Right now, I think it's more important than ever that people remember to wear the mask while in public," Gahan said. "We seem to see a resurgence taking place all around us and I think it's a good step to keep the city safe, and to keep it on everyone's mind that we're still in the middle of a pandemic."
Along with social media and website promotions, Gahan said the city will use its messaging boards around the city to advertise the need for people to wear face coverings.
"Yes, they're uncomfortable. They're inconvenient. But I think it's a small price to pay to keep yourself healthy, to keep your family healthy, and to protect the overall health of the people of New Albany."
The Floyd County Parks Board met Monday night and discussed how the department and the public have handled reopening of parks.
Parks Superintendent Roger Jeffers said Tuesday the public has largely welcomed the regulations for using facilities. But Jeffers remains concerned as COVID-19 continues to threaten public health.
"A lot of people are doing the right thing and it just seems it's the ones, like anything else, that don't want to follow rules that causes headaches for the rest of us," he said.
Bathrooms remain closed inside county parks, and the department is taking several precautions, but Jeffers said ultimately the public must commit to safety practices for the greater good.
There are activities and leagues occurring at parks that are not directly overseen by the department. Kevin Hammersmith Memorial Park includes Baptist Health Fields, which is the home to New Albany Little League. Tournaments and league play are occurring at the fields, and COVID-19-related guidelines are supposed to be enforced by Little League.
The Southern Indiana Sports Center has been hosting a girls' volleyball camp. Jeffers said it's been handled responsibly by organizers as the participants are wearing masks, bringing their own water bottles and practicing social distancing.
The Sports Center remains closed to other activities and to the public, though Jeffers said the board will revisit that decision when it meets in August.
"We are trying to err on the side of safety to make sure we don't add to this pandemic starting back up," Jeffers said.