JEFFERSONVILLE — The future of Jeffersonville's arts culture is being shaped by an exciting group of community-minded artists — and many of them are female.
As part of a new artist residency program at the NoCo Arts Center, four women artists have space to pursue their art, and, as soon as conditions allow, to offer classes and other educational opportunities to the community.
"There's never been an official art center in Jeff before. Women are being seen and heard for the first time in this context, so they're really blazing a trail for years to come," said Dawn Spyker, Public Art Administrator for the City of Jeffersonville.
Jennie DiBeneditto, Sarah Young, Tammy Burke, and Lisa Marie Fowler are joined by Adam Miller, Philip Collins, Greg Rush, R. Michael Wimmer as the inaugural group of artists in residence in the NoCo Arts Center in the heart of the NoCo Arts & Cultural District.
A ninth resident, Malliccaaii Green, uses the Green Room teaching space within the facility to teach children's painting classes.
Seven of the nine artists in the residency program are already working on a collaborative project for Clark Memorial Health and Today's Media called Project Uplift for the workers at the hospital. "The artists are very community-minded," Spyker said.
The original plan for the resident artists was to have them participating during many of the public art community events that were planned for this year. "They would be able to interact with people, share their knowledge and educate," Spyker said.
Those plans have been scaled back considerably, but Spyker hopes some events will be rescheduled later this year.
The NoCo Art Center is "exciting," said Burke. "This will be the new normal for this generation. They will expect art in the community. If it's not there, they will create it. What's happening here is going to have effects down the road."
"The studio spaces with artists residents is new," Spyker said. "We haven't really been able to promote the program. They moved in at the very beginning of March and then Covid-19 hit."
"Half the artists are female. Historically that would not be the case," said enamel artist and jewelry maker DiBeneditto. "Museums historically have been fundamentally filled with white men. It's definitely an honor to be one of the first, but also a female."
"I love it here," said Burke, a textile artist. "The group is half women. I didn't even think about it until recently when we did a collaborative project."
She looks forward to the program welcoming more artists of color as well. "Arts programs can be very white," she said.
Literary artist Young said she is very impressed with what Spyker has put together in NoCo. "I am honored to be surrounded by a woman-led arts community," she said. "She doesn't discriminate at all. If you're a man, a woman, a child, it doesn't matter."
"I think women have come a long way," said Fowler. "Women empower each other, it's a great feeling. It's not about competition, it's about bringing out each other's strengths. I feel really good about this place. I'm looking forward to the future here. It's gonna be outstanding."
The Jeffersonville Public Art Commission, in collaboration with the Jeffersonville Redevelopment Commission and countless volunteers, helped the city create an Arts and Cultural District, dubbed NoCo for its location just north of Court Avenue.
The NoCo is a vibrant hub for community-engaged activities, cultural production and family-magnetic entertainment. As a colorful, welcoming gathering place, NoCo inspires emerging and established creatives, generates economic vitality and helps extend the arts throughout the city.
Epitomizing creativity, community, innovation and progress, the whimsical, walkable district has been taking shape over the last six years within 22 acres of formerly blighted downtown blocks.
From the brilliantly reimagined water tank that serves as a focal point to the Clark County Museum and the family-centered pocket part at the Vintage Fire Museum, NoCo is already a vibrant part of the community.
The former Grey & Wells auto body shop at 628 Michigan Avenue was transformed into the NOCo Arts Center several years ago, hosting art classes and events.
"NoCo is great, but there is so much more to come," said Spyker. Plans call for a pop-up artisan market near the water tank, and preliminary construction on the Depot Entertainment Space, as well as a story trail, is underway.
The completed Depot space will showcase modified shipping containers housing retail space, a permanent stage, and food venues.
For more information go to jeffersonvilleart.com or the Jeffersonville Arts & Cultural District Facebook page.
Jennie DiBeneditto – Enameling and Jewelry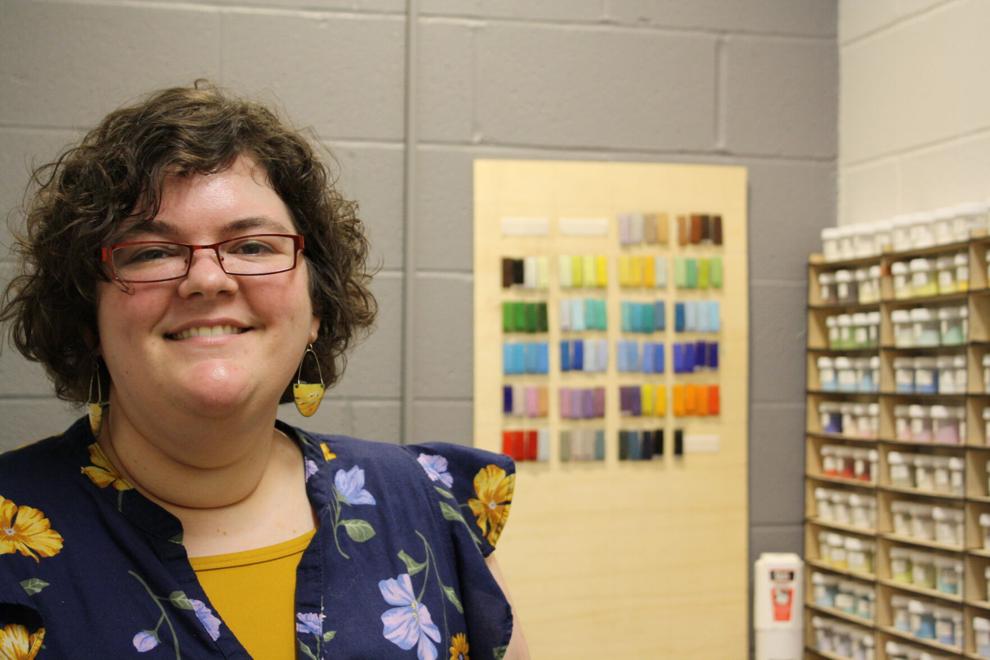 Working primarily in bright colors and bold patterns, Jennie DiBeneditto started her career as a graphic designer.
Her enamel work involves fusing glass to metal, primarily copper in her case. "It's a little similar to the ceramics I've done before," she said.
"I wanted to do this from home, but this is a much better environment. If I set this up at my house, I wouldn't have people coming by to watch me work."
DiBeneditto is a familiar face to Jeffersonville art lovers as a founding member of the Jeffersonville Arts Alliance and co-owner of the former Silica Ceramic Studio. Over the years she has been awarded commissions for Jeffersonville Public Arts, and has participated in many public arts events in the city.
As part of the community artwork solicited by Clark Memorial Health and Today's Media, DiBeneditto will soon be asking the public to send in notes of love and encouragement for healthcare workers on Post-It Notes-sized pieces of paper. The notes will be enameled and form part of a larger piece.
Her space, studio 7, is the smallest, but is perfect for her. "This is a nice, compact space with nice fireproof walls for my small kiln," she said.
She plans to use the studio space to create enamel pieces of jewelry, small-scale wall hangings and sculptural pieces. "I hope to do classes once we get to a point where we can do that type of thing again," she said.
"The space is an amazing thing for Jeffersonville. There are great opportunities for women here."
Learn more about her art at her website, jenniedibeneditto.com/shop.
Lisa Marie Fowler – Lampworking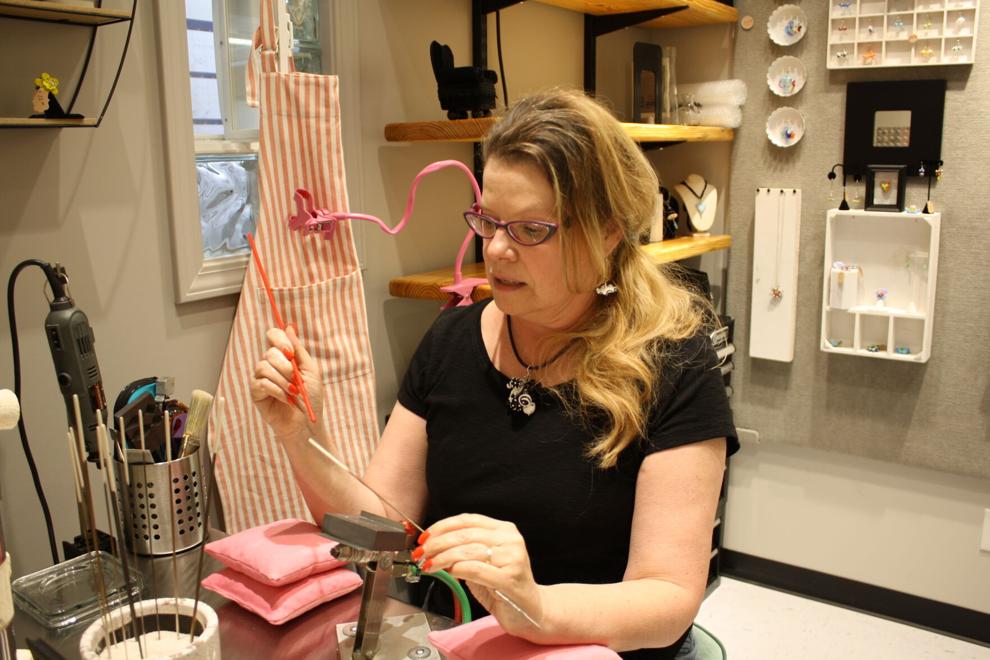 Lisa Marie Fowler is known for her 'gobstopper' design earrings and Kissy Fish, whimsical glass fish that come as pendants or framed. Her other work ranges from bright glass beads to collaborative metal sculptures.
"People would always ask where I bought my beads," she said. "People don't understand and that means education. I want to educate people on how beads are made. I can teach the fundamentals."
Her creations are formed through lampworking — the use of a torch to melt glass which is then formed by blowing or shaping with tools or hand movements.
"Working with glass in its fluid form is fascinating to watch and fun to explore," she said. "I can use my imagination to create one-of-a-kind pieces."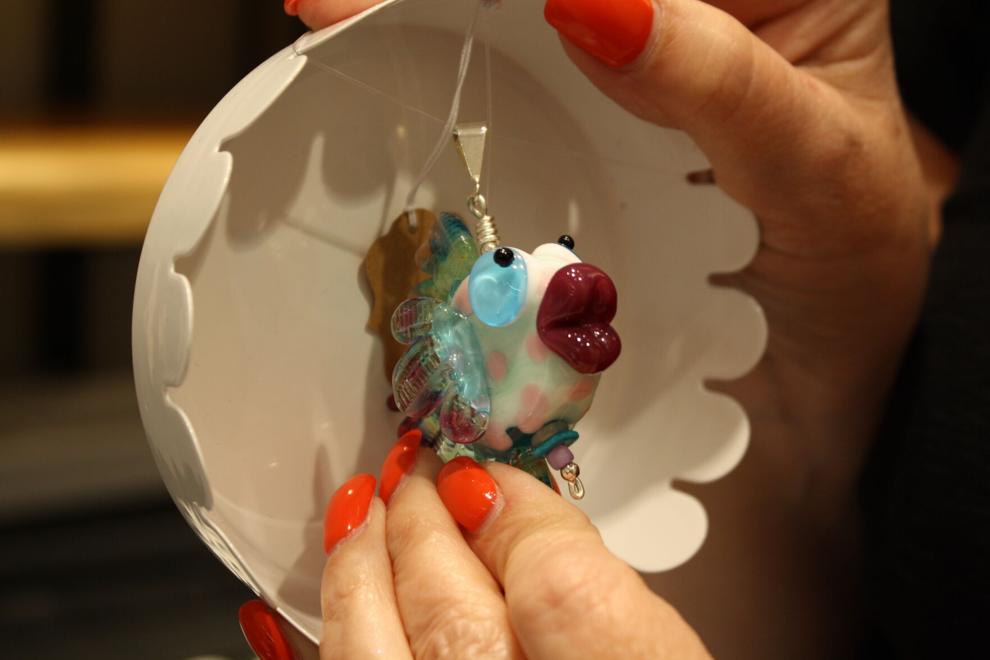 Fowler is a member of the International Society of Glass Beadmakers, a juried member of the Louisville Artisans Guild and a member of the Jeffersonville Arts Alliance, with works exhibited at galleries in Indiana and Kentucky.
As a young child Fowler started collecting quirky mementos and things that made her smile. She eventually started collecting glass beads.
Before she was an artist she worked as a paralegal. "I always saw the really bad stuff," she said. "I needed an outlet."
That outlet was a class at Glassworks in Louisville. "I enrolled in a lampworking class in 2002 and I've been making my own beads ever since," she said.
Learn more about her work at lisamarie-studios.com
Tammy Burke – Mixed Media and TextilesTammy Burke spends most days in her studio with her dog, Dahlia. "This is a great space," she said. "Because I can sit here and have all this room to make things, I can be available when my family needs me."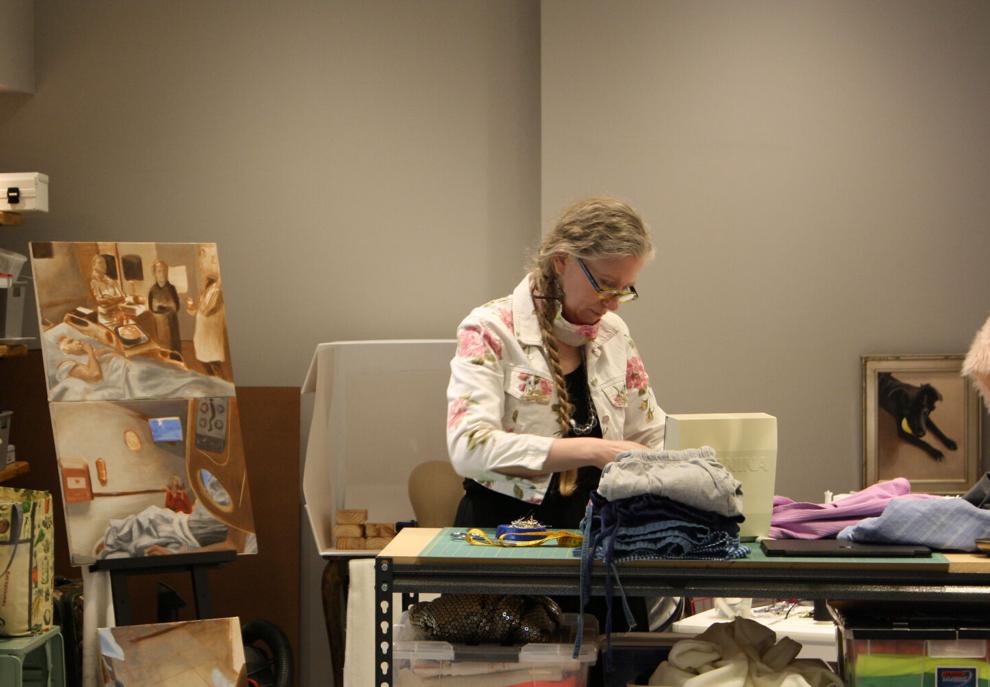 Burke said it would be easier to list the types of art she doesn't create than the types she does. "I am like a schizophrenic artist. I don't really do ceramics, but I could. I build things, I paint, and I work in videos."
In her studio space she is now focused on textiles and has spent much of her up-until-recently limited time in the studio sewing face masks. "I've made over 500 masks," she said. "If I didn't have this space, I couldn't have supported myself during the coronavirus shutdown."
She has taught 3-D design and painting as an adjunct at both the University of Louisville and Indiana University Southeast and recently completed her Master of Fine Arts degree at UofL.
Burke gives guitar and ukulele lessons in her studio, and before Covid had been planning to give classes in life drawing. "Charcoal and fabrics don't mix," she said.
"I love teaching life drawing, though. It involves training yourself to see, but not think what you see."
"The NoCo Arts Center has done a great job here in creating an outward-facing environment. Whether that's a good space to take photographs or to have people in the building to see our work and possibly buy things from us."
Learn more at https://tammyburke.com
Sarah Young – Literary Artist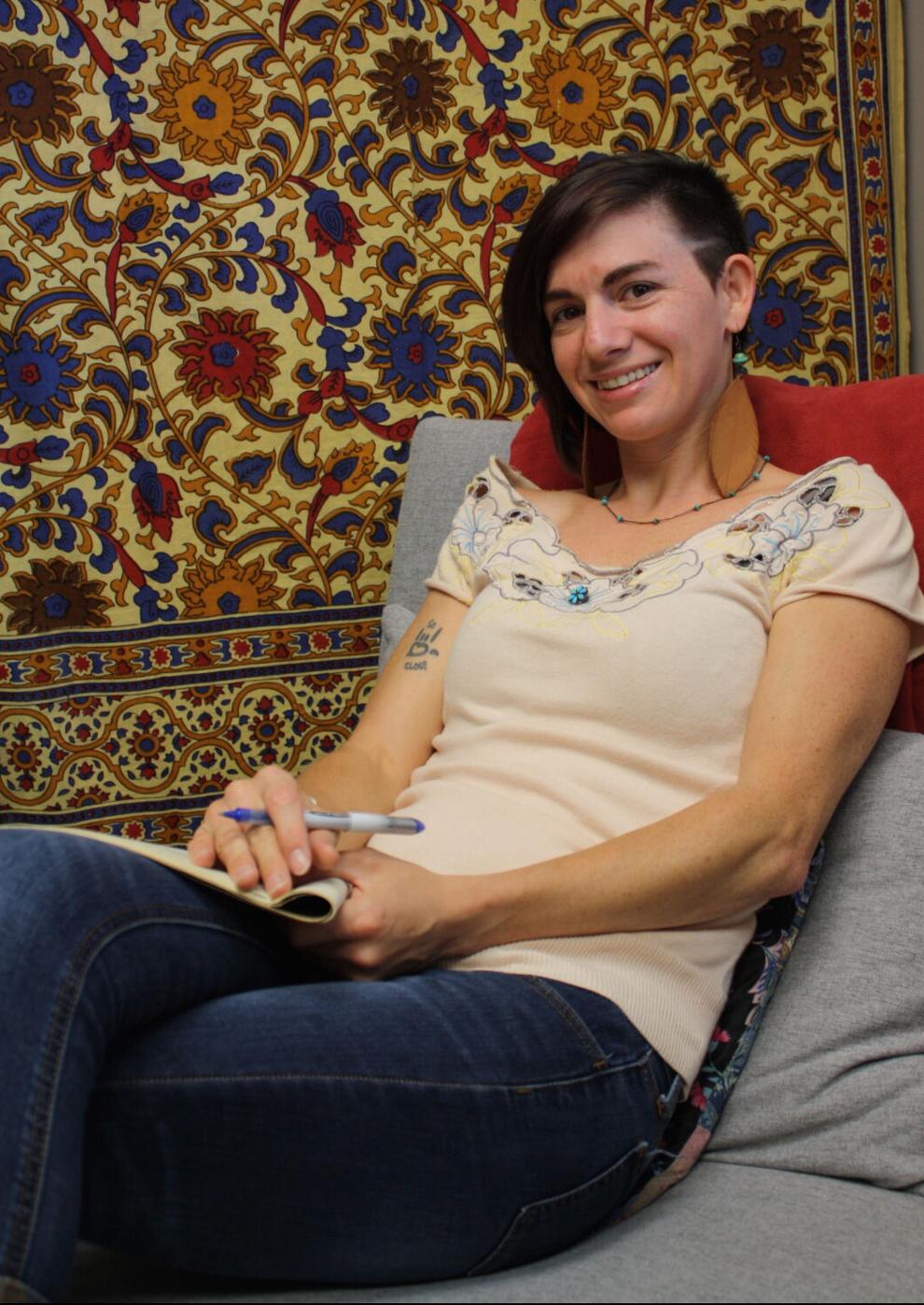 Sarah Young had always treated writing as a hobby and side thing. "I was shocked when I got into it (NoCo)," she said. "I have my own space for the first time in my life."
As a full-time stay-at-home mother for the last five years, "It's been very difficult to fuel my creative side," she said
Young has served as an officer with the Jeffersonville Arts Alliance and has volunteered countless hours for JAA public events and projects like Steamboat Nights, Sugar Skull Shake Shake, the Lantern Parade and more.
"I never considered myself an artist. I just enjoyed hanging out with artists," she said. "Three or four years later, I'm an artist!"
While she writes mostly creative non-fiction in short form or poetry, Young said she has several novellas "percolating" in her mind.
Young said she likes to bring her stories full circle, wrapping the ending back to the beginning to mimic "the ebb and flow of the Karmatic human experience."
Her work is largely aimed at an adult audience, being a mother has led her to develop short stories and whimsical poems "for the adolescent ear."
She aims to create works that are relatable, with a firm basis of humanity, humor, and hope.
Currently unpublished, Young is very motivated by her mother, who passed away last year. "She was a poet. She's a lot of me and it's important to carry her with me," she said.
"Working through her death has been nitty-gritty and raw. This has been a safe space for me to fuel the process."
Young is now focusing primarily on the Clark Memorial Health project. "I'm always trying to stretch my abilities," she said. "I'm about to be paid for the first time as an artist!"
Find Young and more information about her and her work at https://blitzyfuss.home.blog/