NEW ALBANY — When I've had family and friends visit New Albany in the past, one thing has always come up — there are a lot of dead people here.
And they're right to bring it up. For a city as relatively small as New Albany, there are quite a few cemeteries. A short drive through the city grid is sure to take you past a burial ground of some sort.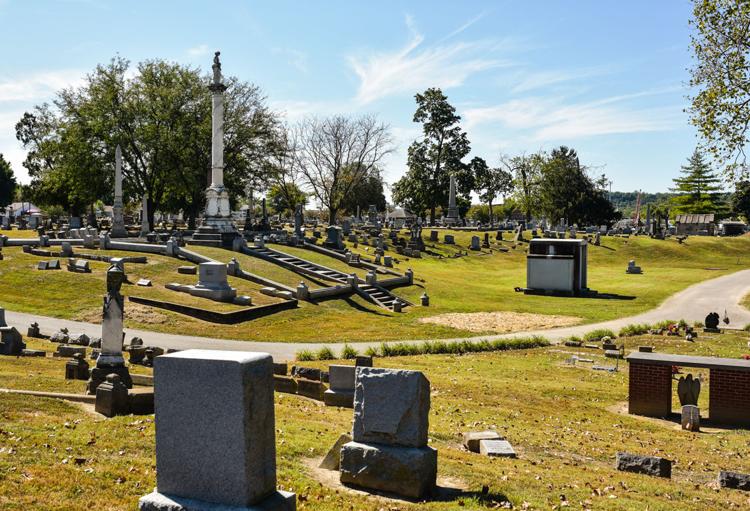 One property that is but a stone's throw away from the increasingly-lively downtown section of New Albany is Fairview Cemetery.
Last month, the Friends of Fairview held its annual Stories Behind the Stones tour, just in time for Floyd County's Bicentennial.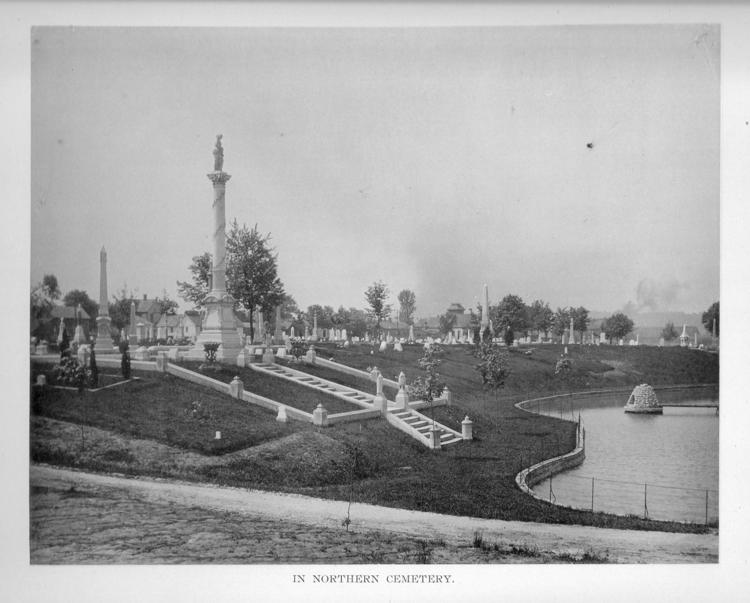 "Since 2011 we have done some digging — if we can use that pun — and have tried to tell a story that some if not most of the residents of New Albany, and sometimes family, did not know," president Jim Munford said.
There is certainly no lack of substance for Munford and the friends to explore at what is now known as Fairview Cemetery, which has seen in excess of 31,000 burials over the years.
"The cemetery has come to be the final resting place for war veterans, volunteer fireman, [the] 'who's who' of early New Albany, children, and — yes — many unknowns who were found along a trail or washed ashore in the Ohio River," Munford said.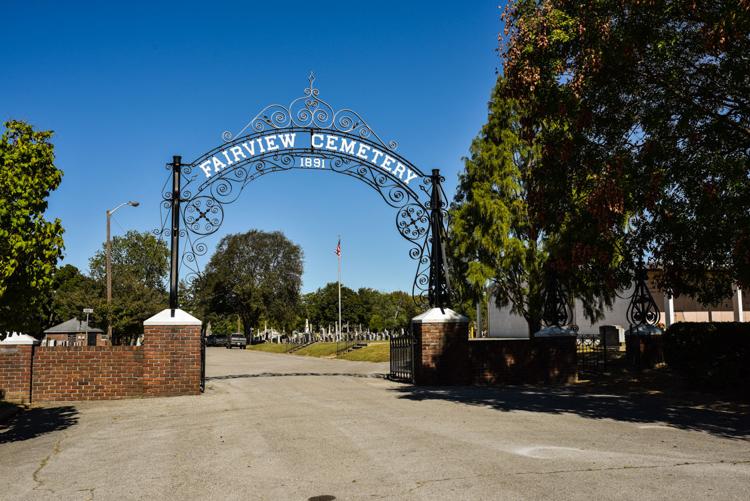 Established in 1841 as the Northern Burying Ground, the cemetery started off with just over five acres. Despite its small size, it was an improvement over the graveyard it replaced, which was located on First Street between Elm and Oak streets.
Beautification of the burial grounds proceeded as it grew in size with each passing year, even coming to include lakes and walking paths.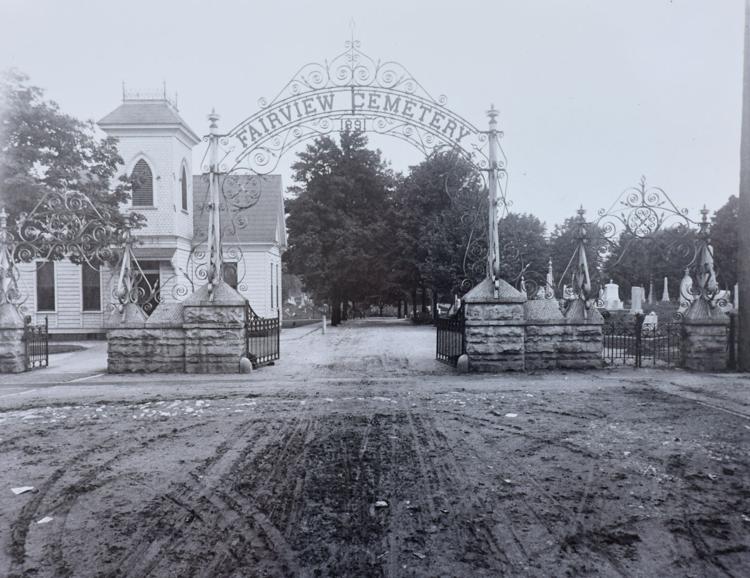 The property was taken over by a Board of Regents in 1891. The name was changed to Fairview Cemetery shortly after in 1896, at which point the ornate gate with bronze lettering at its entrance was installed for $500.
"It was one of the first cemeteries built in New Albany that was the new, 19th-century concept of the cemetery as a park," said Eileen Yanoviak, director of the Carnegie Center for Art and History. "It's not just practical for burying the dead, but the cemeteries were actually meant to be beautiful grounds. It was this 19th-century trend to make them pleasing places to go. You might even have a picnic at a cemetery."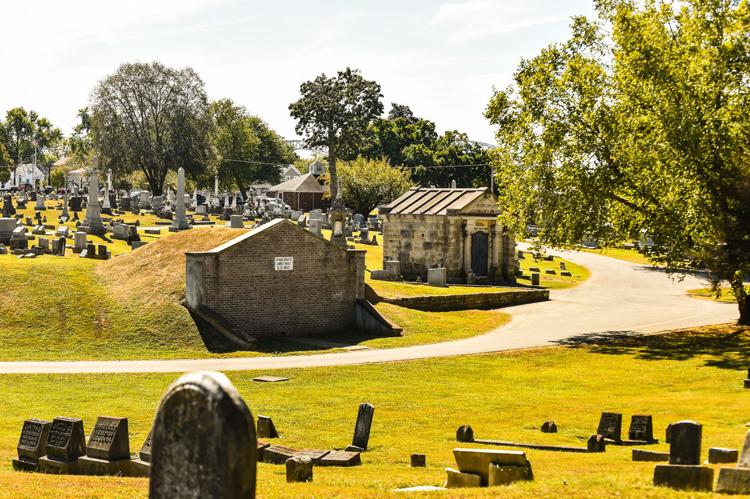 But look past the gentle, rolling hills and elegant monuments of Fairview Cemetery and you'll find a much more sinister history.
In years past, Southern Indiana — like many areas throughout the country at the time — was rife with grave robbers. Newspaper accounts of unauthorized exhumations referred to such thieves of the dead as resurrectionists and ghouls.
Many times, the grave robbers weren't after any riches. Rather, it was the bodies themselves they wanted for scientific and medical purposes.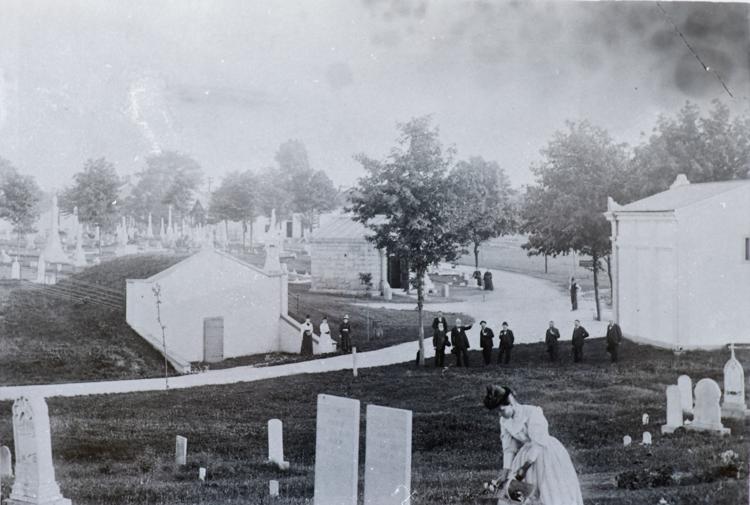 "There's the scientific inquiry of it," said Tim Romig, who explores the city's dark past with the New Albany Odd Walk. "It was part astonishment and part abhorrent. You have all of these scientific discoveries, but also these morals of the time, like don't mess with the human body and don't play God."
In some instances, grave robbers were even reported to have saved the lives of those they dug up.
"Grave robbers stole a body and transported him back to their office," Romig said of one such occurrence. "He was actually on the table about to be cut up when he came to."
Fears of having their eternal resting places disturbed prompted some well-off residents to take precautions. It's believed that William Culbertson, once New Albany's richest person, paid to have guards watch over his plot immediately following his death.
Others were more reactionary in dealing with stolen bodies. Families would place advertisements in newspapers requesting that the corpses of loved ones be returned for a price.
Crafty individuals with clever minds also tried their hand at inventing deterrents, including dropping cages over would-be grave robbers. Perhaps the most gruesome of all traps was a tripwire that would set off a bomb and simply blow up the resurrectionists.
For New Albany's most infamous grave robbery, however, the only defense needed was a gut feeling and a gun.
It happened in early 1890 when three physicians from Louisville — including Dr. J. T. Blackburn, Dr. W. E. Grant, and another whose name was thought to be Graham — ventured across the Ohio River on a wagon with two assistants by the names of George Brown and William Mukes. The purpose of their trip was to retrieve the bodies of two recently-buried men, Thomas Johnson and Edward Pearce, from what was still referred to as the Northern Burying Ground.
A bit of carelessness on the end of the would-be desecrators, all of whom were connected to the Kentucky School of Medicine, caused their plans to be doomed from the jump.
"Blackburn had been caught scouting earlier," Romig said. "He went to the cemetery and asked where these certain graves were. Someone took him to them, and Blackburn then offered to give them money. That guy is the one who ratted them out."
After the sexton of the graveyard was notified, he immediately took the matter to police. A group of officers and friends and family of the deceased then hatched a plan. They gathered at the cemetery that night, hidden near the graves in order to catch the resurrectionists in the act.
Reports show that the night of the incident was particularly spooky, with a massive storm making its way through New Albany at the midnight hour.
"It was one of the worst lightning storms to happen in New Albany in a while that night," Romig said. "It was the perfect setup for something ghoulish to happen."
Not long after making their way past the cemetery gates, the robbers were ambushed by the watchers, who shouted, "Throw up your hands!"
The assistant Brown, however, decided to run. In between the sudden crashes of lightning and thunder, a gunshot was fired, killing Brown instantly.
"Apparently his heart had been blown out of his chest," Romig said.
Though Brown was armed, it was found that he had not intended to use the gun, with the coroner noting that he was shot in the back at close range.
Blackburn, Grant and Mukes were arrested and taken to New Albany's jailhouse, with the third doctor escaping. A gathering mob prompted officials to transport them to the state prison in Jeffersonville to avoid lynchings.
In the weeks that followed, a media frenzy over the incident ensued, with newspapers from major cities throughout the country running stories.
To the dismay of many shocked residents in the area, none of the men were convicted of a crime, with officials noting that they had not yet dug into the graves when they were captured. Romig said that the support of the entire medical community and the best legal team in Louisville also played a role in the acquittals.
Unlike what happened that night in New Albany, many grave robbers likely got away with their crimes without anyone ever knowing.
"Grave robbery was a huge problem in the United States and Europe," Romig said. "You really don't know in old graveyards how many bodies are still there. All these people were sneaking and stealing bodies and covering it back up."
Those interested in learning more about Fairview Cemetery can view the exhibition "'A Place of Rare Beauty': A Sketch of Fairview Cemetery's History," which will be at the Carnegie Center until Dec. 14.