SOUTHERN INDIANA — As Southern Indiana enters another year of the pandemic, businesses are feeling the strain of cases growing again, this time believed to be from the Omicron variant.
Signs posted on the doors and on social media pages in Clark and Floyd counties blame COVID infections for canceled reservations, staffing issues and closings.
It's hard to know when it's time to make the call to shut down a business. Brian Holton with Monnik Beer New Albany said the decision to do that at the start of January stemmed from a a number of people testing positive for COVID-19.
Holton said the plan was to take time off so people could get tested.
"The other element of it was it was a lot on all the un-sick employees to cover all the shifts that needed to be covered," he said, adding it leads to a bit of a staffing shortage when workers are quarantined.
Monnik Beer requires masking among employees and has had that rule in place since March 2020. Head Chef Alexis Kemper, along with other staffers, prepares food wearing a face covering, even if customers aren't around. The brewery and restaurant is also removing seats to create more room.
"Nobody thought (COVID) would take two years," Holton said. "Our guests are generally respectful and nice. And as much as that's possible, we really appreciate it."
Eighth Street Pizza in New Albany is also dealing with the effects of the case surge.
"We've certainly seen the volume slow down a little bit," said owner Jeff Minton. "That's kind of a two-factor thing, certainly the COVID affects us like everyone else. And also for pizza, this is kind of the quiet month."
Minton said the business is following Floyd County Health Department COVID recommendations and makes sure to keep the restaurant clean and sanitized.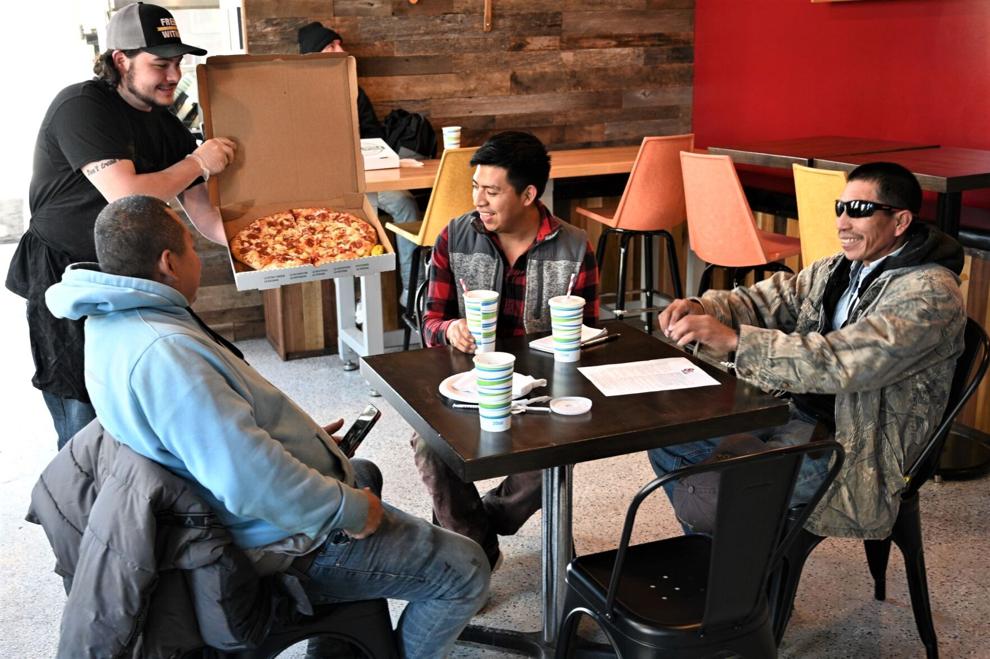 The pizza parlor is unique, since it focuses on serving people in the underserved community. Those in need can stop in for a free slice and drink, and customers are able to pay-it-forward to the community.
"We can do app delivery, we can do take-out, we can do curbside," Minton said. "That really, really helps us...even if the dining room has little to no one (inside) we can make a living and keep everyone safe."
Despite the concerns about increasing cases, people are still spending money in the region.
Southern Indiana reported record hotel occupancy in December, with the highest rates since the Clark-Floyd Counties Convention Tourism Bureau, GoSoIn, started collecting this particular data.
"The latest data we have for our hotels shows that (Omicron) did not affect hotel stays at all," said GoSoIN Chief Marketing Officer Luanne Mattson. "I looked at our occupancy and our revenues. It looks like our hotels have had the best December we've had since 2013."
Still, Mattson says people may pull back soon as more people are experiencing flu-like and COVID symptoms.
"I think people are starting to step back a little and being more cautious," she said. "But I don't have any hard data on that right now."
She said outdoor activities, like visiting local parks, are safe ways for people to get out. Mattson also said people who are concerned can call ahead to businesses to find out what COVID protocols are in place and if large groups are expected.