JEFFERSONVILLE — Malcolm "Milky" Williams loved basketball, his family, and his friends, and he died just days before the birth of his first child after being shot by an Indiana State Police trooper in an incident that sparked a demonstration in downtown Jeffersonville this afternoon.
From Court Avenue to the Clark County Courthouse, and then down toward the riverfront, about 75 people marched while holding signs, reciting chants and calling for ISP to release more information from the night in question.
"Basically today, we're just trying to get the word out there. We just want to get as much exposure as possible so we can get some help," said Malcolm's older brother, Tyler Williams, 29, of Jeffersonville.
"I'm not on any violent protests. I'm not trying to mess up anything, because I know all of these people don't have anything to do with what happened to my brother. I want the footage, that's the only thing I want."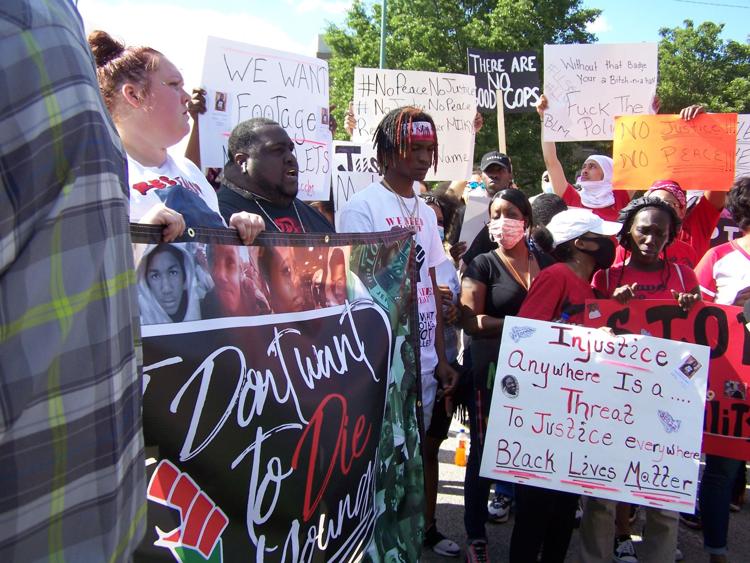 The problem is, there may not be any footage. ISP has not released additional details to the press about the shooting, and Williams' family members said they were told no footage from the incident exists.
The shooting in question
ISP issued a news release following the shooting stating that at about 1 a.m. on April 29, a trooper stopped a car driven by a woman on Middle Road in Jeffersonville for a taillight violation. Williams was a passenger in the vehicle.
During the stop the trooper requested an ambulance for the woman stating she was possibly having a medical issue. According to the preliminary investigation, Williams, 27, gave a false name to the trooper. ISP states in the news release that a short time later, Williams brandished a handgun and fired at the trooper, who returned fire and shot Williams.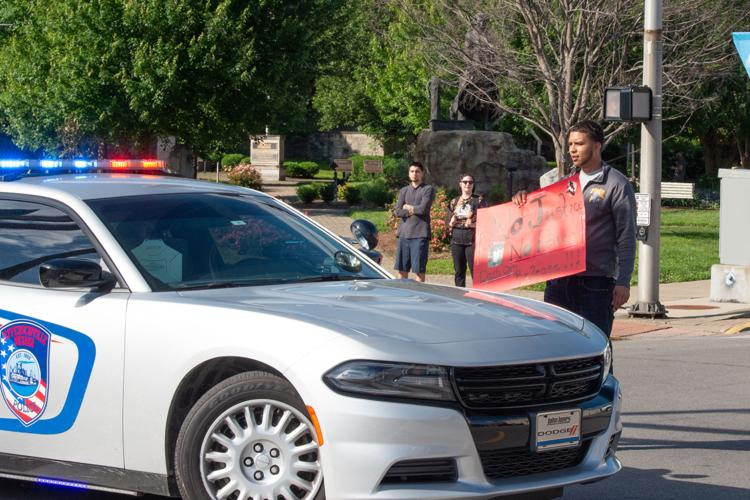 Williams was pronounced dead at University of Louisville Hospital.
Tyler Williams said the woman driving was the soon-to-be mother of his brother's first child, and she was having a medial issue related to her pregnancy.
According to ISP, the trooper received a powder burn and abrasions from the apparent proximity of Williams' gun.
Williams had four outstanding warrants out of Clark County including a violation of home incarceration.
Williams' brothers, Tyler and Trevaughn Williams, 25, said their brother had made mistakes, but they doubted he would shoot at a police officer. They emphasized the shooting is an example why ISP should be required to have cameras.
"I know my brother wouldn't just shoot at the police," Trevaughn Williams said.
The woman who was driving the vehicle was at the demonstration Saturday, but she began to cry and declined to speak when members of the crowd asked her to tell about what she witnessed April 29.
The protest
Williams' family and close friends were the first to arrive at 4 p.m. at Warder Park, and more people began trickling in for the demonstration that started with people waving signs on the sidewalk at passing vehicles.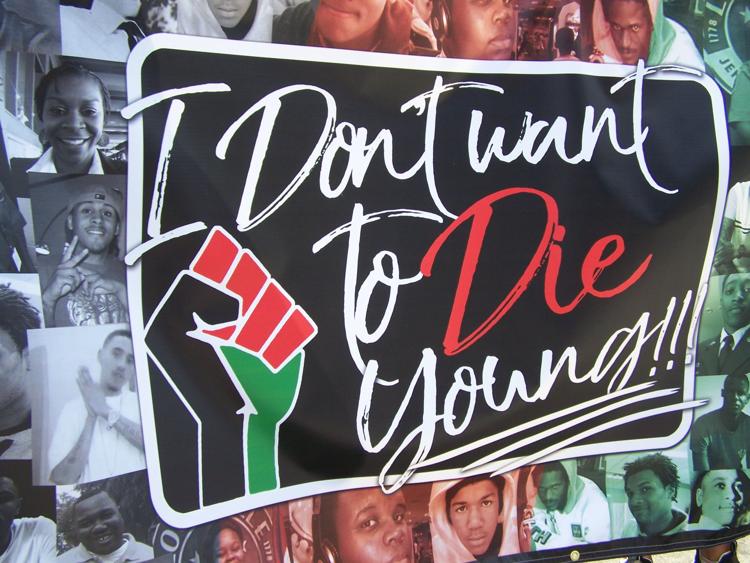 As the crowd began to grow over the next hour, people began forming a line across East Court Avenue near the Spring Street intersection. Some cars were blocked from passing, but most drivers saw the protest and turned down adjacent streets.
Several ISP and Jeffersonville Police Department vehicles were seen near the gathering, but the officers didn't approach the protesters and made no attempt to stop the progression as the crowd began walking toward the courthouse at about 5 p.m.
Members of the crowd chanted "no justice, no peace" and "we want footage' as they made their way along Court Avenue. There was a police presence at intersections of side streets, but they didn't engage the group as it made its way to the courthouse lawn.
Williams was black and some of the protestors said there have been many questionable shootings and acts of violence between police and people of color. The demonstration occurred while protests continued just across the Ohio River in Louisville following the death of Breonna Taylor, who was shot by police while inside her apartment. 
Family reaction
After reaching the courthouse, demonstrators paused and family members spoke with media.
Tara Bryant, Williams' mother, said she has many questions about the shooting. She called for the ISP to be transparent and provide more details about what happened April 29.
"I want to know what happened to my son. I want footage. I want the truth," she said.
Williams' first child, a boy, was born just a few days after his death, Bryant continued.
"It's not fair and we won't stop until we get the answers we want," she said.
Tyler Williams said his brother loved to play basketball and was loyal to his friends and family.
"He was just a loving person. If he had love for you, he was going to show it," he said.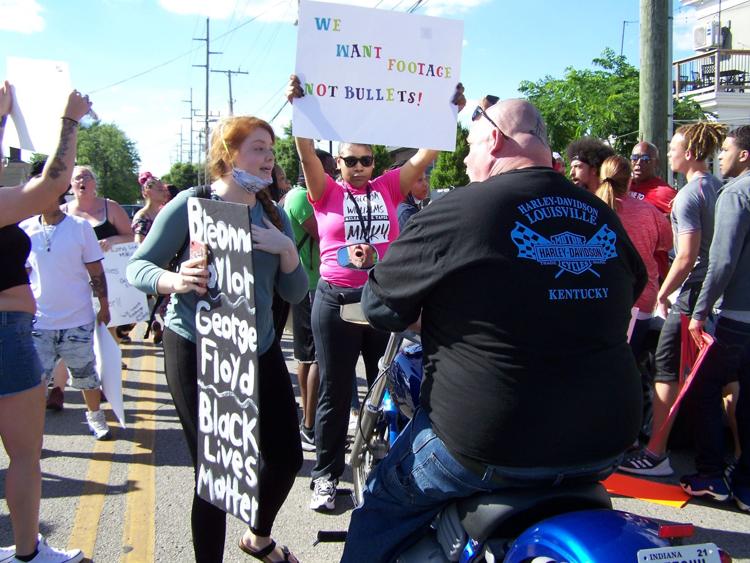 After leaving the courthouse, the protesters marched back toward Warder Park before veering onto Spring Street and making their way toward the Big Four Bridge.
Once there, they stood in the middle of Pearl Street near the intersection with West Chestnut Street, blocking traffic and chanting slogans as they held aloft signs. A tense exchange with a motorcyclist ended peacefully when he finally back up, turn around and road south on Pearl.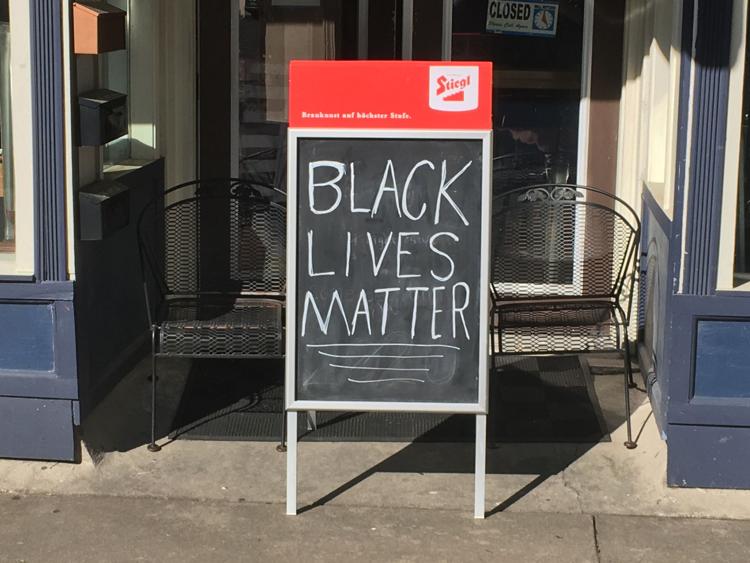 Later, demonstrators took the protest elsewhere, marching east on Chestnut to Spring Street, then north through the heart of downtown. Police cars, their lights activated, followed at a distance.
Scribbled in chalk on a board outside one business was a message echoed throughout the day: "Black Lives Matter."