SELLERSBURG — Council members described an unfortunate reality during an information session on sewer and water service — rates haven't been adjusted in several years, and Sellersburg customers are going to have to pay more to keep the utilities solvent.
How much more, and when the rates will increase, are the questions still to be answered. But the Sellersburg Town Council appeared to be in agreement Wednesday that doing nothing isn't an option.
"I'm asking you all to move forward on this," Council President Brad Amos said.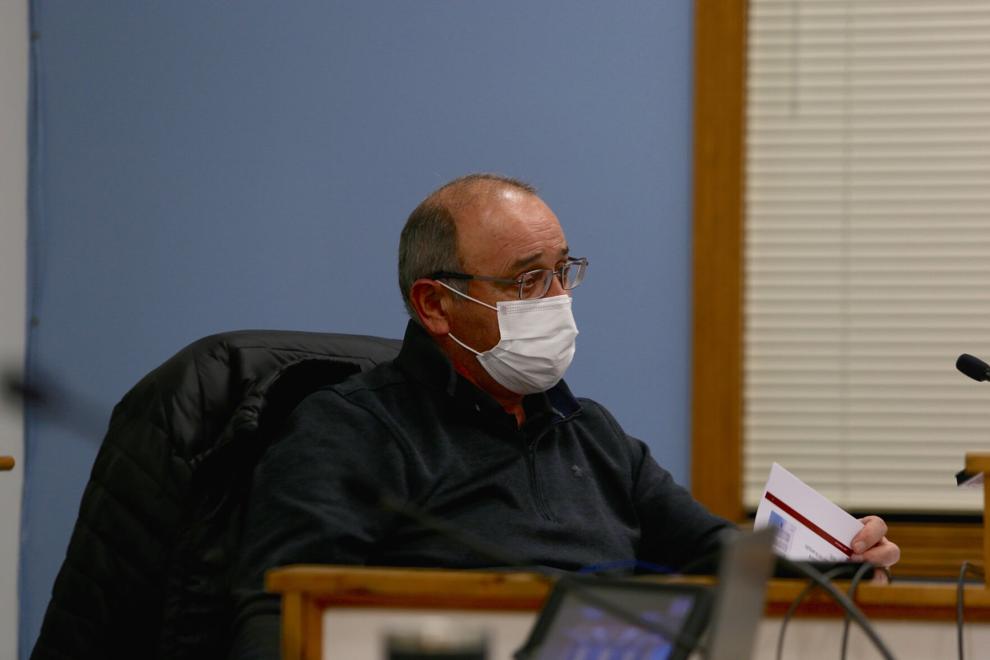 He stressed that he'd asked previous councils to address wastewater and water problems, but to no avail.
The last sewer rate increase for Sellersburg customers came in 2001 and was decreased in 2007. The water rates haven't risen since 2013.
Michael Harris, vice president of the engineering firm Jacobi, Toombs & Lanz, presented a detailed report to the council during the first of two public-input sessions slated for the potential rate increases.
The report showed millions of dollars in projects needed for the sewer and water systems in addition to the main issue — expanding Sellersburg's wastewater plant.
The Indiana Department of Environmental Management notified the town that its plant is nearing 90% capacity, which means it could be difficult to add new developments and users onto the system.
The town has already sought bids and could move forward with approving an expansion project by the end of March, with construction expected to take at least two years.
But without recent rate increases to keep up with infrastructure needs, users could see more than a 100% rise in sewer bills.
The option to only fund the plant expansion, which is estimated to cost about $24 million, would see a monthly bill for a customer using 4,000 gallons increase from $22.85 to $49.32.
The second option, which would provide funding for system improvements beyond the plant expansion, would result in a monthly bill of $56.01 for a 4,000-gallon-use customer.
Sellersburg customers are now paying well below the state average for sewage use and that of nearby communities such as Charlestown, Clarksville and Jeffersonville.
The story is similar for water rates based on 4,000-gallon-monthly consumption. The Sellersburg rates now are lower than other Southern Indiana communities at $22.70 a month. Two of the options presented to the council would see those rates increase by about $7 per month, with a third alternative bringing costs up to $51 for 4,000 gallons of water use.
As is the case with sewage, the water rate options depend on how much the council wants to spend on infrastructure improvements.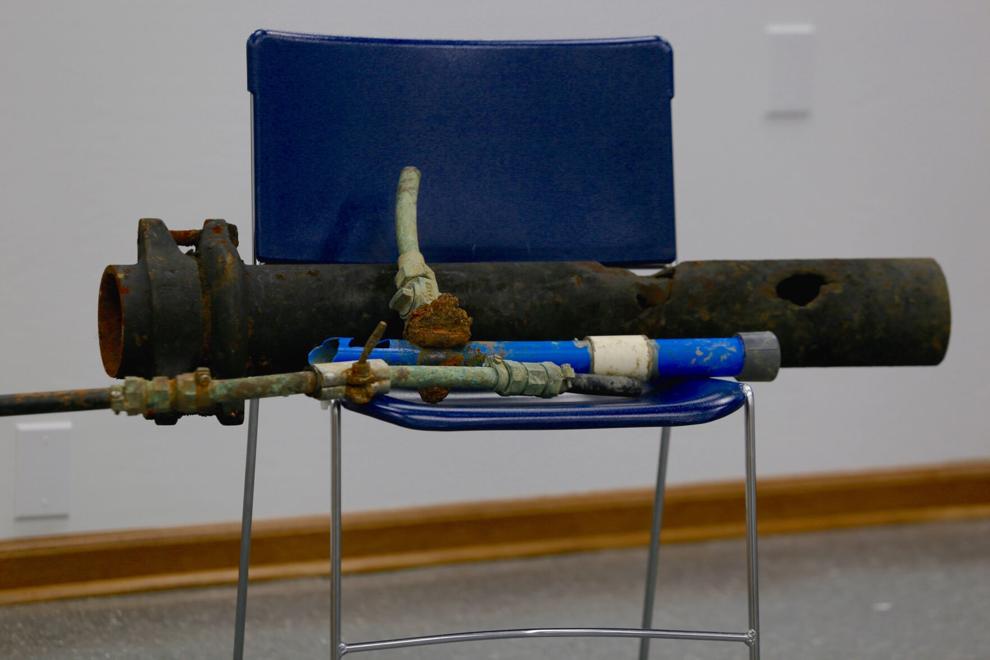 According to officials, there are plenty of problems to address for both utilities. Harris showed some of the pipes and lines under the ground in Sellersburg that he said quit being used by most utility companies in the 1970s.
The aging infrastructure creates a multitude of problems in the system, officials said.
"These issues are very real and very tangible, and just because they're underground doesn't mean they don't exist," Town Manager Charlie Smith said.
Councilman Scott McVoy said the water problems are also a public safety issue.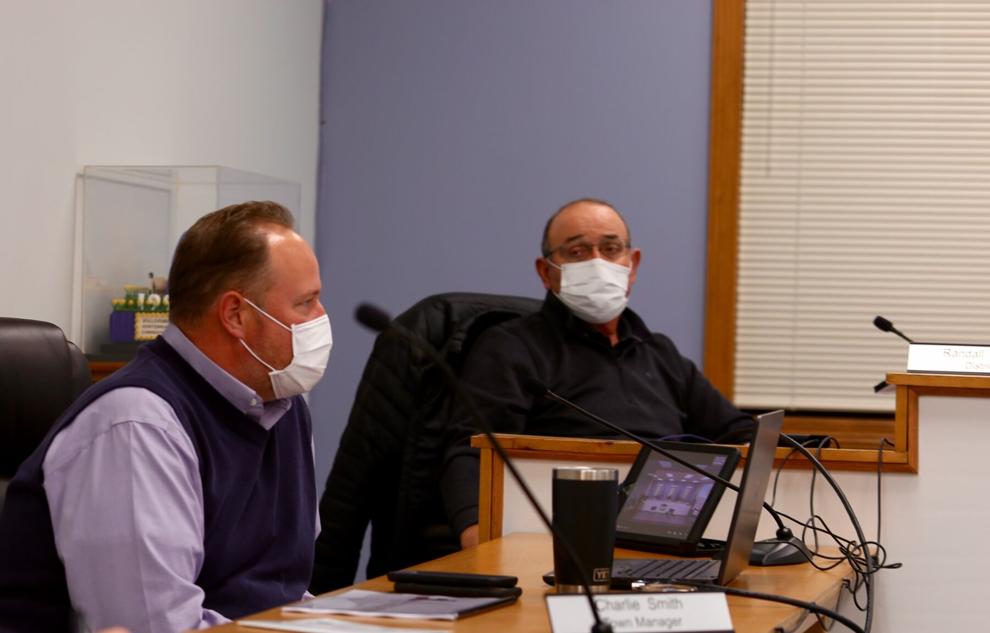 According to the JTL analysis, almost 20% of the town's more than 300 water hydrants are in poor condition. A faulty hydrant could result in problems for firefighters, McVoy said.
The JTL study also showed significant water-loss issues in the system over the past two years. The need for meter replacements, improvement of flow and pressure and upgrading the connection to Henryville, which accounts for about 13% of the utility's revenue, were also highlighted in the JTL study.
On the sewer side, the JTL report and subsequent comments from town officials unveiled numerous infrastructure problems. Failing pipes and manholes, pump stations in need of being rebuilt and a goal of replacing force mains with gravity flow infrastructure were some of the issues outlined in the report.
The force mains in some areas of town create odor issues because of hydraulic acid build-up, which also deteriorates pipes and lines, officials said.
Council members emphasized that increasing rates will have an affect on many customers, especially those who are on fixed incomes. By the next public hearing at 5 p.m. Monday, Smith said the council should be provided with a range of options for implementing increases, which could include staggering adjustments over multiple years.
But council members also said that with the issue being delayed for so many years, they may be forced to implement at least some initial increase in the coming months.
By state law, tax funds cannot be used to subsidize rates. Utility operations must be funded by rates and fees.
Sellersburg is already having to spend capacity, or tap-in fees, for operational expenses. Those fees are typically put in reserve to help foot long-term projects, but Smith said the sewer utility can't operate now without spending those funds.
Harris said that in reviewing past ordinances, it appeared the town council was supposed to commission a rate study every two-to-three years. That did not occur for several years until the current council took action.
JTL works with several Southern Indiana government bodies on infrastructure and utility projects. Harris said many utilities implement small, annual increases to keep up with operational and capital needs.
"It's easier to swallow when you're doing [increases] for a smaller amount on a regular basis," he said.
The council cannot go back in time and address why previous members didn't address the rate issues and operations of the utilities, McVoy said. Current members will have to make an informed decision and follow guidelines like commissioning regular rate studies to ensure that such substantial increases aren't forced on users in the future, he continued.
"We're here now, so we have to fix the problems and the issues," McVoy said.
Council members acknowledged that ratepayers will have a lot of questions about the increases. There's information about the process on the town's website, sellersburg.org, and there will be additional public hearings before a rate increase can be approved.
No one showed up from the public Monday. There were multiple department heads in attendance along with other officials, but no one from the general public.
The council will meet at 6 p.m. after the public informational session and will likely begin discussing rate options at that time.
The council could vote as early as February on rate adjustments.