SOUTHERN INDIANA — Holly Roberts, owner of Child Care Partners in Jeffersonville, said the facility has not been fully staffed since she bought the business from her parents in August of 2020.
A staffing shortage has put a strain on Child Care Partners, along with other child care providers across Southern Indiana. Roberts has taken a number of steps in the effort to attract and retain employees at the facility, which serves children ages six weeks to 12 years old.
When Roberts took over the child care center, she gave the staff a raise of 50 cents, and she is now paying $1.50 more an hour than she did in August of 2020, and she offers hiring and retention bonuses. The starting salary is $11 an hour, and it is $13 an hour for those with a Child Development Associate (CDA) credential.
The child care center also offers a $300 quarterly bonus for good performance and good attendance, she said.
"Nothing seems to help," Roberts said. "For every position I post, I probably spend about $500 a month on Indeed and Facebook job ads. People apply for the job, then they will never answer the phone or contact you back. Out of probably 10 applicants, maybe one person calls you back, and they may not show up for the interview."
Roberts said she has also seen people accept the job and not show up, and retention is an issue.
"I spent the majority of my time just interviewing and trying to fill positions," she said.
Buttons & Bows Learn and Play Childcare in New Albany has been forced to downsize due to staffing issues, according to owner Lisa Brownfield.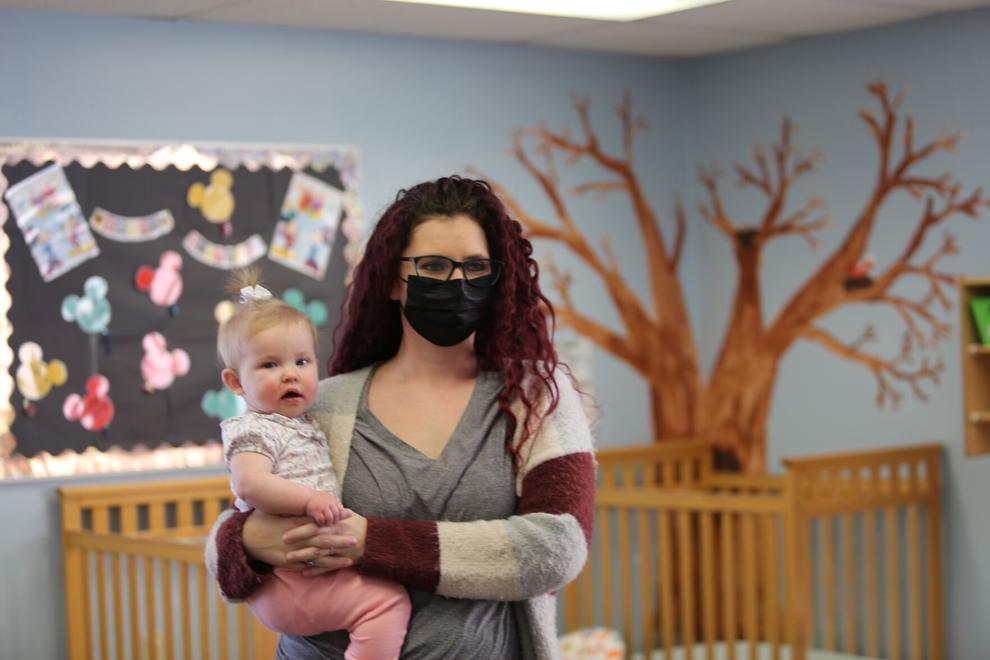 The provider recently went from four facilities to three at its location on Klerner Lane. The day care offers preschool and child care services.
Brownfield said two of the facilities are at half capacity due to staffing issues, and sometimes they have to merge groups of kids into one room if there are not enough staff. This makes it especially difficult when students have to be quarantined, she said, and the day care recently had to close all three facilities due to a COVID-19 case.
Buttons & Bows started making cutbacks in November, and families of 26 kids had to find other child care options because the facility no longer had the staff to support them. Brownfield is hiring "all the time" for new employees. The day care needs about four or five more staff members.
The day care's starting pay used to begin at $10 an hour, but it nows starts at $12 to $14 an hour. Depending on experience, employees can make up to $16 an hour.
Brownfield said she is not seeing progress in filling positions, and she has also faced situations where people do not show up once hired.
"Since November, I've probably interviewed four people who are supposed to start, but none of them started," she said.
The Children's Learning Center in Clarksville, a preschool operated by Goodwill of Central & Southern Indiana, has also faced staffing shortages. The child development center offers preschool for ages 6 weeks to 5 years.
Michelle Cissell, child care director at the Children's Learning Center, said one of the challenges is getting people past the application process.
"We do get applications and resumes sent to us, but getting people in the door for the interview and hiring process has been really difficult for us," she said.
These issues have led to a decline in the number of children the center is able to serve. Before COVID-19, the center served an average of 110 children, but right now, enrollment is in the mid-70s, Cissell said.
The Children's Learning Center is seeking five full-time staff positions and six part-time positions, including lead teachers and assistants.
The center implemented a pay increase in 2021, including $2 extra for assistants and $3 extra for lead teachers, bringing starting pay up to $11 an hour for assistants and $13 an hour for lead teachers, according to Cissell.
Roberts said she would like to be able to hire teenagers ages 16 and older to help out at the day care in the afternoon, but since Child Care Partners is a licensed center, her employees have to be ages 18 and over with a high school education due to Indiana's licensing criteria.
One of the challenges includes a competitive job market, Cissell said, and it can be difficult competing against companies offering higher wages.
Angie Kinser, assistant director at the Children Learning's Center, said the pandemic has emphasized the importance of early childhood education, and she sees a need to recognize child care workers as professionals to help people become interested in pursuing that field.
The Children's Learning Center is ranked Level 4 in Indiana's Paths to QUALITY, which is the highest rank in the rating system. Kinser said one of the impacts of the staffing shortage is the limited access for families.
"Because of us not being able to have as many kids enrolled in the program, not as many kids have access to high quality care," she said.
As Child Care Partners faces challenges with staffing, those who are there end up working longer hours. Roberts said she makes sure not to overfill spots at the day care.
"If there are not enough teachers, we will not fill all the spots, which decreases my profits considerably, but we have to stay within ratio," Roberts said.
She said the center is "committed to providing quality growth and development for kiddos, and sometimes it's hard."
"For me to pay more, it means that I've got to increase rates, and that's hard on parents and I try not to do that," Roberts said. "It's absolutely a catch-22."