SOUTHERN INDIANA — At one point, tractors were seen as the future — a way for farmers to achieve so much more with less time and effort.
Now, farmers are turning to more advanced technology, called precision agriculture, to increase yields and profits.
The same kind of technology behind popular GPS systems in cars and neighborhood drones are helping farmers dig deeper and learn more about what the land needs. Once they know more, they can be more precise in how they move forward.
"I think [precision agriculture] is the way of the future," said Randy Wolfe Jr. "I think we're going to have to be up on all of it or be out."
Wolfe farms about 1,000 acres in Clark and Floyd counties in Southern Indiana. At 39 years old, he said he's farmed his whole life and new technologies are making it easier. Wolfe uses drones to scout his fields, checking the population of weeds and looking to see if any plants are having issues that need addressed.
He uses Variable Rate Prescription Maps for his fertilizer, to make sure the plants that need fertilizer get it, but the others get less or none at all. That saves on costs, as well as prevents more chemicals from being put in the ground than necessary. Variable-rate seeding technology allows Wolfe to plant more in areas where the soil is fertile and less in poor ground, helping with seed costs and yields.
All of that technology comes at a cost, but Wolfe said it's worth it.
"The world market is so competitive and there's a lot of other countries raising crops," Wolfe said. "I think we're going to have to be very progressive as American farmers to stay in the game and to also feed the booming population in this country, and there's less of us doing this anymore, so we have to do more to keep up."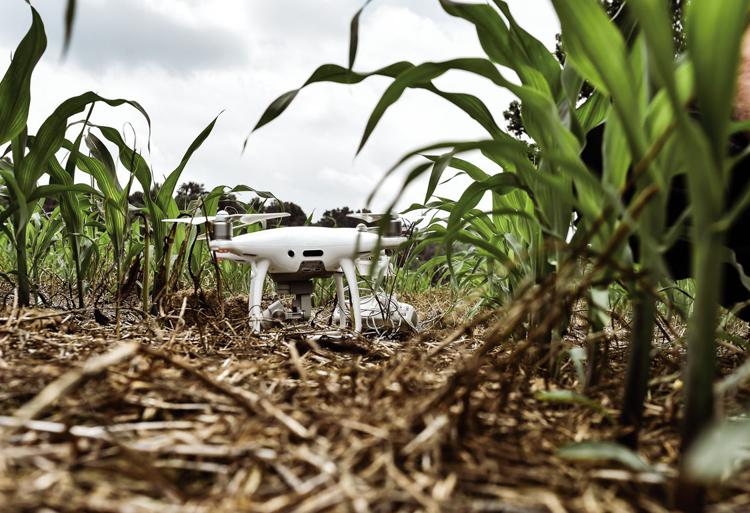 COMPETITIVE ADVANTAGE
Bruce Erickson, Agronomy Education Distance & Outreach director with Purdue University, said he remembers his dad farming — using horses and picking his corn by hand. As Erickson helps mold future farmers at Purdue, he's seeing firsthand how quickly the technology is changing farming.
"Farming is a competitive business. If you're not using technology, you can't be as efficient as your neighbor or as efficient as other countries and eventually your farming enterprise will become unprofitable," Erickson said. "If you don't go to the new farming technologies, you'll be at a competitive disadvantage."
The cost of the new technologies is keeping farmer Dennis Konkle from coming on board with too much. The Greenville farmer of 800 acres of corn, soybeans, hay and cattle does use GPS via a local co-op to make sure he doesn't overlap herbicides or plant twice in the same spot, saving time as well as saving money.
"With technology comes a pretty costly price tag, so small farms have a hard time incorporating that kind of expense in their operations," Konkle said.
Konkle said larger farmers can better incorporate those costs, which allow them to sell their crops at a lower fee, forcing people like Konkle to also lower his price.
"It's harder for us to compete with that," he said.
Konkle said he's looking forward to adding more technology to make farming more profitable.
"The technology will get cheaper," he said.
For Wolfe, the savings are well worth the initial investment. According to National Geographic, small farms with 800 acres using precision agricultural technology saw an annual savings of $11,000, with typical-sized farms of 1,600 acres saving $26,000. However, costs to implement that kind of technology can vary, depending on type of technology and location of the farm. Wolfe estimates that the cost can be as cheap as $3/acre to $20/acre, depending on how much technology is implemented.
"It is expensive, but it makes us more profitable. We're being very cost-effective and trying to be good stewards to the soil in the long run," Wolfe said, referring to using less chemicals and protecting the ground from erosion. "We're trying to make the ground better when we leave it, then when we got it ... It's a long-term investment. [With] me being a younger farmer, it'll pay off in the long run."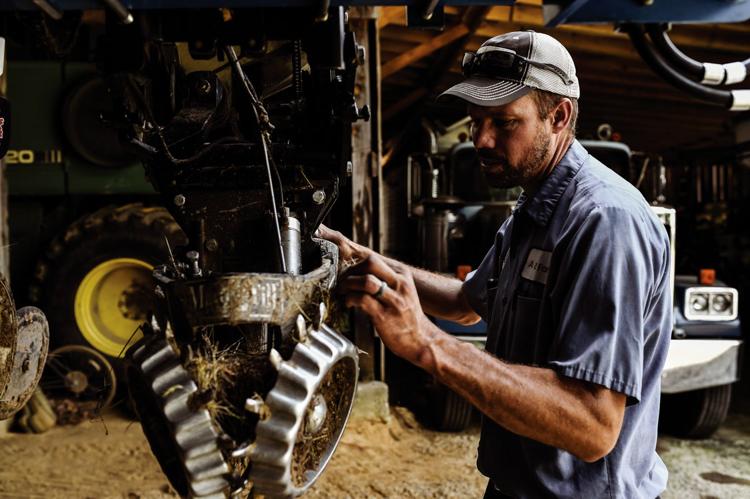 PROTECTING THE FUTURE
Erickson said farmers in general are natural to adapting to the new technology.
"They like gadgets in general. They've had to run equipment and fix stuff," he said. "[However,] they don't want to sit behind a computer all day and fuss with this stuff. They like the efficiency and how they can better farm their fields."
As for the future of farming technology, Erickson is predicting more automation and traceability. With many automobile makers turning to robots, he sees that as something that may come to farms as well, helping with the rising costs and shortage of labor. He said using better ways to trace where food was raised will help consumers know more about what they are consuming, while also helping identify exact locations of affected products in the event of a recall.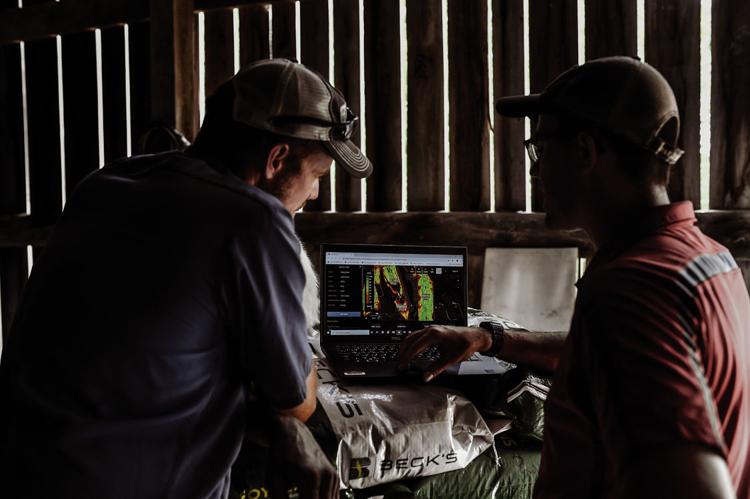 "There's some times, occasionally, when I start thinking about things that I think — 'wow. I'm actually living in the future'. There's a lot of stuff that's come on very fast," Erickson said. "It's allowing farmers be better at what they do — feed the world and take care of the environment."
Wolfe agrees.
"We need to be good stewards," Wolfe said. "There's no more ground being made, so we have to take care of what we've been given for the next generations to follow."