NEW ALBANY — This week 55 years ago saw segregation in United States finally become outlawed with the signing of the Civil Rights Act by then-President Lyndon B. Johnson in 1964.
It's fitting that New Albany celebrated a local African American icon the day after the anniversary of the landmark legislation, which dealt a major blow to institutional racism in the country.
On Wednesday, the Second Baptist Church — also referred to as Town Clock Church — unveiled a sculpture of Lucy Higgs Nichols and her daughter, Mona, carved out of nine-foot-tall, 10-ton slab of Indiana limestone.
"She has a great, unbelievable story," artist David Ruckman said. "She's looking for a way to the left, where she's looking at what might be coming toward her. She can't afford to get caught. She's running away to another place. That was New Albany. She is one of New Albany's residents, and now one of New Albany's most famous residents. We're pleased to bring Ms. Lucy to life and bring her back into the sun."
Born into slavery in 1838, Nichols escaped a farm in Bolivar, Tenn., where she was enslaved in 1862, finding a new home with the Union 23rd Regiment from New Albany. She was accepted by the all-white group, who referred to her as "Aunt Lucy," helping their cause as a nurse. She continued her service as a nurse until the end of the Civil War, and she was later named an honorary member of the Grand Army of the Republic.
Nichols stayed in New Albany until her death in 1915. During her life here, she was a member of the Second Baptist Church congregation, with her statue being placed in the church's Underground Railroad Gardens.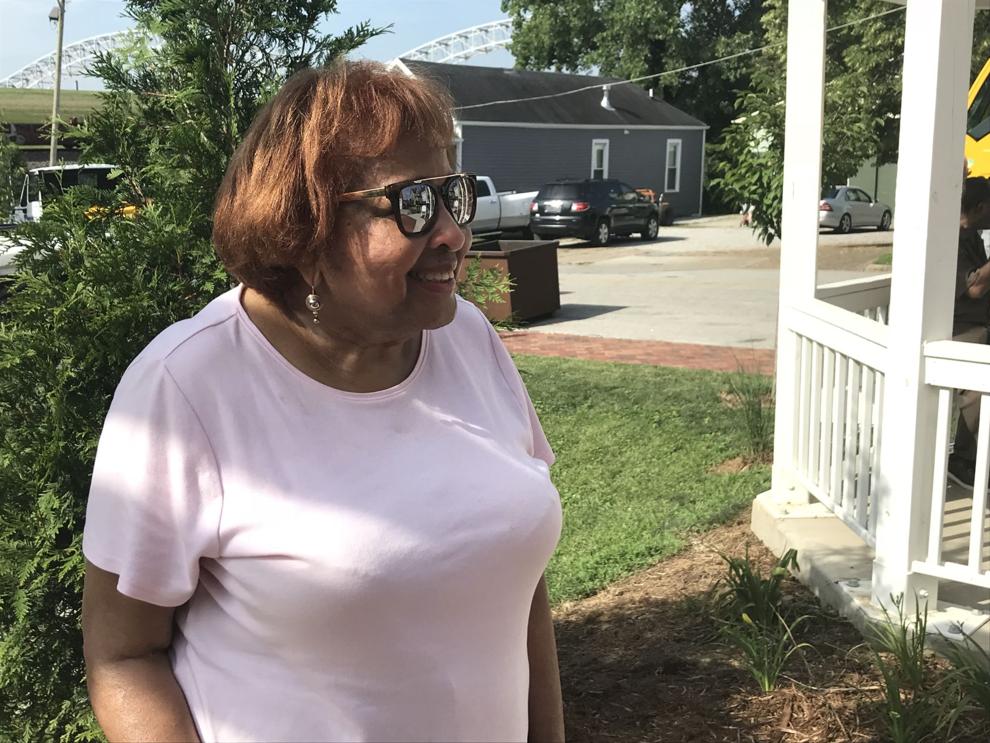 "For one thing, she was an African American woman who served with a white infantry," said Alice Miles, president of Friends of the Town Clock Church. "She was respected enough, even back then, that they gave her the pension and all the things she deserved. The bravery that she had to have to even enter herself into that arena, that speaks volumes to her strength and fortitude."
Ruckman started conceiving the piece out of clay six months ago. On March 15, he began carving the limestone, wrapping up the project three months later.
In the sculpture, Ruckman said he focused on depicting nobility and dignity.
"It was the Romans who did it best," Ruckman said. "Nobody did it better. It was always that far off, upward-raised chin, squinted eyes, determined look and looking into the future. That's what we try to portray here. From the crowd's reception here, I think we've gotten really close to doing that."
Miles was part of that positive reception, calling Ruckman's creation "marvelous."
"That was a thing that really got me," Miles said. "My husband had come down at the other side of the street and he said 'wait until you see it.' When they swung it around, it was like, 'oh my goodness.'"
The installation joins another celebration of Nichols' life at the nearby Carnegie Center for Art and History. Director Eileen Yanoviak was in attendance to witness the unveiling, calling the piece a great addition to the city.
"We're just so happy that there are so many different ways to share Lucy's story, whether it's out in the public environment in the Gardens or in the museum at the Carnegie Center," Yanoviak said. "It just shows the commitment to telling her story and to remembering her struggle and tenacity."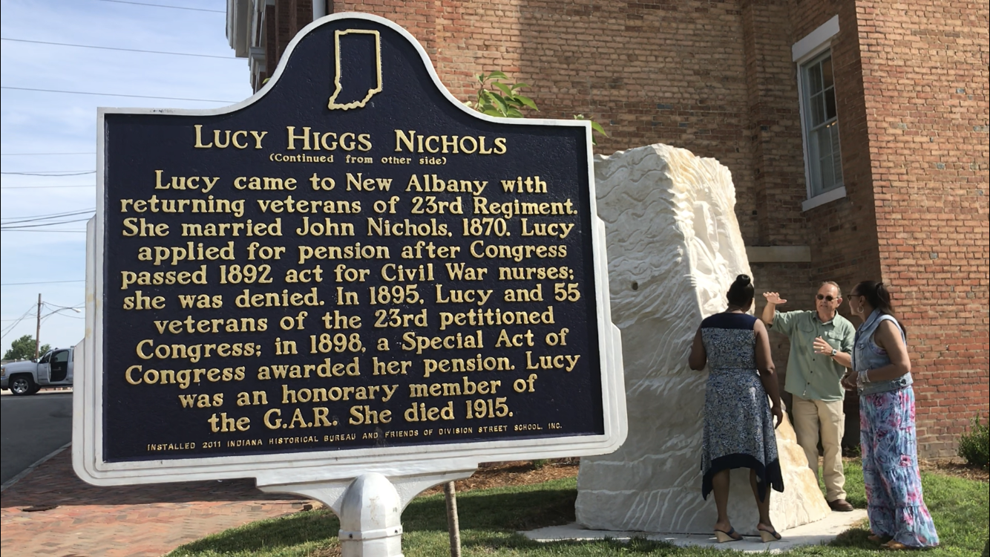 According to Friends of the Town Clock Church treasurer Jerry Finn, the project cost more than $50,000. The organization received a $26,000 grant from Samtec Cares in January, along with help from other local groups.
"This makes Lucy real," Finn said. "People come to the church all the time, and we wanted them to really see the connection between her, this congregation and what she did. I'm so grateful for the donors that made this happen."
The installation of the statue at the church, Miles said, will ensure that Nichols' story stands the test of time.
"To know her connection with the church, it makes it a perfect setting to go along with her marker," Miles said. "I think when people come to the Gardens, this is going to be a phenomenal addition to highlight what we're trying to share — to keep history. We've got to have our history going forward."