Opioid addiction doesn't have to end in overdose, or death.
One study found that 10 percent of American adults say they are recovering from a problem with drugs or alcohol. 
Benjamin Cook, Janet Privett and Kerisa Lockwood all are current or former Southern Indiana residents who struggled with addiction and encountered death, but found a way out. 
Their stories offer a window into how others can do the same. 
BENJAMIN COOK
The last day Benjamin Cook shot up heroin was supposed to be the final day of his life.
The former Jeffersonville resident had taken his father's large, flat screen television from the wall, pawned it and bought the largest bag of heroin he could.
Cook accepted the fact that if he OD'd, he would die.
But Cook didn't die on that April day in 2009. Instead, his father found him roaming around town and persuaded him to come home.
His dad then gave him an ultimatum: I love you, but quit the drugs or move out.
"And with that, that was the last time I used," Cook said. "And my dad sat by my side and watched me go through heroin withdrawals cold turkey for a whole week, and after that — you know, when I got a clear head, is when we started the application process of Teen Challenge over." 
Teen Challenge. That's where Cook, now eight years sober, works. It's also where he found the tools — and faith — he needed to stay off drugs.
Before Cook entered the Chattanooga, Tennessee, location of the international Christian recovery center, he had quit once before.
The first time was about a year into his heroin addiction in 2007. Cook overdosed. He woke up in the hospital having no idea where he was.
"And all I remember is people telling me to breathe," Cook said. "And I didn't even know what all they did, I just know I wasn't breathing when they brought me to the hospital. And so right then, I'm thinking, man, I'm freaking out. I'm thinking my life's over. You know, my life's out of control. I really need help."
Cook did get help. He started going to Narcotics Anonymous and was clean for 8 months. And then his mom died by suicide.
Cook found her. He gave her CPR and he called 911, but it didn't work.
"It just really set me back," Cook said. "Because my whole life I never really learned how to communicate my feelings or deal with any of my hurts or anything that was really bothering me."
That's also what made Cook start using drugs in the first place.
He grew up in Jeffersonville, but spent the first six years of his life in Virginia.
There, the fact that his mother was white and his father was black didn't matter. It wasn't until he moved to Southern Indiana that another person called him the n-word.
Throughout his school years, Cook would continue to encounter slight prejudices. They were little things: someone wouldn't want to hang out with him because of the color of his skin. Another person would call him a mutt.
"It kind of created these hurts in my life that produced that deep sense of shame of really just who I was," he said.
Cook felt unwanted, and instead of telling others how he felt — he tried to make himself feel better with other things. At first, those solutions were jokes and sports. By 13, they became drugs.
They took him to a place where he didn't have to think of his other problems.
Cook's drug use gradually spiraled until he started shooting up heroin at 18 or 19. That's when they consumed his life.
That continued until the day his dad asked him to choose between his home or addiction. Even before that, Cook's father had worn him down by engaging him in a tearful heart-to-heart.
"That really was my wake up call," Cook said. "It wasn't getting in trouble with the law, it wasn't anything like that. It was to see my dad just broken, and to see me basically taking years of my family's lives because I had used them, lied to them and basically abused them."
After Cook's last day using dugs, he started working with his dad on his application for Teen Challenge.
The program is 12 months long, for adults as well, and broken up into three stages: induction, training and re-entry. That's when participants get a job and set up their own accountability network outside the center. It's also the part of the program that Cook works for now.
But Cook was standoffish during his first few months at Teen Challenge — "Just because I had never been away from home," he said. "For college, I went to University of Louisville for a couple of years and flunked out, and so I never really went away for college. And now, here I am at the most pivotal part of my life. I'm 350 miles away from my closest family member."
Cook began to feel more comfortable as his relationship with God strengthened. He began to let go of the past hardships that drove him to use drugs.
"…When I realized that I was [a] son of God, my whole identify changed, and once my identity changed, you know, I felt like I had a future," Cook said. "I felt like I had a hope. And so instead of worrying what was going on with my past, I was more focused on my future for the first time in my life." 
Cook's renewed faith also made him feel more free. That's when he started to share his story instead of keeping his feelings inside.
"I found that the more that I talked about it, the more freedom I got," he said.
Cook eventually graduated from the Teen Challenge program. He stayed in Tennessee, working at the same job he started in the third phase of the program. He became active in a local church and sometimes volunteered with Teen Challenge.
In 2013, he started working with the organization full time.
In his role, he checks up on participants who have recently graduated. He also teaches classes and preaches at chapel.
As a former participant in the program, he's able to connect with his students on a different level than other Teen Challenge employees.
"When I talk to another student, there's like an immediate respect," he said. "Because I've sat in their chair and I've, you know, probably had that same conversation with a counselor when I was a student. And so I know what they're feeling. I know what's going on, and I can relate to them."
Outside of Teen Challenge, Cook constantly shares his testimony — whether it's with people going through the same thing he did or with a congregation he's visiting.
His students do the same. It's what he enjoys most about his job.
"Really getting to see students grow from the day they get here to the point where they're actually onstage telling people about their story and then giving people hope. I mean, that's just, that's literally the best part of the job, you know," he said.
JANET PRIVETT
Janet Privett describes her first and only stint in jail as "lucky."
Before she was locked up in 2015, Privett was on the verge of homelessness after prolonged opioid abuse. 
"I was probably at the lowest point in my life," she said. "I had lost everything because of drugs. Everything. I had lost my kids, my family, my house. I had literally lost everything." 
Privett's time behind bars would eventually lead her to recovery — and gaining everything back that she had lost and then some. But rewind even further to 2005 and the mother and sister was just starting to take opioid medication after a back injury at work.
"I had taken pain medication in the past. I never had a problem with it," Privett said. "But for some reason, this just really latched on."
Perhaps it was because Privett was taking the pills for the wrong reasons.
"…I liked the way [the pills] made me feel emotionally and mentally other than for the pain," she said. "And I liked that because then I got to the point where I didn't have to feel."
If one did her good, two did her better.
Eventually, Privett turned to heroin because she discovered that it could stave off withdrawal symptoms for longer. But the new drug just made things worse.
Privett never shot up heroin because she feared needles, but she found herself fantasizing about letting someone show her how.
"..I was really contemplating that once I learned how to do that — that, that was how I was going to end it," she said. "But then also, I had to think. I really didn't want two young kids walking to school and then finding a dead body in a car."
It was also around that time that she found herself in jail — and admitting to herself for the first time that she was an addict.
"And at that time in my life, I couldn't live without the drugs, and it was the first time in my life that I started to ask for help," she said. "And I didn't know anything about treatment. I didn't know anything about how to get off of the drugs. I just knew something had to change at that point in my life or I would no longer exist because I was ready to end it."
Privett heard about the Bliss House from a doctor at the jail and fellow inmates.
The Bliss House is a long-term recovery home for women operated by the Center for Lay Ministries in Jeffersonville. It follows the 12-step program.
Without knowing much else about it, Privett asked to be legally ordered to attend the recovery home so that she couldn't leave.
It was a good choice.
"I can honestly say the Bliss House saved my life," Privett said. 
The program was difficult for Privett to get used to with its strict rules — residents are given curfews and must take classes and find jobs. But Privett soon found herself warming to the situation and rebuilding the relationships she lost with her sisters and daughters.
Privett spent seven-and-a-half months in the program, but it wasn't until her graduation that she realized sobriety could be a permanent state for her. That was when Privett's sister handed her a heartfelt card.
"And I just remember I was like thinking, when I was on heroin, I didn't have to feel all of this," she said.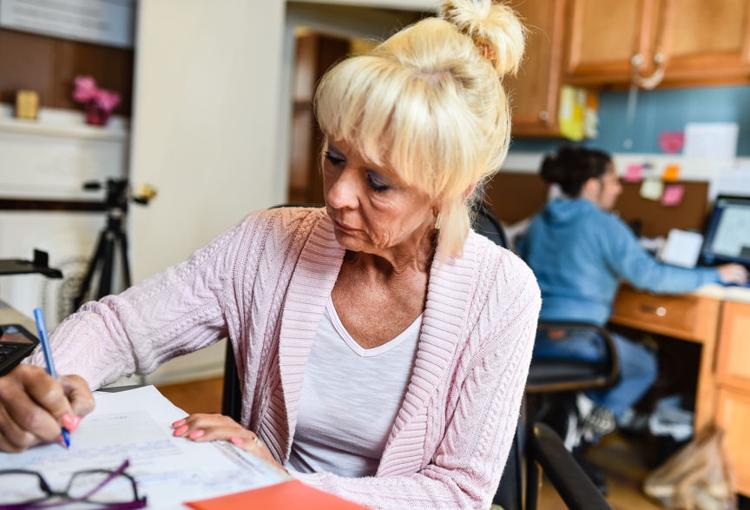 But Privett learned at the Bliss House how important it is to talk to someone when dealing with overwhelming emotions.
"…I grabbed as many people that I could, and I shared with them what I was going through," Privett said. "Because if you get it out, you don't keep it in, it's not going to cause all that chaos and darkness again."
It was also at the Bliss House that Privett discovered what she wanted to do with her life. While there, a need to help others with addiction "bloomed" inside of her.
Privett took a night monitor job at the recovery home in 2016. Now, she's the assistant director there.
Privett manages Bliss House resident schedules, teaches their classes and mentors them. She thinks her own time at the recovery home might help inspire residents — especially if they were like her.
"…When I first walked into the Bliss House, I don't think I had ever felt as low as I did," she said. "And that I was broken, and didn't know how to get fixed. I didn't know if I was fixable. And I see so many today of those women who came in that front door and feel that same way." 
Now that Privett is well past her Bliss House graduation, she's succeeding personally as well as professionally. She has a healthy relationship with her family members and a new boyfriend.
"I can hold my head up today, and I can look in the mirror today, which sounds so cliche, but there was moments in the midst of addiction that I could look in the mirror and not really see anything," she said. "I didn't want to see who was looking back at me."
"And today, I like who I am today. I can — and it kind of goes back into, like in the midst of my addiction, I portrayed someone that wasn't addicted…So I put on this persona. Today, I can just be who I am today." 
KERISA LOCKWOOD
Kerisa Lockwood's relationship with her family was hardly ever easy, but when she was 21, it hit an all-time low. 
She was two years into her heroin addiction. 
"My whole entire family didn't want to have anything to do with me," she said. "I was lying, I was cheating. I was stealing. No one wants to be around that." 
As a child, Lockwood's parents got divorced, and she didn't get along with her stepmom. She didn't have school friends to turn to either. Lockwood was a tomboy and other kids made fun of her. 
"I felt like I didn't fit in the majority of the time," she said. 
Twenty-one was the same age that Lockwood kicked her heroin habit with the help of the Bliss House. And now, Lockwood has strong relationships: not only with her dad and new stepmom, but with her husband and 1-year-old son. 
When Lockwood first started using drugs, she saw them as a way to escape life. She got started early. 
Lockwood admits that she wasn't an "easy child," and her parents took her to therapists and doctors to get help. Lockwood ended up abusing depression and anxiety medication to feel different. 
In high school, Lockwood began taking pain medication. When opioid pills became hard to find, she switched to heroin. 
"Death was knocking on the door," Lockwood said. 
Kicked out of her parents' homes, Lockwood OD'd in the shower at the home of another family member. 
"It was humiliating," she said. 
But Lockwood still barely cared. 
"I just wanted to die pretty much," she said. "I didn't want to live life. I guess I couldn't handle things when they got tough." 
Lockwood didn't stop taking drugs until she was arrested and later failed a drug test. Her probation officer gave her two options: go to prison or the Bliss House. 
"That's when I went to the Bliss House," Lockwood said. 
In the beginning, Lockwood was too angry at life for the recovery home to help her. On the third step of the 12-step program, however, Lockwood "surrendered." 
"The Bliss House was amazing," she said. "It helped me out a lot. It saved my life. It helped me be the woman that I am today — helped me to be able to be a mother, a friend, a sister — all of those things. I'm able to have a relationship with my husband today and my family."
Lockwood learned how to cope with life at the Bliss House, and she uses those mechanisms when things get hard now. And they do. 
Lockwood has moved with her family five different times in the past few years. That's difficult, but she also knows her sponsor is just a phone call away. 
The good relationships she has now sustain her as well. 
Lockwood met her husband after graduating from the Bliss House. He was also in recovery. In December, he will be six years sober. 
"When either one of us feels like we're in a slippery slope, the other person is there to pick us up and, you know, get us right back on track," she said.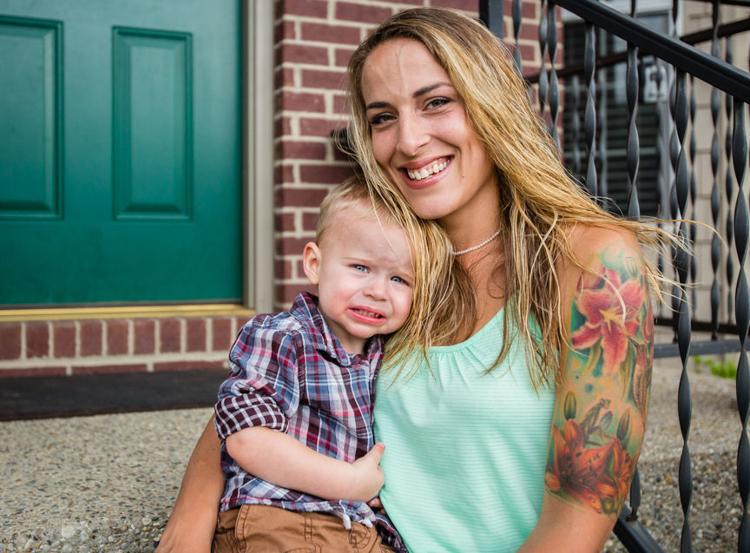 They're a good team, she said. Lockwood's role as a mom is also important to her. 
"I think God every day that I had him after I got sober," she said. "Just the simple fact that I didn't drag him through all of the craziness." 
Lockwood is vastly different now than the depressed person she was as a teenager and young adult. 
"I'm overwhelming with joy, you know," she said. "I think as I look back, you know, now I think all of my problems and issues were situational. Yeah, I was depressed, but I think it was just situational because of circumstance. You know, what was happening at the time. I just didn't know how to live life." 
Now, thanks to Bliss House, she does.