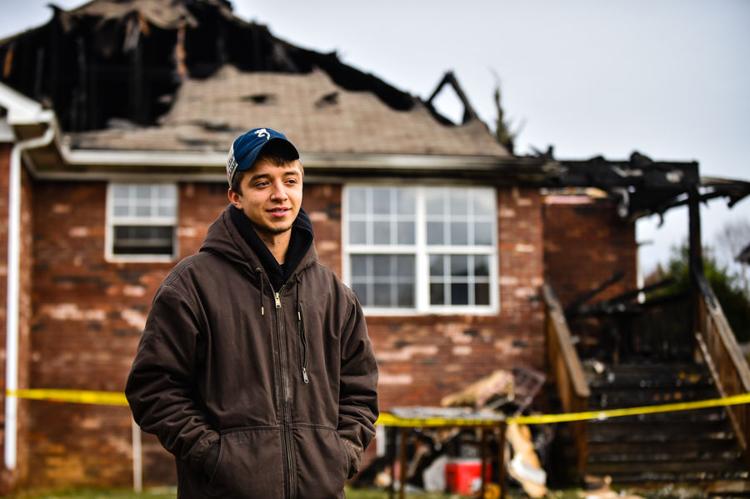 CHARLESTOWN – Quick actions from a teen down the street could be the reason 10 family members in Skyline Acres are alive today.
Bailey Blanton, 19, was working on his brother's black Kia outside on Thanksgiving when he smelled smoke. He walked to his mailbox to see three doors down, a home at the corner of Constellation Lane and Sky View Lane had flames taking over the back porch. He yelled for his dad to go inside and call 911.
The teen raced down the street, asking Siri, a service on his iPhone, to call 911, as he made it to the front door. He banged on the door, but no one heard him. Joined now by his uncle, Michael Hawkins, Blanton tried the handle, which was unlocked. The two ran inside as the fire spread above, taking over the attic and roof.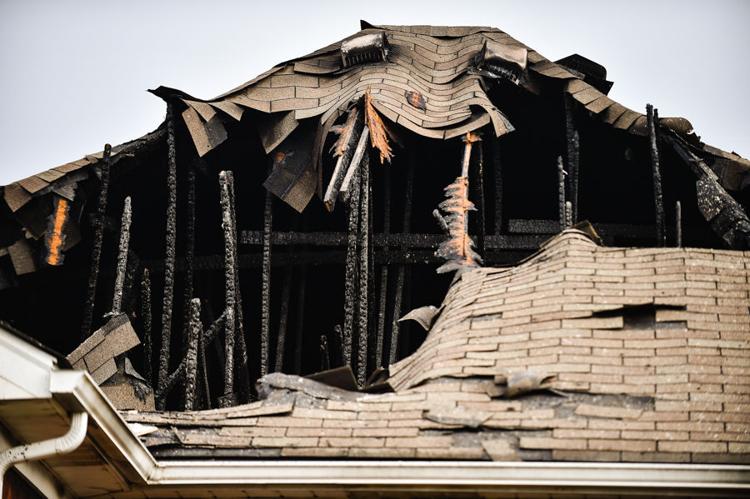 "Me and my uncle were yelling, 'There's a fire, everybody get out!'" Blanton said. "They were all in the basement, so they didn't hear us. Eventually they heard us, so they all came upstairs and they were startled. So, we got everybody out and their dog, and then propane started exploding."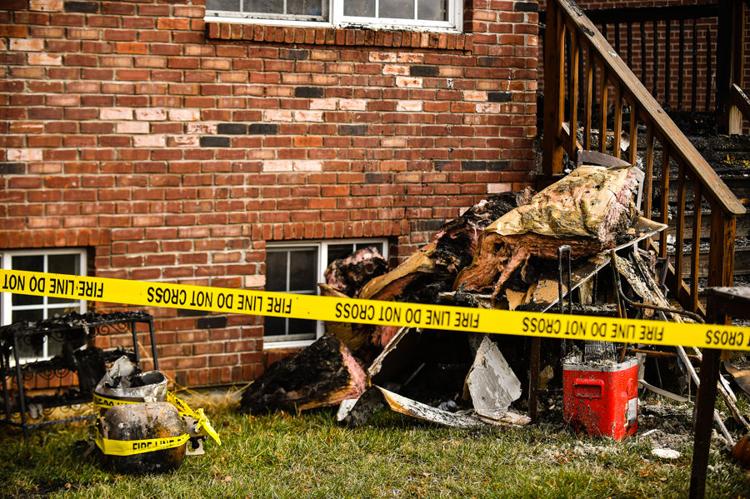 Scared for the home next door, Blanton and Hawkins ran over and helped that woman and her two dogs escape, just in case.
As for the first home, a total of 10 people and a dog were in the basement, according to Jeffersonville Fire Dept. spokesman Justin Ames. He said had it not been for Blanton, things could have turned out very differently.
"This could have been a national story," Ames said, adding that a little longer, the exit from the basement would have been closed off for the family to leave.
Michael O'Neal, brother to the home's owner, was there during the fire.
"I think another 10 to 15 minutes later, we were trapped in there," O'Neal said.
Ames said though smoke detectors were working, the fire started on the back porch and spread into the attic, where there were no smoke detectors. Those are not required to be installed in attics, he said. Later this week, he will be meeting with the state fire marshal to talk about this fire.
"I'm sure this will come up," Ames said of requiring smoke detectors in attics. "We always critique everything after a fire … to help prevent this from happening [again]."
Ames said the Jeffersonville Fire Department was on the scene quickly. He said a turkey fryer left on outside under a covered porch is likely to blame for the blaze.
"This was an honest mistake," Ames said. "The grease got hotter and hotter … It doesn't take long for a grease fire to spread."
Ames said firefighters had to get out of the house at one point, due to the roof collapsing. They got the fire under control from outside and was then able to fully extinguish it. Black and charred beams can be seen from the street, holding up what remains of the roof. Large gaps of missing roof show where the fire vented itself, Ames said.
Now, the family is left, thankful to be alive, and picking up the pieces of what is left. Cars filled the street Friday of family members loading up what can be salvaged, which O'Neal said isn't much.
"There's so much water damage in there. There's soot. The whole first floor is done," O'Neal said.
He said items in the basement fared the best.
The day after the blaze, Blanton walked down to the home to check on the family and exchange contact information, in case they need anything. His mother and sister went along.
"Had I been able to stop and think about this scenario, I'd be like, maybe you shouldn't run into a building that's on fire, but, you know what, that's just who he is. That's why I'm proud of him," said Jennifer Blanton, Bailey's mother. "It's scary, but there's no way they would have been able to get out of the house with those small [basement] windows or anything."
Still outside working on cars over the weekend, Bailey was modest of what he had done during his school Thanksgiving break. He said he's an Eagle Scout and was doing what he should that day. 
Bailey, who attends Jeffersonville High School, also goes to Prosser for diesel mechanics, which he hopes to turn into a future career.
The owner, who wished to not be interviewed, said he was grateful for Bailey's actions.
O'Neal said the family has insurance and the Red Cross is helping as well. There is also a PayPal fund set up to support the family.