KENTUCKY — Some political pundits see our country as riven by tribal and ethnic divisions and partitioned by gender as we self-segregate into communities of the like-minded. Such divisions sometimes affect families and lead to alienation of longtime friends.
But opposites on the political spectrum not only can co-exist, but also some enjoy mutually respectful relationships. Take for example Andrew McNeill and Jessie Halladay. They have split party allegiances, but managed to find enough in common to marry. So, too, did Marc Guilfoil and Elisabeth Jensen.
Common to both couples is the respect they feel for the other's opinions and how seriously they take the issues which affect them and the country. Sometimes they agree; sometimes they agree to disagree. But they listen as well as talk — and they never make it personal.
McNEILL and HALLADAY
There were a couple of rough spots in the beginning, admits Jessie Halladay, 45, describing how she and her husband of less than a year, Andrew McNeill, also 45, don't always agree on politics.
"When we first started dating, there were a couple of times when I literally threw him out of my condo," she said. "We've gotten better at having debates, so that we don't storm out on each other.
That early disagreement hardly diminished McNeill's interest.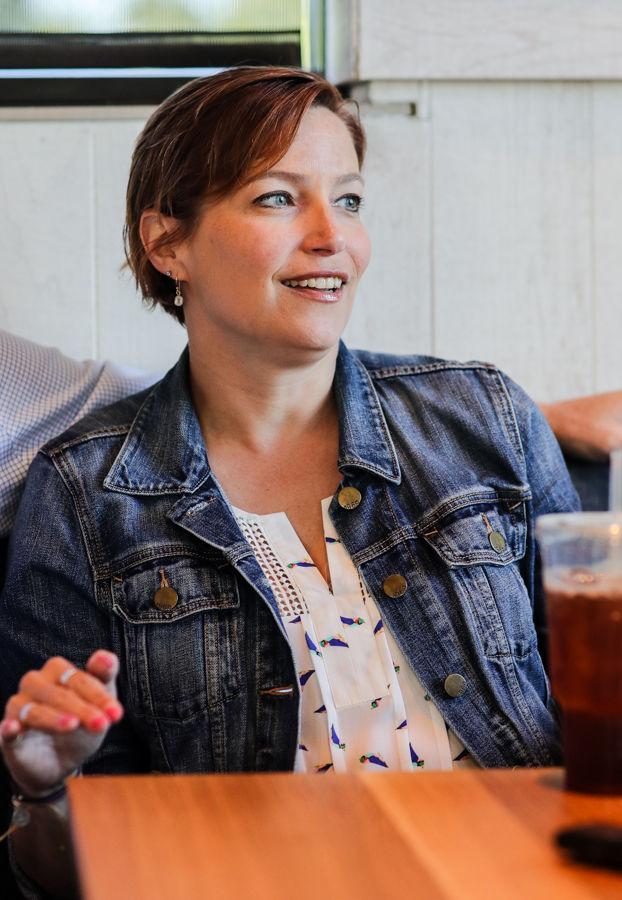 "I loved the fact that she's passionate about what she believes; intelligent; articulate," he said. "She wasn't backing down and there's something very attractive about that. She's somebody with a real set of core beliefs."
"We don't have to agree, but as long as I can respect that you are acting from a place of conviction, that's all I can ask," she said.
Both are fervent about criminal justice reform, believing the policy of incarcerating so many isn't working. People who make mistakes deserve a second chance, they believe.
But they come from very different starting points.
McNeill is the state director for Americans for Prosperity-Kentucky, a free-market advocacy group funded by the conservative Koch Brothers. He served in the administration of Kentucky Republican Gov. Matt Bevin and also in the administration of Kentucky's last Republican governor, Ernie Fletcher. A Maysville, Ky., native, McNeill was once a registered Democrat, switching to the Republican Party in 2000.
Halladay is a former reporter for The Courier-Journal and now a special adviser to the Louisville Metro Police Department. A Democrat, she grew up in Detroit, the daughter of a father who in college joined the activist group Students for a Democratic Society.
She's the daughter of a father who in college joined the activist group Students for a Democratic Society. She's also the daughter of an activist mother who last year participated in the Million Women's March.
Halladay thinks today's political environment is "the most polarized we've seen in a long time." McNeill isn't so sure, recalling the civil rights era, Vietnam, and even the caning on the U.S. Senate floor of Sen. Charles Sumner over the slavery issue in 1856.
He believes contemporary divisions often arise because people don't know each other as people, but rather as just a member of a party or group.
"When people get to know each other, they can have fundamental disagreements on issues but also have interesting and strong relationships," he said. "Had Jessie and I never met or connected or gotten to know each other as individuals, we probably would consider each other from different tribes."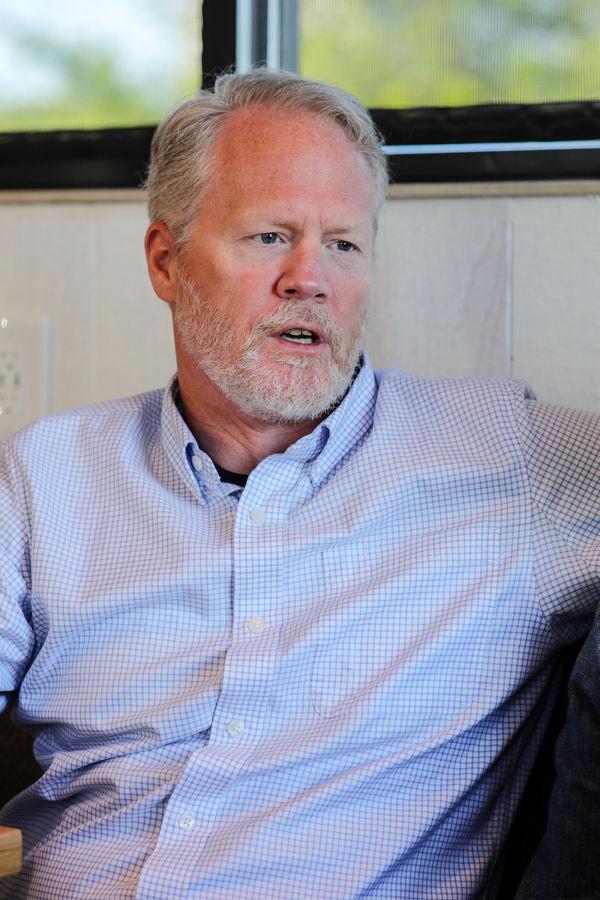 Halladay said people should find things on which they agree. "We can disagree on other things, but recognize that we're more alike than we're different."
They agree voting patterns appear to support the notion there is a gender gap, but they see different reasons for it.
"It's not easy to be a woman in politics because it's so male dominated," Halladay said. "And I do think that influences the way women process who they vote for."
McNeill sees it in more economic and social terms: older, married women tend to be more conservative while younger women are more concerned about economic security and reproductive issues.
A candidate's character is important to both. McNeill said 2016 was the first time he didn't cast a presidential ballot. He called Trump's behavior toward women "repulsive." He worries about the example Trump may set for his teenaged daughter.
"Had I made a decision to vote on just the issues, I likely would have voted for the Republican candidate. The character issue was the one that led me to sit it out."
Halladay said she had reservations about Hillary Clinton, but she thought Clinton qualified to be president. She is troubled by Donald Trump's behavior and also wasn't comfortable he could effectively govern.
Occasionally, there is an issue that is off limits for the couple. McNeill is a supporter of school choice and favors a state takeover of the Jefferson County School System. Halladay disagrees on both.
"We've had one big debate about it — and that's probably the last conversation we're going to have about it," she said, smiling at McNeill.
GUILFOIL and JENSEN
Marc Guilfoil and Elisabeth Jensen not only belong to opposite parties, but also each grew up in the other party.
Marc Guilfoil, 54, the executive director of the Kentucky Racing Commission, grew up in Barren County, the son of a stalwart Democrat. "It's like the old saying: I didn't leave the party; the party left me." He's not the only one in his family to switch allegiance. His sister, Kelly Knight Craft, is a prolific Republican fundraiser and President Donald Trump's Ambassador to Canada.
Elisabeth Jensen, 53, is the niece of a longtime Indiana Republican legislator, but she switched parties after the invasion of Iraq under then-President George W. Bush. In 2014 Jensen, now the executive vice president of the Kentucky Equine Education Project, ran unsuccessfully as a Democrat for Congress against incumbent Republican Congressman Andy Barr.
The military action was just one reason for her political change of heart. As the mother of an autistic teenager, Jensen met less-fortunate families struggling with the costs of health care.
"There's not a voice in the Republican Party for people with those challenges," she explained. "It's nice to say everyone should go get a job and take care of himself and we don't need all these social programs. But there are so many people who just don't have that option."
Guilfoil, by contrast, switched parties in part because he's a fiscal conservative and he thinks there are too many ineffective government social programs.
Their political differences, however, don't become personal.
"We don't tip-toe around anything, because I want to know what's on her mind and she wants to know what's on mine," Guilfoil explains. "There are differences, but we talk them out."
"He says the Democratic Party is giving everything away. He thinks there are too many social programs and we don't encourage people to work," Jensen said. "But I think we're on the same page on things like women's freedom of choice and LGBT issues."
Guilfoil thinks too many politicians play "the gotcha game," attacking opponents on personal issues rather than debating real problems facing the country. He believes those with different views should listen to the other side and "find some commonality and build off that."
Jensen doesn't disagree. Both of them lament media attention on minor missteps or Trump's tweets rather than "the real news or issues that are important."
But both think character counts in a candidate. Jensen supported Bernie Sanders and questioned some things about Hillary Clinton, but "I got behind her because I'm a Democrat and believe in some of the same policies."
She doesn't approve of Trump's behavior toward women, but said she understands some voters wanted change and a different sort of leader. She even credits Trump for "some good things." Her husband said many of the accusations about Trump didn't surface until after he became president "and then you don't know what to believe."
He doesn't dismiss the allegations, but he said he rarely votes out of self-interest or on a single issue, preferring candidates he believes will offer the most benefit to the country and its people as a whole.
Both Guilfoil and Jensen recognize difference in voting patterns of men and women, but they see economic factors at play.
"I know a lot of women who voted for Trump," Jensen said. "I would think they are not as affected by the social issues that affect single women or minorities, who are going to be more affected by health care issues or the DACA (children of immigrants) issue."
Inappropriate behavior by men toward women is personal for Jensen, who says it occurs far more frequently than most realize. That's because women often don't report it, because they want to keep their jobs and don't want to be blamed.
She wants to see more women run for and win elective office.
"When you look at Washington and decisions about women's health care and there are only men in the room, it just doesn't make sense," she said. "If there were better balance, I think the outcomes would be better."
"It sure couldn't hurt," said Guilfoil.