EVANSVILLE — Brian Stevens wasn't sure what to make of President Donald Trump in 2016.
More than two years later, Stevens has formed an opinion of the 45th U.S. President.
"Initially I was skeptical, and I have been converted in the last year," Stevens, 47, of Huntingburg, Ind., said Thursday as he waited to see Trump at the Ford Center in Evansville. "He actually follows through with what he says he's going to do."
Thousands stood in a line that wrapped around the arena for blocks ahead of Trump's "Make America Great Again" rally, which is a pivotal appearance for U.S. Senate candidate and Republican Mike Braun in his dogfight against Democrat Joe Donnelly in the midterms.
Make no mistake: Trump was the star, with rally-goers wrapping themselves in Make America Great Again flags and showing raucous energy despite the suffering Evansville heat. This is the 10th rally that Trump has held in Indiana, and the second rally in Evansville, since he first began his race for president in June, 2015.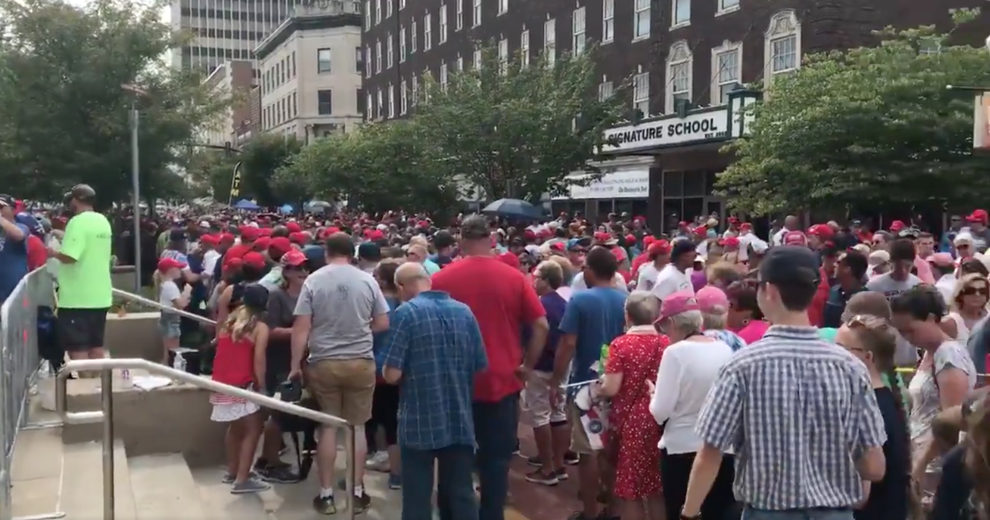 "What I appreciate the most is his personality is a lot like mine," said 52-year-old Traci Honaker of Terre Haute, who owns her own cleaning business. "We're both take-charge people and we're straight up and real. That's what I love most about him – his realness and his compassion and his love for the people."
Not everyone was feeling that love. Take for example, Mike Oles, an Indianapolis-based field director for Good Jobs Nation, a Washington, D.C.-based group organizing workers against Trump. Oles's group included just over a dozen people from Kansas City, Elkhart, South Bend and Youngstown, Oh. – a tiny majority in a sea of Trump supporters.
"We're here today to hold President Trump accountable," Oles said. "He made some pretty strong claims that he was going to fight for workers, that he was going to fight for good jobs, good wages. Eighteen months into his presidency, Labor Day 2018, he has failed to live up to those promises."
Jennifer Douglas, 68, of Evansville, was one of around 40 other protesters voicing their opposition to the President on Thursday. Douglas said she takes issue with Trump's "lack of integrity and his competency to hold the office." But what really concerns her, she said, is how the President views people different from himself.
"... he doesn't seem to like people that are different from him, whether it's the female sex or whether it's people of other colors or whether it's people that are less wealthy than him," Douglas said. "And I have a problem with that because as the leader of our country he should be bringing us all together and he's supposed to be everyone's President."
Julie Miller, 48, Paris, Ill. – a friend of Honaker's — painted a different picture of Trump.
"What I love about him is he's a patriot, he's for everybody," Miller said. "Even the people who think he's not for them he is for them. He is for all Americans."
"They just don't know it," Honaker said.
Said Miller: "They don't know the truth."
Inside the Ford Center, Ind. Gov. Eric Holcomb welcomed Trump's supporters and touted Indiana' success, citing safety and a healthy economy. He rattled off names of Hoosiers serving in Washington, like Vice President Mike Pence, and proposed putting another Hoosier in the nation's capital.
"There's one more person we need in D.C.," he said. "We need to elect our next United States Senator: Mike Braun."
---
Ongoing coverage from the News and Tribune on Twitter:
That's a wrap in Evansville: Trump closes with "... and we will make America great again."

— Jason Thomas (@ScoopThomas) August 31, 2018
Trump on to military now: Says record $700 billion secured this year and another record $716 billion next year.

— Jason Thomas (@ScoopThomas) August 31, 2018
Trump says Hoosiers will realize $5 billion in savings this year alone thanks to his tax cuts.

— Jason Thomas (@ScoopThomas) August 31, 2018
Trump on an odd rant about windmills killing birds, as opposed to "clean" coal benefits.

— Jason Thomas (@ScoopThomas) August 31, 2018
On to women: "I let you down again," Trump says sarcastically, before saying women's unemployment rate the lowest in 65 years.

— Jason Thomas (@ScoopThomas) August 31, 2018
Unemployment for people without high schools diplomas has reached lowest rate ever recorded, according to Trump. And for first time ever employers "are hiring prisoners."

— Jason Thomas (@ScoopThomas) August 31, 2018
Another fake news outburst: Trump says he went to better schools, better everything, than media. Oh yeah and "I'm president and they're not." And the crowd goes wild.

— Jason Thomas (@ScoopThomas) August 31, 2018
African-American unemployment recently achieved the lowest rate ever in this country, Trump said.

— Jason Thomas (@ScoopThomas) August 31, 2018
Trump playing to Hoosiers' passion now: said he got a call from #iubb coaching legend Bob Knight urging him to run for President.

— Jason Thomas (@ScoopThomas) August 31, 2018
Trump says he met 9 coal miners, 8 of whom we're crying "out of happiness because we're back."

— Jason Thomas (@ScoopThomas) August 31, 2018
Trump claims to have highest poll numbers ever within Republican Party.

— Jason Thomas (@ScoopThomas) August 31, 2018
Trump on an ICE rant now. Claims Democrats want to abolish it.

— Jason Thomas (@ScoopThomas) August 31, 2018
Trump calls illegal immigrants "gangs," can't call them "animals" because he said it upset Nancy Pelosi.

— Jason Thomas (@ScoopThomas) August 31, 2018
Some really bad people were let into this country by President Obama and others and "we're getting them the hell out," Trump says.

— Jason Thomas (@ScoopThomas) August 31, 2018
Trump: Our Justice Department and the FBI has to start doing their job and doing it now ...What's happening now is a disgrace ... I will get in there if I have to.

— Jason Thomas (@ScoopThomas) August 31, 2018
Trump bashing Donnelly's record: voted against tax cuts, repeal and replace Obamacare, and supports amnesty.

— Jason Thomas (@ScoopThomas) August 31, 2018
Trump continues another rant about "fake news" (says NBC is worse than CNN) before bringing Senate hopeful Mike Braun to stage.

— Jason Thomas (@ScoopThomas) August 31, 2018
Trump opened rally touting the economy: This is truly an amazing period of time. We've had the best economy in the history of our country.

— Jason Thomas (@ScoopThomas) August 31, 2018
"Where the hell did she come from?" Trump says of protestor escorted out of Ford Center in Evansville.

— Jason Thomas (@ScoopThomas) August 31, 2018
Hearing President Trump will be about 30 minutes late for #Evansville rally. Here's a pre-rally nugget: Brian Stevens and wife Marilyn joined the line to get in at 11 a.m. with 5-week-old daughter: Lyla Jane Indiana. #Hoosiers

— Jason Thomas (@ScoopThomas) August 31, 2018
Packed house at Ford Center for @realDonaldTrump rally in #Evansville. President about to take the stage. pic.twitter.com/4nhy5XGMHD

— Jason Thomas (@ScoopThomas) August 31, 2018
"I know he tweets a lot," says Cole Buchanan, 20, a small business owner, at the @realDonaldTrump rally in Evansville. "I kind of like that he speaks his mind. He's not afraid to say what he's thinking."

— Jason Thomas (@ScoopThomas) August 30, 2018
"I'm happy to see somebody who's proud to put America first," says Jose Cruz, whose parents came to the U.S. from Cuba in the 1950s, about Trump. "I hate the hyphen. We're all Americans." Trump rally in #Evansville pic.twitter.com/oBD5T2tcbZ

— Jason Thomas (@ScoopThomas) August 30, 2018
The stage is set for Trump rally in Evansville. pic.twitter.com/XuIudcZNat

— Jason Thomas (@ScoopThomas) August 30, 2018
Elvis, the Stones, opera: an eclectic mix of music at Trump rally in #Evansville.

— Jason Thomas (@ScoopThomas) August 30, 2018
Indiana's @GovHolcomb is in #Evansville. He said "Trump could not be visiting Indiana at a better time. Because Hoosiers, we're on a roll," he said, citing a healthy economy, AAA credit rating, budget surplus. (via @ScoopThomas) pic.twitter.com/GrLg3dCUcW

— Elizabeth DePompei (@EDePompei) August 30, 2018
A growing crowd prepares for @POTUS rally at the Ford Center in Evansville. pic.twitter.com/137vgHgDV5

— News & Tribune Photo (@NT_Photo) August 30, 2018
Jennifer Douglas, 68, of #Evansville, talks about why she's protesting during @realDonaldTrump's visit to her hometown. Rally starts inside the Ford Center at 8 p.m. EST. Video by @ScoopThomas. pic.twitter.com/7HGnTxBaMk

— Elizabeth DePompei (@EDePompei) August 30, 2018
More than 40 protestors occupy a lawn at the corner of Locust and 9th streets in Evansville in anticipation of @POTUS visit. pic.twitter.com/Gkl3fqJDeT

— News & Tribune Photo (@NT_Photo) August 30, 2018
Meet Trump supporters Julie Miller, left, and Traci Honaker, who say the president is a true patriot, as they wait outside the #Evansville rally. pic.twitter.com/WJpNrszjax

— Jason Thomas (@ScoopThomas) August 30, 2018
A line gathers along 5th street for @POTUS #Maga #rally in Evansville. pic.twitter.com/oogidAtDfx

— News & Tribune Photo (@NT_Photo) August 30, 2018
And they're off: Gates opened at @realDonaldTrump rally in #Evansville about 15 minutes ago. pic.twitter.com/3oqX3uB6TR

— Jason Thomas (@ScoopThomas) August 30, 2018
The beginning of the line for the @realDonaldTrump rally in #Evansville. It's hot folks pic.twitter.com/G8uz5hwwNd

— Jason Thomas (@ScoopThomas) August 30, 2018
It's odd: Line for @realDonaldTrump rally starts at northwest corner of Ford Arena in #Evansville and wraps around entire west side and south side of arena for several blocks. East side? Crickets. Thanks @Starbucks for AC. pic.twitter.com/x0sD71zvp4

— Jason Thomas (@ScoopThomas) August 30, 2018
It's a long line to get in to see @realDonaldTrump in Evansville. pic.twitter.com/M0CheM0UIM

— Jason Thomas (@ScoopThomas) August 30, 2018
Scene outside the Ford Center for @realDonaldTrump #maga rallying In #Evansville. pic.twitter.com/SLaTJKNGFk

— Jason Thomas (@ScoopThomas) August 30, 2018
En route to cover @realDonaldTrump #maga rally in #Evansville. Our Lady of Caffeine don't daily me now! #journalism pic.twitter.com/2ALY8OTFJt

— Jason Thomas (@ScoopThomas) August 30, 2018