NEW ALBANY — Floyd Central High School junior Jacob Young plans to intern at Mercedes-Benz of Louisville after he graduates, and he credits Prosser Career Education Center for helping him choose his path.
"Prosser has a huge impact in my life and for so many others," Young said Wednesday to a group of local, state and federal officials gathered at the New Albany vocational center to recognize the latest accomplishments for the school.
The Indiana Office of Work-Based Learning and Apprenticeship announced three additional Prosser programs have achieved State Earn and Learns, or SEALs, status. Eight Prosser programs have achieved SEALs designation this year.
SEALs combine education with on-the-job training, using industry employer partnerships to help students acquire certifications for careers that many will start upon graduation from a vocational school.
The students in the programs also earn industry-recognized credentials through career and technical education coursework and a dual credit through Ivy Tech Community College.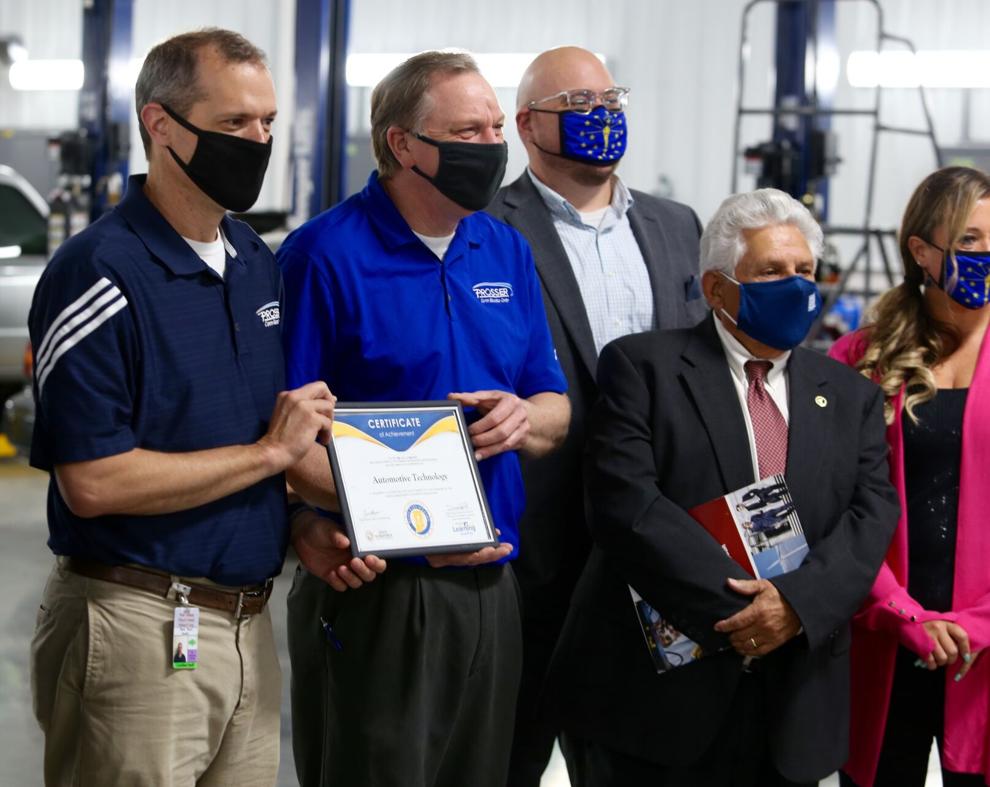 The three Prosser programs receiving SEALs designation Wednesday were central sterile technician, automative technology and diesel technology.
Students who graduate in those programs will earn three industry certifications and garner more than 970 hours of on-the-job learning while also receiving dual credits.
"Prosser is really a hands-on learning school for kids like me," said Young, who is a student in Prosser's automative technology program.
Prosser's success in apprenticeships has not only launched careers for Southern Indiana students, but it's helped the school achieve notoriety around Indiana. It's among the top tier of vocational centers for SEALs programs, partnering students who are seeking technical and career training with regional employers who are in need of skilled labor.
"I visit probably every vocational center in the state of Indiana, and everybody knows who Prosser is, I can assure you of that," said John Delgado, tri-state leader in apprenticeship for the U.S. Department of Labor.
Delgado is a Floyds Knobs resident whose wife was part of Prosser's first graduating class in 1969. The center is a major economic tool for the region because of its track record in training students who are job-ready upon graduation, he said.
Partnerships between state agencies and organizations like Work-Based Learning and Apprenticeship, Southern Indiana Works and higher education institutions only continue to improve what vocational centers like Prosser provide, Delgado said.
"No other state has this," he said of Indiana's specific apprenticeship and job-based training programs for students.
Prosser's central sterile technician program is the first in Indiana to receive SEALs designation.
"This is also one of the first programs for this in the state, and it's truly a great thing," said Jason Graves, southern regional director for Work-Based Learning and Apprenticeship.
Miranda Woods, surgical services director at the University of Louisville Hospital, said she met with Prosser officials in 2017 about the possibility of launching a technician program at the school. She said the need for central sterile techs was great, and she helped teach some of the first students at Prosser.
"Now it's really grown into the program it is today, which is now a fabulous opportunity for these students to get hands-on skills, earn college credits at the same time, and simultaneously earn an industry-recognized international certification," Woods said.
Carrie Lively, director of Work-Based Learning and Apprenticeship, thanked leaders for challenging the "status quo" and opening opportunities for students beyond college.
Prosser students will be the beneficiaries of the apprenticeships, which also support local employers and the community by building a strong, skilled workforce, she said.
"With the addition of SEALs programming, students who attend Prosser have the opportunity to become highly-skilled, extremely knowledgable and tremendously desired in eight different industry brackets," Lively said. "Students who complete these programs will be leaders among their peers, and leaders within occupations and will ultimately contribute in taking the state of Indiana to the next level."
Kyle Lanoue, director of career and technical education, emphasized that the apprenticeship programs wouldn't be possible without industry partners who provide opportunities for students to receive hands-on training.
"We're committed to ensuring that our partnerships remain strong and the SEALs program, what it brings to Prosser and to the state of Indiana and to students, is what that's all about," he said.
Prosser has SEALs certification for auto tech, diesel, sterile/central processing tech, auto collision, automation and robotics, heavy equipment operator, industrial electrical and welding.