NEW ALBANY — Tim Allen has led the effort to maintain and restore Freedomland Cemetery for the past eight years, but a dispute over the property rights and access points to the historic site where hundreds of Black people are buried has paused the New Albany resident's work.
"After eight years of no disruption and no controversy and no resistance, all of a sudden we have a lot of momentum and a lot of people interested in doing stuff there, and a blockade goes up," Allen said Friday.
New Albany Township Trustee David Brewer said he's been working on the issue for several months and is hoping to come up with funding to provide parking and designate a clear right-of-way so the public can easily access the cemetery.
The cemetery was originally called Colored People's Burial Ground, as it was created during a time of slavery and segregation when Black people weren't allowed to be laid to rest in the same place as whites.
According to Indiana University-Purdue University Indianapolis, there are around 300 burials in the cemetery with the earliest dating to at least 1854. The last burial is believed to have occurred around 1915. Many of the graves are unmarked and not much is known about the people buried there.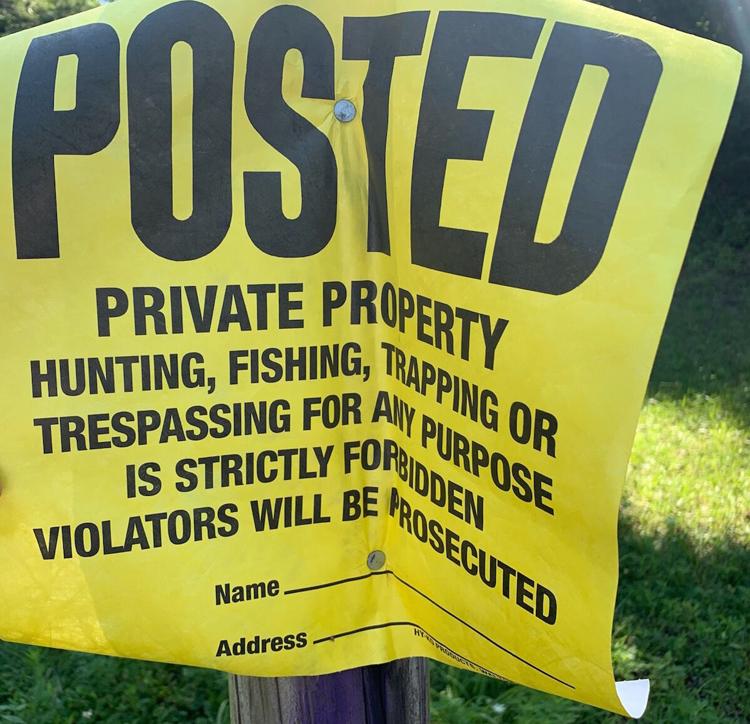 It's one of the oldest Black cemeteries in Indiana, but it was essentially abandoned in the 1900s and fell into disrepair. Organizers of restoration efforts like Allen have emphasized the importance of maintaining the grounds and identifying grave sites to ensure the history of the time period and the lives of those buried there aren't forgotten.
But access has always been tricky.
The cemetery is in a wooded area off Paoli Pike in Floyd County. A small, gravel shoulder off the steep roadway allows space for only a few vehicles near one of the entry points. There's a small trail that also leads to Freedomland, but accessing it technically requires crossing private property near a water tower adjacent to Knobs Pointe Apartments.
Allen said he had no issues with leading small groups to Freedomland in recent years to clean up the site, but that changed earlier this year.
According to Allen, he was contacted by a person who owns property near Freedomland in January. He said the man asked for a combination to a lock used for a gate near the entrance to the site, which Allen said he provided.
Allen said he felt there were no more issues as he said the property owner implied that was his only concern. But in July, Allen said he found a new lock on the gate. Additionally, he said he discovered "no trespassing" signs and attempts by someone to block access to a trail that leads to the cemetery.
Allen said his frustration was increased because several people had stepped up to volunteer to help with the cemetery work before the property issues arose.
"It's really disheartening to me," Allen said. "The work that was done already this year in the course of two months was as much work as I could have done in the past two years."
A message left with the property owner seeking comment for this story hadn't been returned as of press time.
Brewer vowed Friday to continue to work toward a solution and said if everyone can get on the same page, the goal of providing access to Freedomland without infringing on someone's private property rights can be accomplished.
He said the property owner has expressed his willingness to help and that Allen should also be commended for his dedication to Freedomland.
"We have a lot we want to do to enhance it," Brewer said. "Right now, people really don't know about it and how to get down to it."
Brewer added that he understands Allen's frustration and also can see why a property owner would want access to the site to be restricted to a public right-of-way.
But, Brewer said, it's a complicated issue because there's a deed that dates to the 19th Century concerning most of the burial grounds, while the properties surrounding it are privately owned. About 25 of the grave sites are actually on private property and not in the cemetery plot.
Additionally, the trail area by the gate off Paoli Pike isn't actually the right-of-way, he said. He said the public property is basically an old wagon trail that's not clearly defined, which is why he wants the trustee's office to have ownership rights to establish where the public/private boundaries begin and end.
The public needs to be aware of what happened and why Black people were buried in separate cemeteries so such racism and inequality never occurs again, Brewer said.
"I'm trying to make it where it's a destination point. It's a beautiful place to go down to," Brewer said. "The important part is that we protect that hallowed ground, because that's what it is."
To do that, Brewer said, he wants to include a capital improvement plan for the site when he submits the trustee's budget in September. A defined parking area that's safe along with an accessible trail leading to the cemetery are among the goals Brewer has for the cemetery.
During the time he's worked at the site, Allen said, he's found just a few bottles left behind and no vandalism. He said he respects private property rights, but he stressed that people need to know the story of Freedomland and be allowed to visit the site.
"We're talking about a national relic here," Allen said. "I call it a treasure because it's something that no one expected to be there."