"Batting, running the bases, friends, and Daddy!"
— 10-year-old J.D. Masingo's favorite things about Thursday baseball game nights at Clarksville Little League Park.
J.D. Masingo is my buddy. I don't mean that to be braggadocio because when he comes to the courthouse, J.D. is everybody's buddy. One word of caution, if you don't like really good hugs, you shouldn't be J.D.'s buddy. He gives really good hugs and sometimes on a work day when you need a really good hug.
His mom, Jennifer, talks about how overwhelming the news initially was. "I had no clue what it meant to be the mother of a Downs baby." J.D. is very high functioning in that spectrum. This past year, he has been mainstreamed more into the regular classes at Thomas Jefferson Elementary School. He has really excelled in reading and spelling.
However, this past Thursday, it was J.D.'s athletic prowess on display. I visited the Clarksville Little League ball park field number three to watch a game in The Challenger League. There were games running simultaneously on two other fields. I met several of his friends and teammates in a game where every participant gets to bat and play field. Jennifer told me that emulating the older players has made J.D. want to work on his own skills.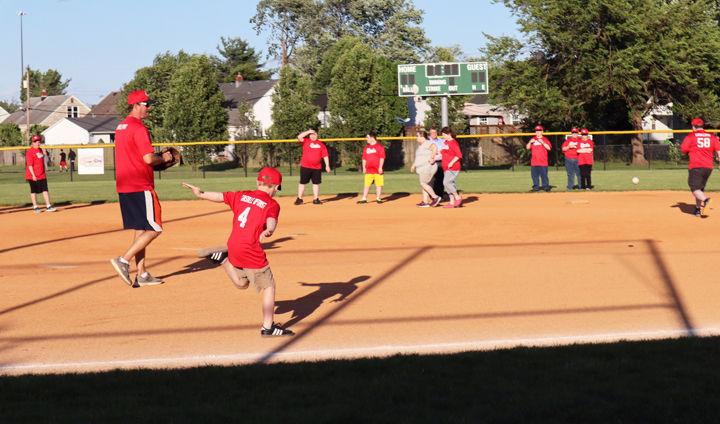 The youngest player was 3-year-old Danny Perez, who was so small, according to 11-year-old big brother, Ernesto, that they couldn't order a shirt small enough to fit him. So they had to tie it in knots. This game was nothing if not a family night event. Many players have friends and family who accompany them on a tour around the bases.
I spent most of my time with a 16-year veteran of the league named Chase Brewer and his mother, Pam. Dad Wayne was so busy pitching and coordinating the on-field activities that we didn't get to speak. Due to birth trauma, Chase has cerebral palsy. What first caught my attention was when Pam held up two bats and asked which one Chase preferred. Through a method of communication using his eyes, she knew his preference.
On many occasions the family has an electronic device called a Dynavox, which aids in communicating. On the field this week any question had to be binary in nature using a left-right choice, requiring mostly a "yes" or "no" answer. I was assured Chase has a wide variety of ability to understand my communication. Like most seasoned veterans, as Chase rode his electric wheelchair around the bases, his younger fans in uniform rushed up to give him a high five.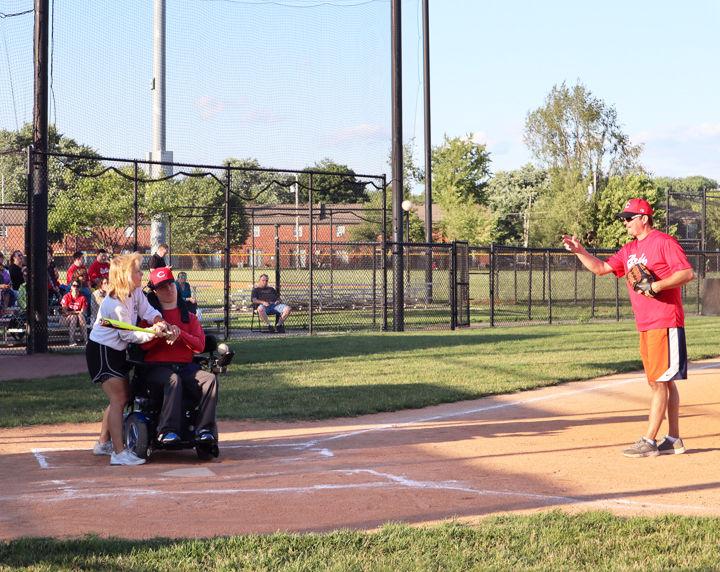 Two other very special people I met were Mickey and Billie Higdon. They are the primary organizers and schedulers of the league. Mickey told me he starts working each season around mid-January in order to have everything done so the kids can play on Thursday evenings in May and June. These dates accommodate the milder weather. This season two nights of games were lost due to the heavy rains.
Mickey Higdon is the kind of guy you don't have to spend much time with to like him. He is in human resources in his day job before he devotes many hours of his free time to human relations. He and Billie provide the drinks after the game. "These players won't have the opportunity to play without this league," he said. Billie is always up for the games. "I am so used to it that I automatically get settled in and am ready to go," she said.
The Clarksville Optimist Club is listed as a sponsor on the uniforms. Mickey wanted me to stress that this is a league in which the parents have no financial obligation and without the grants from the Horseshoe Foundation, it wouldn't be possible in its current form.
As the season has ground down, a banquet and pizza party will honor the players. A league that had its origins in 1990 with 13 players now boasts a membership of 83 participants. Sadly, the original coach, Bob Snyder, passed away last year. His wife, Linda, is still very active.
There is an old cliché that it doesn't matter whether you win or lose, but it's how you play the game. Having been a lifelong competitive person, I have never bought into that philosophy when it comes to sports. Well, that is, never until this past Thursday evening.
I might add to that old adage, it's also who plays the game.
— Lindon Dodd is a freelance writer who can be reached at lindon.dodd@hotmail.com.