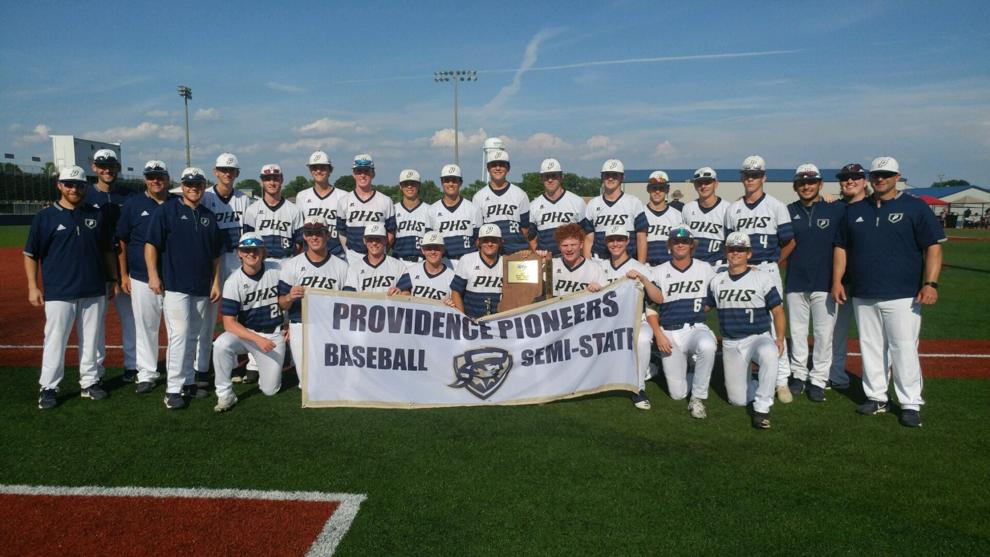 A flyout to LF starts the celebration for IHSAA State Finals-bound @Providence_BB. @newstribscores pic.twitter.com/RheQI0aBmk

— Josh Cook (@joshcooknewstri) June 12, 2021
MOORESVILLE — Providence is headed back to Victory Field. 
The Pioneers rolled to a 14-1 five-inning win over eighth-ranked University in the Class 2A semistate game at Mooresville on Saturday afternoon. 
Providence (22-7) will face Eastside (23-5), the winner of the north semistate, at 8 p.m. at Victory Field in Indianapolis. It will mark the Pioneers' second trip to the home of the Indianapolis Indians, where they won the 2A state title in 2016. 
The only thing hotter than the sweltering temperatures was Providence itself Saturday. The Pioneers plated two runs in the first inning before scoring six times in the third and fourth frames. 
Senior Eli Watson led Providence at the plate, going 3-for-3 with a single, double, home run and four RBIs. His three-run homer highlighted the Pioneers' third inning. Juniors Max Beatty and Hayden Vissing added two hits apiece.
Landon Kruer added three RBIs while Beatty and Vissing drove in two each. 
Watson, Jake Rodski, David Newbanks and Beatty scored two runs apiece.  
That proved to be more than enough offense for Ray Reisinger. The Providence senior ace allowed only a couple of hits while striking out nine in the complete-game effort. 
.
CLASS 2A MOORESVILLE SEMISTATE
Saturday at Mooresville HS
PROVIDENCE 14, UNIVERSITY 1
University     100     00 — 1 2 0
Providence     206     6X — 14 9 1
W — Ray Reisinger. L — Matt Moore. 2B — Tyler Galyean (U), Landon Kruer (P), Eli Watson (P). HR — Watson (P). Records — University 23-10, Providence 22-7.
The @GOphsPIONEERS students join in the celebration for @Providence_BB. pic.twitter.com/hBfDEw9Gcd

— Josh Cook (@joshcooknewstri) June 12, 2021