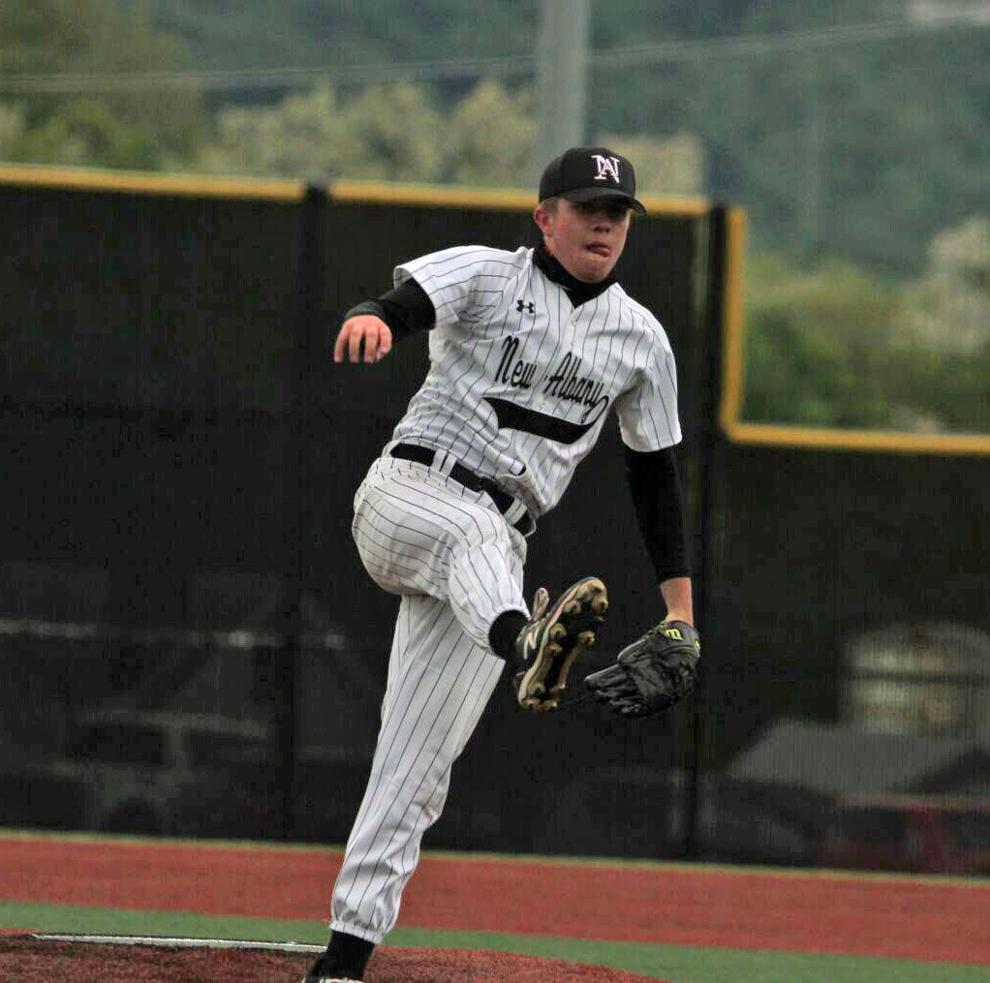 NEW ALBANY — Tucker Biven tossed a one-hit, complete-game shutout to lead Class 4A No. 6 New Albany to a 5-0 victory over visiting Columbus East in the first round of the Hoosier Hills Conference Tournament on Monday evening at Mt. Tabor Field.
Biven only allowed a single with one out in the top of the seventh while walking two and striking out eight to improve to 4-0 on the mound.
The Bulldogs scored single runs in the first and fifth frames before tallying three times in the sixth.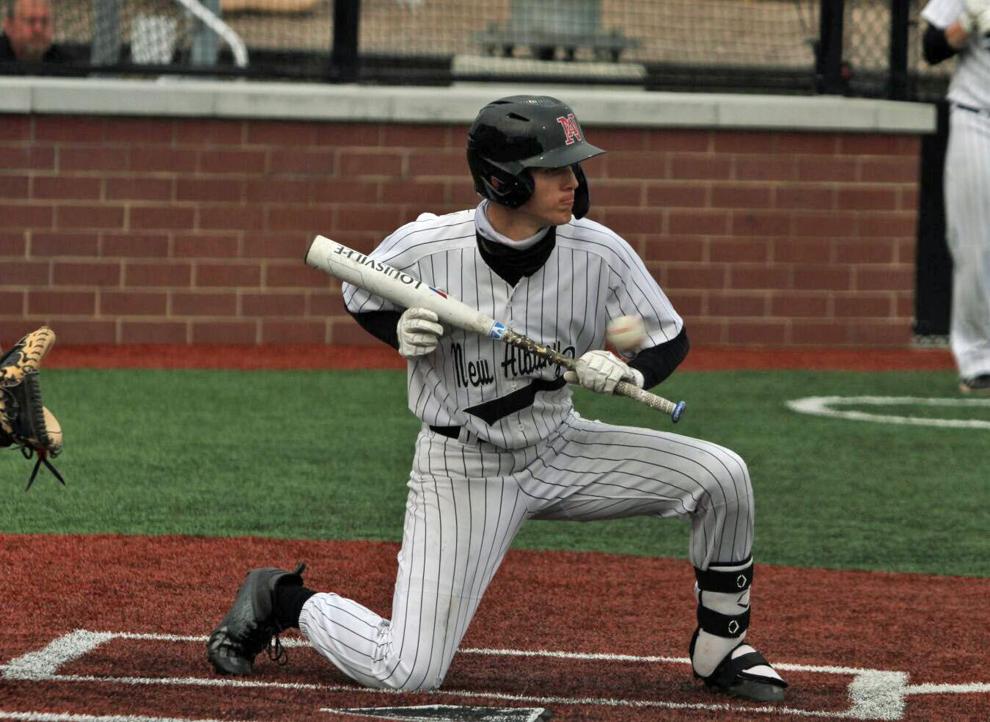 Landon Caswell and Mitchell Meyer each had two hits and an RBI to lead New Albany at the plate. Garrett Jones also had a hit and an RBI for the Bulldogs (17-4), who will host Floyd Central at 6 p.m. Wednesday evening in the HHC Tournament semifinals.
.
HOOSIER HILLS CONFERENCE TOURNAMENT
Monday's first-round game at Mt. Tabor
NEW ALBANY 5, COLUMBUS EAST 0
Columbus East  000 000 0 — 0 1 2
New Albany       100 013 X — 5 6 0
W — Tucker Biven (4-0). L — Kaden Wise. Records — Columbus East 7-10-1, New Albany 17-4.
.
BIG INNINGS PROPELS FLOYD PAST STARS
FLOYDS KNOBS — A seven-run sixth inning propelled Floyd Central to a 9-4 victory over visiting Bedford North Lawrence in the first round of the HHC tourney at Highlander Field.
The game was tied 2-all until the Highlanders' huge inning.
Four players — Jake Thompson, Evan Goforth, Casey Sorg and Tristan Polk — had two hits apiece to lead Floyd's 11-hit attack. Thompson went 2-for-4 with a triple and a trio of RBIs; Goforth was 2-for-4 with a home run while scoring twice; Sorg went 2-for-3 while scoring a run and Polk was 2-for-4 with two RBIs.
Sorg also picked up the win on the mound. The senior allowed four runs (three earned) on five hits while walking two and striking out six over the seven innings.
.
HHC TOURNAMENT
Monday's first-round game at Highlander Field
FLOYD CENTRAL 9, BEDFORD NL 4
Bedford NL      002 000 2 — 4 5 0
Floyd Central  101 007 X — 9 11 1
W — Casey Sorg. L — B. Brown. 2B — Max Tripure (FC), G. Dalton (BNL), C. Karr (BNL). 3B — Jake Thompson (FC). HR — Evan Goforth (FC).
.
RED DEVILS EDGE OWLS
JEFFERSONVILLE — Three-time defending champion Jeffersonville rallied for a 5-4 nine-inning victory over visiting Seymour in the first round of the HHC Tournament at Don Poole Field.
The Owls led 4-2 with two outs in the bottom of the seventh before Kannon Stull tied it up with a two-run homer.
Then in the bottom of the ninth three straight walks set the stage for sophomore Brett Denby, who singled to left field to score Josh Weiser with the winning run.
"I was telling everyone in the dugout, if I get up (in the ninth) I'm going to end the game," the Georgia commit said. "I knew it off the bat — game over."
"We fought," Jeff coach Derek Ellis added. "We didn't fold and we kept battling right down to the last out. The disappointing thing is we were losing a game in the seventh inning and (Seymour) only had two hits. That's a little frustrating."
Stull led the Red Devils at the plate, going 2-for-3 with a double, home run and four RBIs.
Denby started the game on the mound and allowed three runs (two earned) on two hits while walking five and striking out eight over 5 1/3 innings. Xavier Hart then picked up the win in relief of Denby. The senior allowed one earned run on two hits while striking out three over the final 3 2/3 innings.
Jeff (14-8), which has won six straight and nine of its last 11, will host Madison at 6 p.m. Wednesday night in an HHC semifinal.
.
HHC TOURNAMENT
Monday's first-round game at Don Poole Field
JEFFERSONVILLE 5, SEYMOUR 4
Seymour         100 001 100 — 4 4 2
Jeffersonville 001 010 201 — 5 6 3
W — Xavier Hart (3-1). L — Treyton McCormick (1-4). 2B — Vince Wilson (S), Kannon Stull (J), Chate Amick (J). HR — Stull (J). Records — Seymour 8-7, Jeffersonville 14-8.
.
DRAGONS NO-HIT GENERALS
CLARKSVILLE — Silver Creek's Colin Kapust and Dominic Decker combined to no-hit host Clarksville in the 3A No. 5 Dragons' 4-0 win Monday afternoon.
Kapust struck out four over the first five frames before Decker struck out a pair over the final two innings.
Creek scored single runs in the third and seventh frames to go along with two in the fourth.
Decker and Bailey Hale had two hits apiece for the Dragons. Decker also had a pair of RBIs for Silver Creek (13-5-1), which is scheduled to host Kentucky's top-ranked team, Louisville Trinity, at 6 p.m. Tuesday night.
"I was pretty pleased with our pitching, however we had a few errors that allowed them to score," Clarksville coach Jamie Knight said. "Offensively, we just didn't make adjustments to their pitchers who did a good job of mixing up their pitches." 
.
SILVER CREEK 4, CLARKSVILLE 0
Silver Creek  001 200 1 — 4 7 2
Clarksville    000 000 0 — 0 0 1
W — Colin Kapust. L — Jacob Cummings.
.
BRAVES BEAT BULLDOGS
ORLEANS — Visiting Borden blasted Orleans for a 10-1 win Monday evening. 
The Braves had nine hits, including a second-inning grand slam by Gavin Gentry, in the win. Meanwhile on the mound, Samuel Gasper earned the complete-game victory. Gasper allowed one earned run on four hits while walking one, hitting one and striking out four. 
Also for Borden, Kaden Holmes went 3-for-4 with an RBI; Alex Schuler was 2-for-3 with a double and an RBI and Dylan Toler homered. 
"Sam threw really well tonight. He went the distance and gave us a great start on the mound," Braves coach Eric Stotts said. "Gavin Gentry's grand slam in the second was huge. Dylan Toler had a solo shot in the fifth too, but we had contributions throughout the lineup. Guys took walks, got runners in by putting the ball in play and (we) had a number of quality at-bats. Our defense was solid tonight too. It was a good win against a potential sectional opponent."
. 
BORDEN 10, ORLEANS 1
Borden     061     111     0 — 10 9 0 
Orleans     000     001     0 — 1  4 1
W — Samuel Gasper (4-0). L — Deckard (0-3). 2B — Martin (O), Alex Schuler (B), Clipp (O). HR — Gavin Gentry (B), Dylan Toler (B). Records — Borden 12-5-1, Orleans 4-9. 
.
PIRATES OUTLAST EASTERN
PEKIN — Charlestown held off host Eastern for a 4-3 win in a Mid-Southern Conference contest Monday evening. 
The Pirates plated single runs in the first, third, sixth and seventh innings while the Musketeers tallied twice in the fifth and once in the seventh. 
Eric Wigginton and Michael Casey had three hits apiece to lead Charlestown's eight-hit attack. 
Ethan French, the third Pirates pitcher, picked up the win. In two innings of relief, the freshman allowed one earned run while walking three and striking out one. 
. 
CHARLESTOWN 4, EASTERN 3
Charlestown     101     001     1 — 4 8 0 
Eastern              000     020     1 — 3 7 2
W — Ethan French. L — Pennington. 2B — Eric Wigginton (C), Pennington (E).