It was a banner year for boys' basketball in the area, quite literally. Four of the 12 high schools in Clark and Floyd counties won sectional titles this past season.
Sadly, though, we'll never know if they could have won more. That's because the coronavirus pandemic caused, at first the suspension and ultimately, the cancellation of the remainder of the state tournament.
So although we're left to wonder what if (?), we can still look back at what was.
The 2019-20 News and Tribune All-Area teams are littered with players from those sectional champions (Christian Academy, Floyd Central, Providence, Silver Creek), but leading the way are a trio of players — Jeffersonville senior Tre Coleman, Silver Creek junior Trey Kaufman and Floyd Central junior Jake Heidbreder. Those three will vie for the title of Boys' Basketball Player of the Year at the seventh annual NTSPY (News and Tribune Sports Performance Yearly) Awards, which will be online June 16.
TRE COLEMAN, JEFFERSONVILLE
As a junior Coleman averaged 16 points, 6.4 rebounds, 2.5 assists and 2.4 steals per game while helping the Red Devils capture their first sectional title in six years.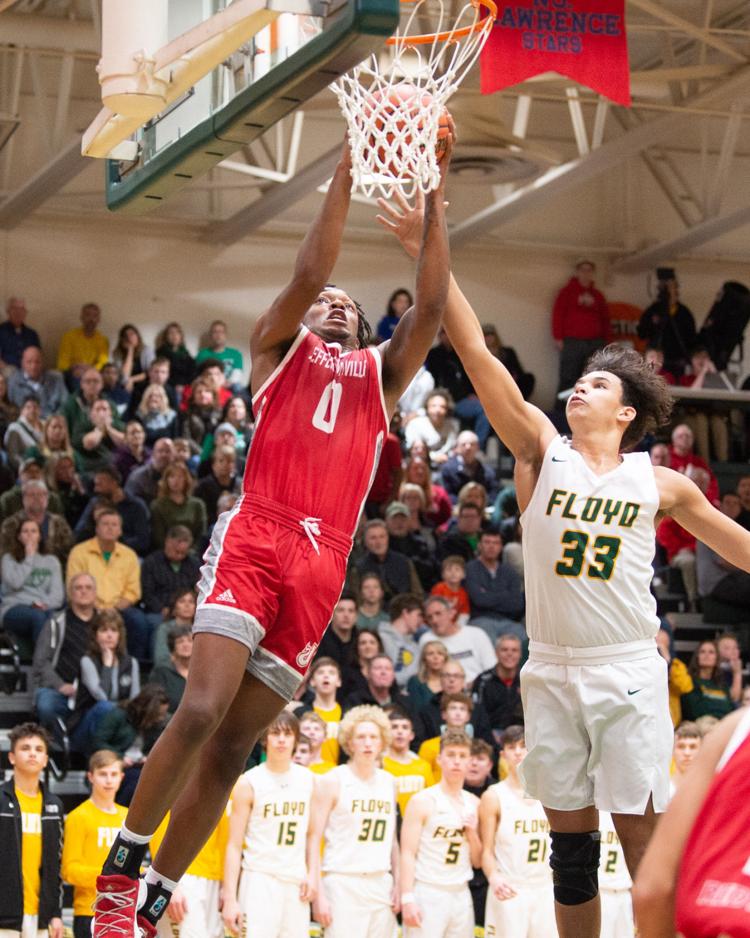 The 6-foot-6 forward nearly equaled those averages as a senior, putting up 15.4 points, 7.1 rebounds, 2.3 blocked shots and 1.5 steals a game for the Red Devils, who went 18-6 but were knocked off by Floyd Central in the Class 4A Seymour Sectional semifinals.
"I thought it could've went better," said Coleman, who also shot 65.1 percent from the field, including 43.3 percent from 3-point range. "We went out with some unfinished business. … But it was a good learning experience."
For his accomplishments the Nevada-signee was named to the Indiana Basketball Coaches Association's senior "Supreme 15" and garnered high honorable mention All-State honors from the Associated Press. Then, in early April, Coleman was one of 13 players statewide selected to the 2020 Indiana All-Star team. Unfortunately he won't get to suit up for the All-Stars this summer since their annual two-game series against Kentucky was also canceled due to COVID-19.
"This is just a sign to keep working. I've just got to keep getting more stuff in my game," Coleman, a second-time NTSPY finalist, said.
Coleman was a four-year starter for the Red Devils, who went 71-27 during his career.
"For sure winning sectionals, that was really a highlight," he said. "Another one was playing with my brother, Jacob [Jones]. We really had fun and I'm going to miss him a lot."
Coleman will continue his career at Nevada, where he will play for former Indiana Mr. Basketball, and Hoosier great, Steve Alford.
"Hopefully I can leave out in July and start summer school and keep getting better and get ready for the season," Coleman said.
JAKE HEIDBREDER, FLOYD CENTRAL
Heidbreder followed up a breakout sophomore season with an outstanding junior campaign. With the graduation of Cobie Barnes, the reigning Player of the Year, and eight others from last season, Heidbreder became the Highlanders' leader. He proved up to the challenge. The 6-foot-4 guard averaged 19.8 points, 4.1 rebounds, three assists and 1.4 steals per game.
"We basically had a brand new team, but everybody stepped up and I couldn't be happier with how it went," he said.
Floyd won its first six games of the season before a last-second overtime loss to Class 4A No. 1 Bloomington South. The Highlanders won six of their next eight before dropping three games in a row. However, they didn't lose another game en route to capturing the program's first sectional title in 31 years.
"We obviously ended on a high note, which is what we wanted to do," Heidbreder said. "We had some highs and lows, but we stuck together and worked hard in practice. I was bummed out we didn't get to play in the regional against Bloomington South … but we were happy with how we ended with a win and the sectional title."
After the season, Heidbreder was an honorable mention All-State selection by the Associated Press and was named to the Indiana Basketball Coaches Association's All-State underclassmen Large School division. He was also one of 20 players from across the state selected to the Indiana Junior All-Stars.
Heidbreder already has a handful of NCAA Division I scholarship offers from Elon, Furman, Indiana State, Navy and Vermont.
"I just want to get a good degree and play with a bunch of good guys on a really welcoming team," he said.
But first, he'll have one final season at Floyd.
"We're looking forward to it and just getting back in the gym, hopefully soon," he said. "Our goal is to get a state championship, but we've just got to take it one game at a time and not overlook any opponent."
TREY KAUFMAN, SILVER CREEK
As a sophomore, Kaufman averaged 14.8 points and a team-high 9.1 rebounds per game for the Dragons, who captured their first-ever state title. This past season the 6-foot-9 junior forward, one of only two returning starters for Silver Creek, averaged 25.8 points, 9.6 rebounds, 2.9 assists and 1.6 blocked shots a game for a team that was ranked No. 1 in Class 3A wire-to-wire.
Led by Kaufman and classmate Kooper Jacobi, the Dragons captured their third consecutive sectional championship and had their sights set on a second straight state title.
"I felt bad, especially for our senior, [Taylor] Betts, that he didn't get a chance to go back and experience that again," said Kaufman, who shot 64 percent from the field, including 40 percent from 3-point range, and 75 percent from the free throw line. "We felt like we had the best shot at winning it. … It hurt a lot, but you have to understand the health impacts on everybody."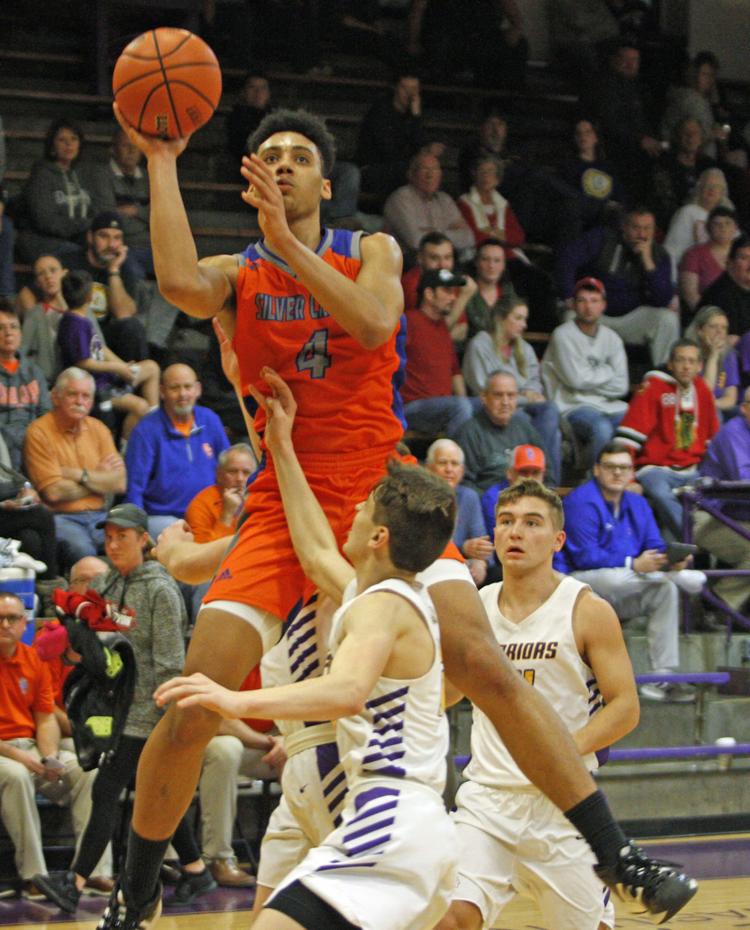 After the season ended, the honors started rolling in for Kaufman. He was named first-team All-State by the Associated Press and to the Indiana Basketball Coaches Association's "Supreme 15" for underclassmen, as well as to the "core" group of the Indiana Junior All-Stars. Then, to top it off, he was named the Indiana Gatorade Player of the Year. In becoming the first underclassman to win the award since 2005, Kaufman joined eight previous winners who are currently on NBA rosters.
"Just to be with all the other people that have won the award, I think it's insane to be included in a group with those people. And to do it as a junior, it's incredible," Kaufman said.
Kaufman is ranked as the No. 41 prospect nationally in the Class of 2021 by 247Sports.com and has received scholarship offers from Indiana, Purdue, Louisville, Virginia and Xavier, among others.
However, he still has his senior season to look forward to.
"I think we're expected to make it back to state," he said. "If another pandemic doesn't come on, hopefully we will."