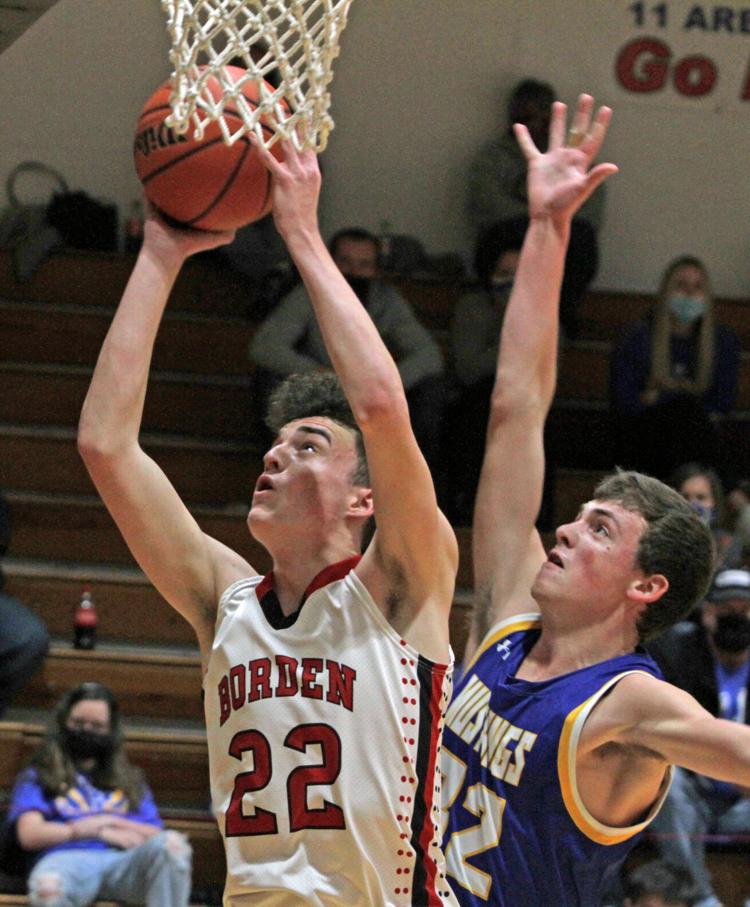 BORDEN — Host Borden pulled away from New Washington in the fourth quarter for a 67-52 Southern Athletic Conference win Friday night.
The Braves rode hot-shooting to their second straight victory. Borden shot 67 percent (22-for-33) from inside the arc on the night.
"We watched a lot of game film and (New Wash) had been playing a lot of zone, so when they went man-to-man, that threw us off a bit," Braves coach Doc Nash said. "But our kids responded."
A Cruz Martin 3-pointer gave Borden an early 6-4 edge and forced a New Washington (3-8) timeout with 3:46 left in the first quarter.
Brennan Eurton and Bo Giltner traded buckets in the post coming out of the timeout to make the score 8-6 in favor of the Braves.
New Washington sophomore Mason Thompson knocked down a deep 3 at the buzzer to cut the Mustangs deficit to 14-11 after the opening period.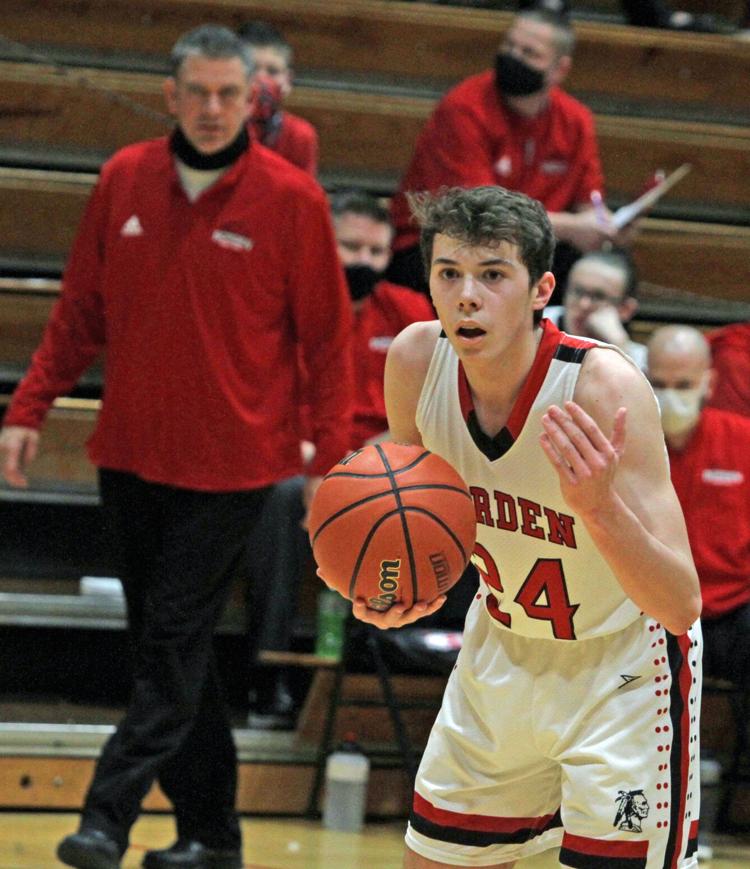 Thompson buried another deep ball to knot the game up to open the second quarter, but two quick Eurton layups gave Borden an 18-14 edge.
"You've got to give Mason credit," Nash said. "He had not shot it well, and we knew that. Tonight, he shot it well."
Giltner turned a steal into a transition layup with 2 minutes 47 seconds left in the first half to give the Mustangs the lead, 22-21, but the Braves scored the last five points of the half to take a 26-22 lead into the locker room.
Eurton led all scorers with 15 points at the half. Giltner was the only other player in double digits with 10.
"(Giltner's) pretty seasoned, and he was a load for us tonight," Nash said.
Borden gave itself some breathing room early in the third quarter behind two more Brennan Eurton baskets, but sophomore Matthew Arthur made a 3 to cut the New Wash deficit back down to four, 32-28.
A personal 5-0 run for Ethan Eurton gave Borden its largest lead of the night to that point, 37-30, with 3:22 left in the third quarter.
Thompson and Mason Jones traded 3s in the last minute of the third quarter to maintain a six-point Borden lead at 39-33.
A quick 8-2 Braves run to open the fourth quarter forced Brown to call a timeout down 47-35 with 6:03 remaining in the game.
Borden freshman Kasym Nash scored eight of his 13 points on the night in a 1:30 span to keep the Mustangs at bay at 55-42.
Arthur used a late scoring flurry to bring his point total up to 21 on the night, but the game never got closer than eight points before Borden pulled away.
Brennan Eurton finished with a game-high 25 points.
"He's really good when he gets around the rim and has confidence," Nash said. "He's got to be confident. He's our senior, our leading scorer, our leading rebounder — he's got to get in there and do it. I'm proud of him."
New Wash (3-8, 0-1) hosts Clarksville at 7 p.m. tonight while Borden (6-4, 3-1) faces another sectional foe when it visits Rock Creek at 7:30 p.m.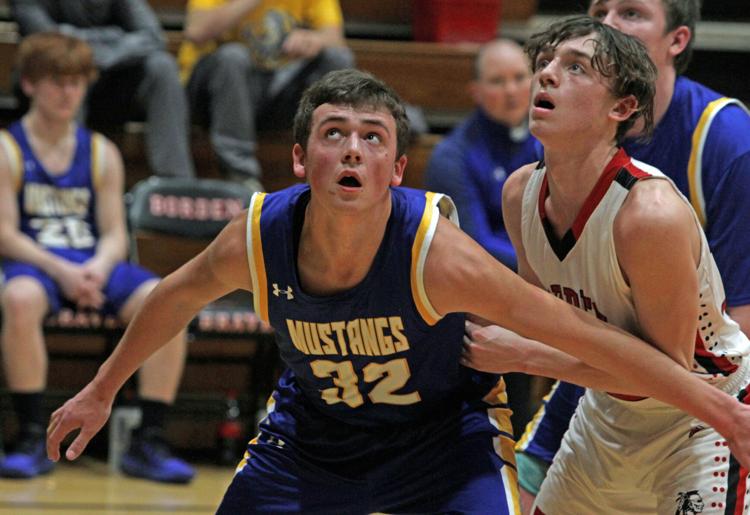 .
BORDEN 67, NEW WASHINGTON 52
New Washington 11  11  11  19 — 52
Borden                 14  12  13  28 — 67
   New Washington (3-8, 0-1): Matthew Arthur 21, Bo Giltner 14, Mason Thompson 12, Logan Cooper 3
   Borden (6-4, 3-1): Brennan Eurton 25, Ethan Eurton 14, Kasym Nash 13, Mason Carter 6, Cruz Martin 4
   3-point field goals: New Washington 7 (Arthur 3, Thompson 3, Cooper); Borden 4 (Nash 2, Jones, Martin).