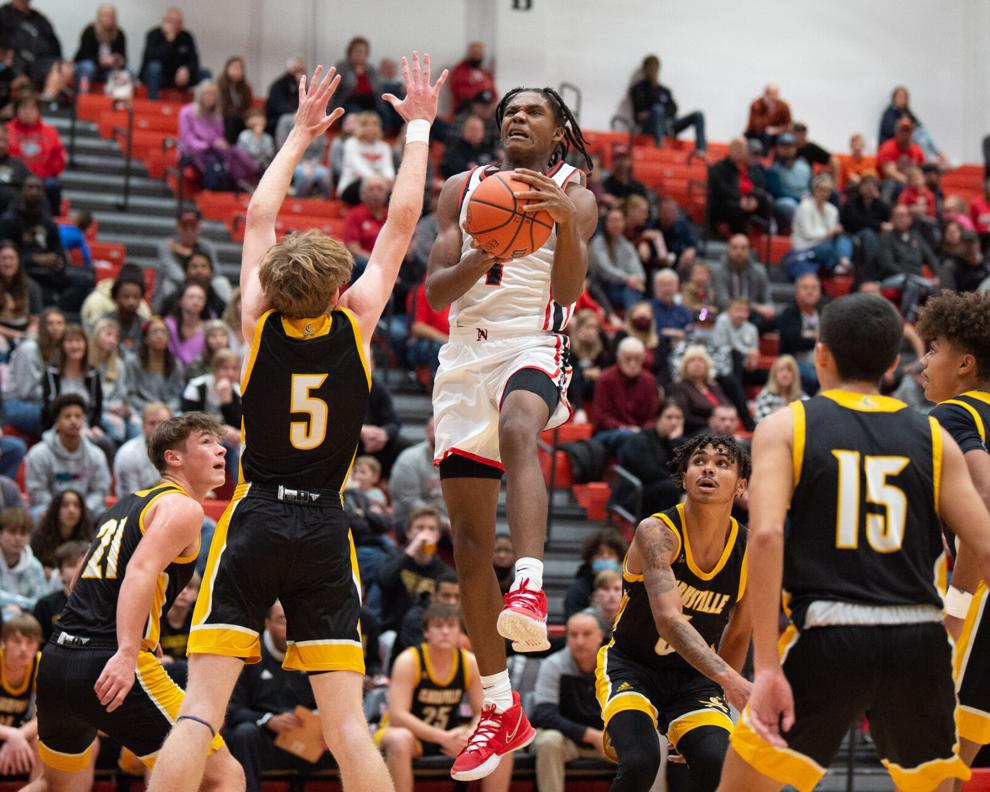 NEW ALBANY — Fans were treated to a barn-burner for a season-opener Wednesday night at the Doghouse. 
New Albany and Clarksville fought to the final horn with the Bulldogs squeezing out a 48-45 victory in the first game for both.
New Albany led 44-29 with 4 minutes, 10 seconds to play before the Generals went on a furious 16-4 run and nearly sent the game to overtime. Jacob Seward, who hit three 3-pointers, narrowly rimmed out a long bomb at the buzzer and the 'Dogs prevailed.
"When we got the lead to 11 to 12 points we should have pushed it to 18 or so, but we didn't," New Albany head coach Jim Shannon said. "We turned it over a couple of times, took a few quick 3s and missed a couple of foul shots and all of a sudden — here they come."
Dakota Capps tallied a game-high 22 points for the hard-nosed Generals, who played their first game under new coach Kyle Hankins. 
"Dakota was really good tonight," Hankins said. "Not only scoring, but finding our shooters. The most underrated thing about Dakota is he's a good passer and he makes the right reads."
Clarksville played from behind most of the game and when the 'Dogs grabbed their biggest lead midway through the final period, Hankins told his team that it was now or never.
"With about four minutes to go we were down 12 or so and I really challenged the guys," Hankins said. "I said, 'We could be down 20-25 real quick or we can dig in and get back in this thing.' They really responded and made plays at both ends of the court."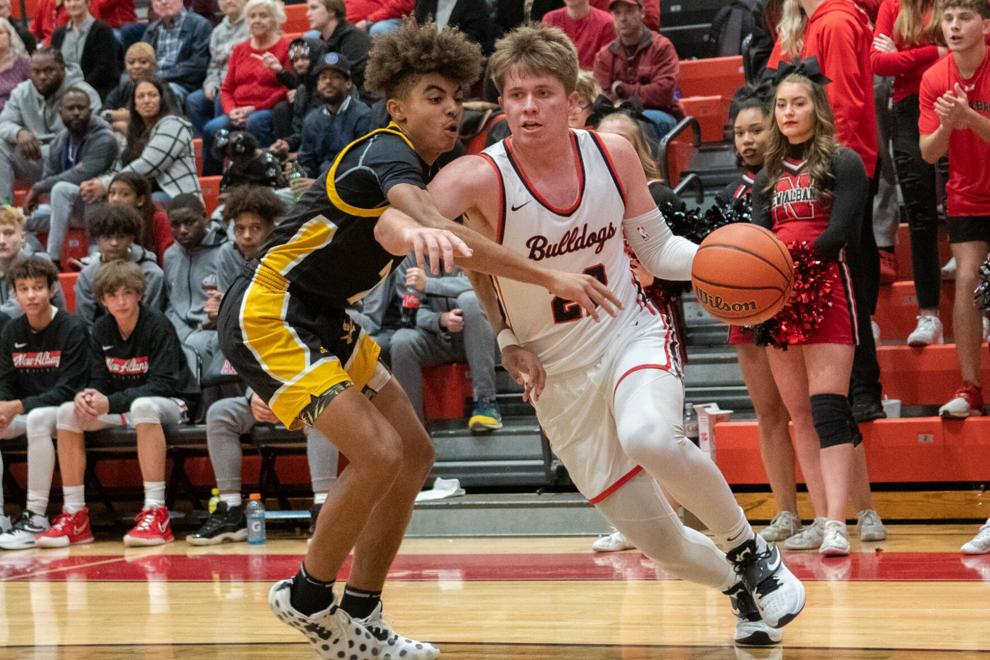 Senior guard Tucker Biven came up big for the Bulldogs all night, leading the winners with 19.
"I thought Tucker played really well tonight," Shannon said of Biven, who nailed five from long range. "He's a good leader and took it upon himself to get us going. I thought he played an excellent basketball game."
Senior guard, and defensive stopper, Maddox Schmeltz did not score and spent the second half on the bench with an ice pack on his left knee.
"He said he kind of tweaked his knee a little bit so we'll get him checked out and see how he feels in a couple of days," Shannon said. "Him not being on the court affected us a lot. We're not deep anyway and he's our guy that plays so hard with such tenacity."
New Albany started fast as Josten Carter scored seven of his 12 in the first stanza and the home team to a 17-7 lead at the first stop. Clarksville scrapped back into the game, getting within 18-14 midway through the second frame before the 'Dogs regrouped and posted a 26-18 lead at halftime.
"I thought we got off to a great start and then, well, I won't be sure what happened till I watch the tape," Shannon said. "I think we just missed some shots. We take a lot of 3s, so if they're not dropping then we can allow teams to get back in games."
The Bulldogs pushed their lead to 36-25 by the end of the third frame and to 15 early in the fourth before Clarksville's big fourth-period push. 
Carter supported Biven by scoring 12, while Jayden Thompson netted nine and Chase Loesch eight.
"I give Clarksville a lot of credit," Shannon said. "They ran their stuff really well and the Capps kid is really, really good. It's going to take this team some time to get going. We've got some new guys on the court and still have some guys coming back from injuries. We're just going to have to be patient with them."
The Generals handled New Albany's vaunted pressure all night and only turned it over six times. The visitors also won the battle of the boards 28-24.
"The Clarksville program will never be into moral victories as long as I'm the head coach but you have to be proud of the way our guys played tonight," Hankins said. "We had a lot of guys step up. Jacob Seward hit some big shots down the stretch. Morgan Capps gave us a great defensive effort. Caleb Cummings was very physical for us and played hard. Alex Titus and Landon Raidline gave us some big things also."
Both teams are slated to be back in action at 7:30 p.m. Saturday tonight. New Albany travels to Bloomington South while Clarksville hosts Christian Academy.
. 
NEW ALBANY 48, CLARKSVILLE 45
Clarksville         7     11     7     20 — 45
New Albany     17     9     10     12 — 48
     Clarksville (0-1): Dakota Capps 22, Jacob Seward 9, Landon Raidline 5, Caleb Cummings 4, Alex Titus 5.
     New Albany (1-0): Josten Carter 12, Tucker Biven 19, Chase Loesch 8, Jayden Thompson 9.
     3-point field goals: Clarksville 6 of 18 (D. Capps, Seward 3, Raidline, Titus); New Albany 8 of 22 (Biven 5, Loesch 2, Thompson).
     Rebounds: Clarksville 28, New Albany 24. 
     Turnovers: Clarksville 6, New Albany 5. 
     Field-goal shooting: Clarksville 18 of 44, New Albany 16 of 39. 
     Free-throw shooting: Clarksville 3 of 3, New Albany 8 of 14.