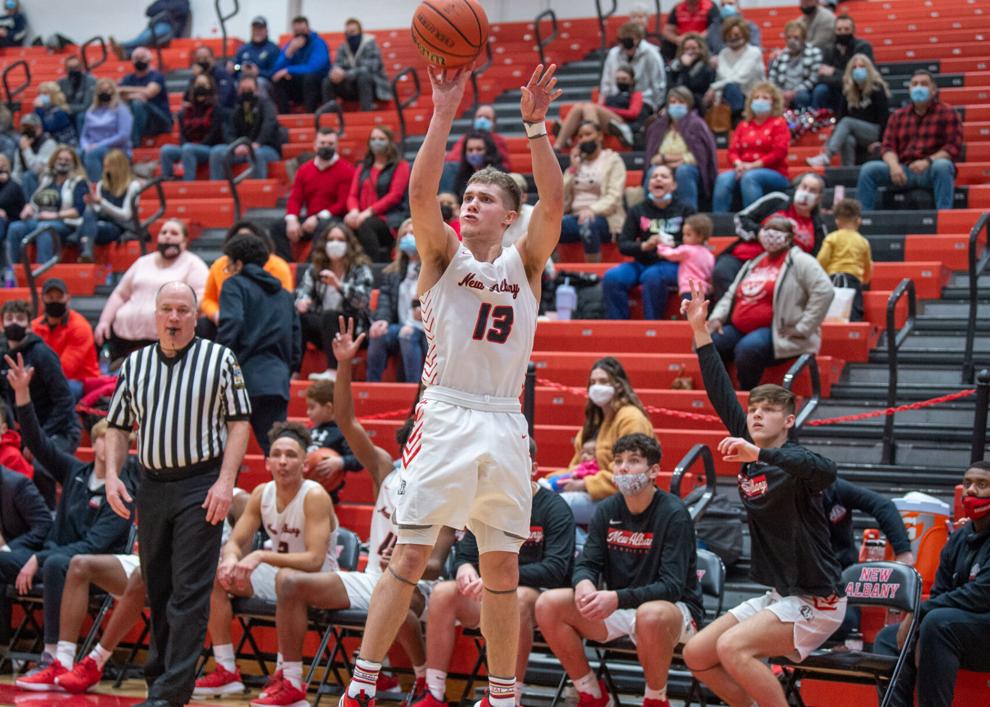 NEW ALBANY — Sophomore guard Josten Carter had a field goal and a pair of free throws in the final minute of overtime to help New Albany hold off visiting Providence for a 46-41 win at the Doghouse on Friday night.
"It was a high-level game of big-boy basketball," said Pioneers coach Ryan Miller, whose team was outscored 9-4 in the extra session.
Both teams had their chances in a scoreless final 3 minutes, 42 seconds of regulation, leaving the score tied at 37.
Junior guard Kaden Stanton knocked down a long 3-pointer to put the Bulldogs up for good, 40-37, with 2:50 to play in the extra session. A putback by Providence senior forward David Wall made it 40-39 moments later, but that was as close as the Pioneers would get.
A baseline inbound-pass led to a Carter field goal for a 42-39 lead with 54 seconds left in OT. A defensive rebound by New Albany junior guard Maddox Schmelz led to a pair of free throws that put the Bulldogs up five, 44-39, with 20 seconds to play.
"At the end of the game I thought we played really well. We had guys step up. I thought it definitely was a team effort," said New Albany coach Jim Shannon, whose team won for the fourth time in five games. "It was a great game."
Still, Providence made a run at it. A field goal by senior guard Nick Sexton made it a one-possession game with 15 seconds left, but Carter was fouled moments later and hit both free throws to ice it.
"It felt like a step in the right direction, obviously we're disappointed that we didn't come away with the win," said Miller, whose team played without injured senior forward Zack Johnson — the Pioneers' leading scorer and rebounder. "It felt like we had a really good shot at it."
It was all New Albany early on as the Bulldogs ran out to a 7-0 lead. Providence cut it to 9-5 on a basket by Sexton at the 5-minute mark of the first quarter, but the Bulldogs remained in control. A putback by 6-foot-7 senior forward Jordan Thomas put New Albany on top 13-5 with 3:52 remaining.
Providence stayed within striking distance and trailed 16-11 after a field goal by senior forward Brennan Finnegan inside the final minute. However a 3-pointer at the buzzer by Stanton made 19-11 going into the second quarter.
If the first period belonged to the Bulldogs, the second went to the Pioneers.
A pair of free throws by Sexton and a putback by junior guard Max Beatty started a 9-1 run by Providence. A putback by junior guard Cade Carver made it 20-17 before a 3-pointer from sophomore guard Casey Kaelin tied it up.
New Albany briefly regained the lead before Beatty closed out the half with a 3 to put the Pioneers up 23-22 at the break.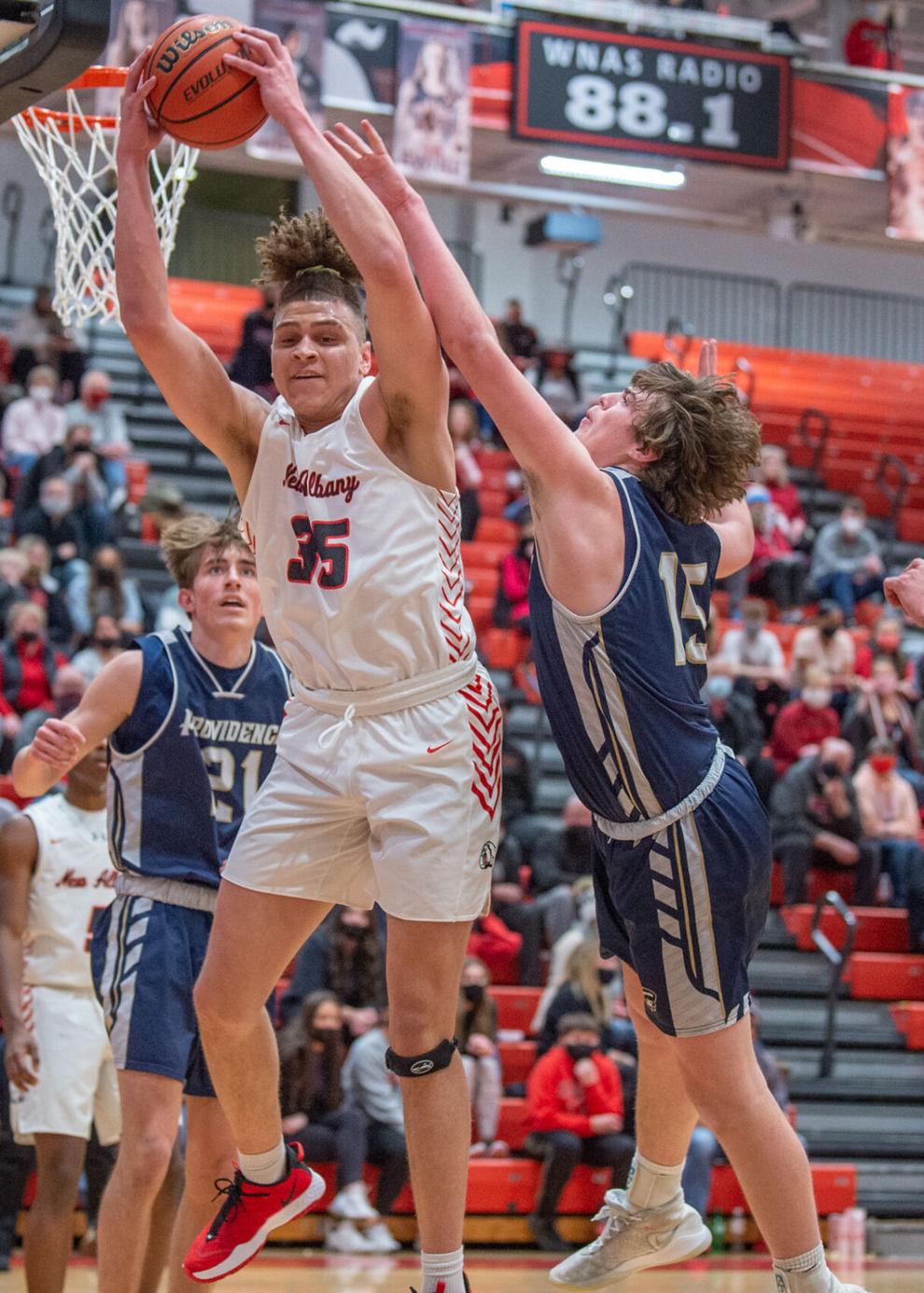 While the first half was a punch and counter-punch, the second half was a grind.
Beatty got the Pioneers rolling with another 3 to make it 26-22 before New Albany junior guard Tucker Biven answered with a fast-break dunk.
Providence led 32-31 going into the final frame.
Stanton's baseline scoring drive put New Albany on top 33-32 with 5:50 to play. Kaelin with a 3-pointer and a driving bucket to put the Pioneers on top 37-33.
"I felt like we had assumed some semblance of control there late in the fourth. In a game that close it can feel one way, but in reality it's a two possession game," Miller said.
Providence would not score again in regulation. Field goals by Carter and Stanton tied it. Those two would go on to lead the way in the extra frame
Thomas and Stanton scored 10 points apiece to lead New Albany (13-6). Providence (8-7) was paced by Kaelin and Sexton, who each scored 11 each.
"I thought Providence played hard and really well, it was a close game throughout, my hat's off to them," said Shannon, whose team lost by two points at Providence last year. "I don't think eeking out a win against Providence is anything to be ashamed of. They're a nice ball club and they always get up for us. I think they play their best basketball against us."
Both teams are back in action at 7:30 p.m. next Friday night, when Providence visits North Harrison and New Albany travels to Bedford North Lawrence.
.
NEW ALBANY 46, PROVIDENCE 41
Providence   11  12  9  5  4 — 41
New Albany  19   3   9  6  9 — 46
   Providence (8-7): Casey Kaelin 11, Nick Sexton 11, David Wall 4, Brennan Finnegan 2, Cade Carver 2, Max Beatty 8, Grant Williams 3.
   New Albany (13-6): Tucker Biven 9, Jordan Thomas 10, Elijah Sneed 2, Blake Stubbs 3, Kaden Stanton 10, Josten Carter 6, Maddox Schmelz 6.
   3-point field goals: Providence 6 (Kaelin 3, Beatty 2, Williams 1); New Albany 3 (Stubbs 1, Stanton 2).
   JV score: Providence 58-49.
.