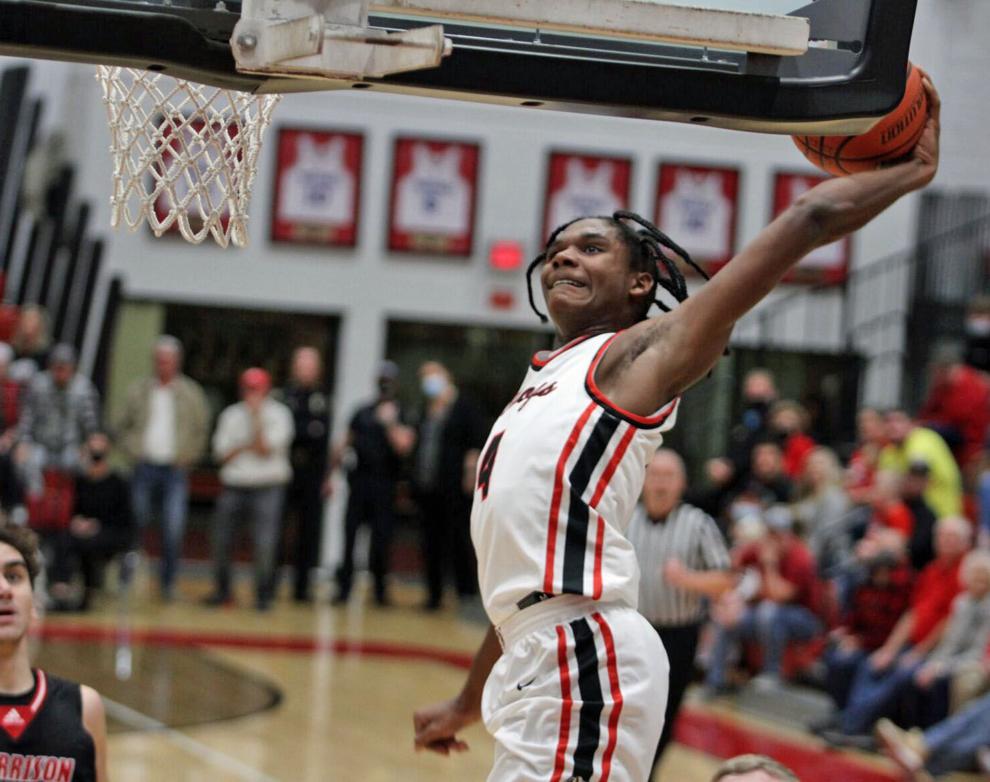 NEW ALBANY — Senior Jayden Thompson admits that there have been some growing pains with this New Albany team, which features several new faces.
Friday night, though, the Bulldogs learned a lot about themselves.
Once trailing by as many as 13 points in the first half, New Albany rallied for an exciting 61-59 victory over visiting Evansville Harrison at the Doghouse.
Thompson made a late steal, then passed ahead to Josten Carter, who was intentionally fouled by Darius Suggs with 6.2 seconds to play in a tie game.
Carter, who led the Bulldogs with 22 points, made the second of two foul shots to put the hosts on top 60-59. Then, Tucker Biven was fouled with 2.6 remaining and he made his first free throw to put New Albany up two.
After a timeout, Harrison pushed the ball down the floor, but Jerry Hooks' wild shot never had a chance and the 'Dogs secured the win.
"I knew they were going to try and go to (Johnny) Summers for the last shot," said Thompson who finished with 19 points including four second-half 3-pointers. "They needed a bucket and he's a good driver. As soon as he got the ball on the elbow I knew he was going to try and do something. He kind of put the ball behind his head, so I thought I had to go take it."
It was an uphill struggle for most of the night for New Albany (2-1), which will host Class 4A No. 2 Zionsville at 7:30 p.m. tonight.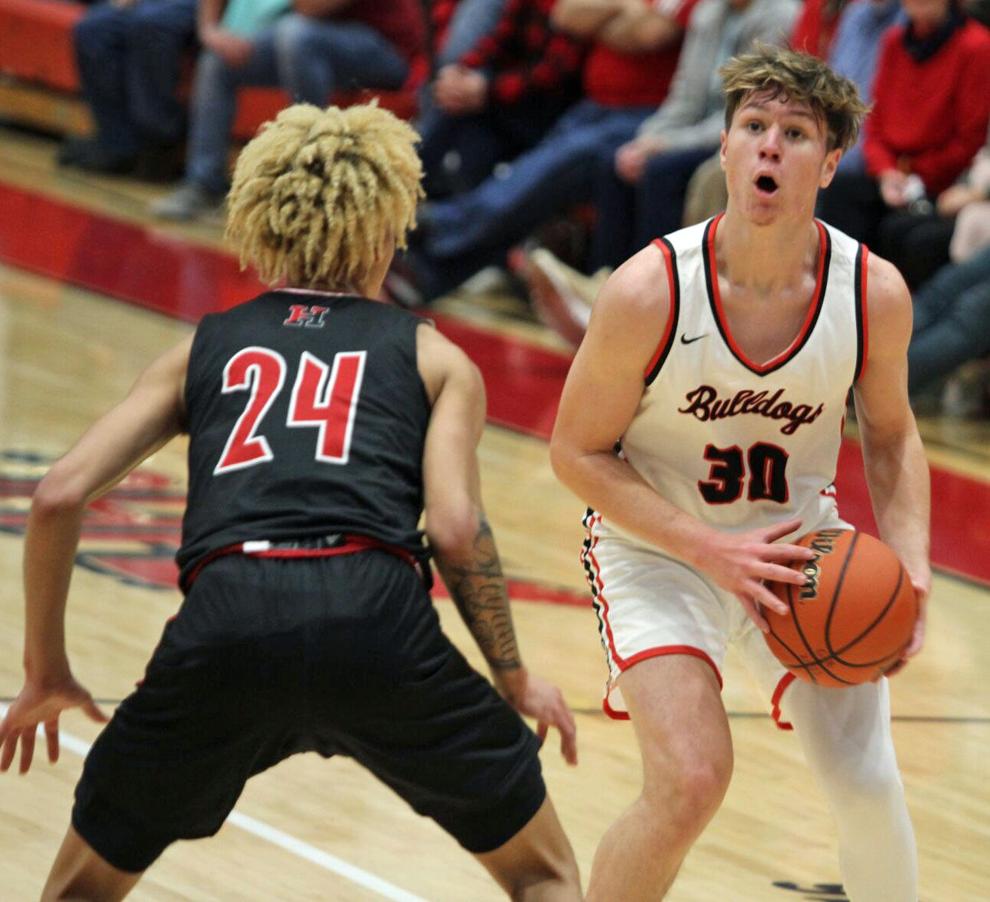 A Thompson layup and his 3 from the right side gave the Bulldogs their first lead, at 53-50, with 36 seconds left in the third quarter.
"We dug ourselves a hole," New Albany coach Jim Shannon said. "We talked at halftime about … 'We are just going to have to go back out and get ourselves back in the game.' I thought things would turn around offensively. But defensively, that was what was going to get our motors going. I thought we played pretty good defense in the second half."
Harrison jumped ahead 55-53 early in the fourth quarter, but a Thompson 3 gave the lead back to New Albany with 2:33 to play.
Suggs, who had 19 points to lead Harrison, made two foul shots and a layup after a steal for a 59-58 lead.
Harrison then decided to spread the floor and hold the ball. However after a missed shot, New Albany rebounded and Carter made the second of two free throws to tie the game at 59 with 1:25 left.
Then came the heroics by Thompson and Carter.
"He is so darn quick," Shannon said of Carter. "He gets his hands on a lot of deflections and loose balls. If he gets out ahead of people he is really hard to catch."
Thompson was happy with his team's play in the second half.
"Shoutout to my teammates," he said. "They started screening for me and I was able to hit my shots.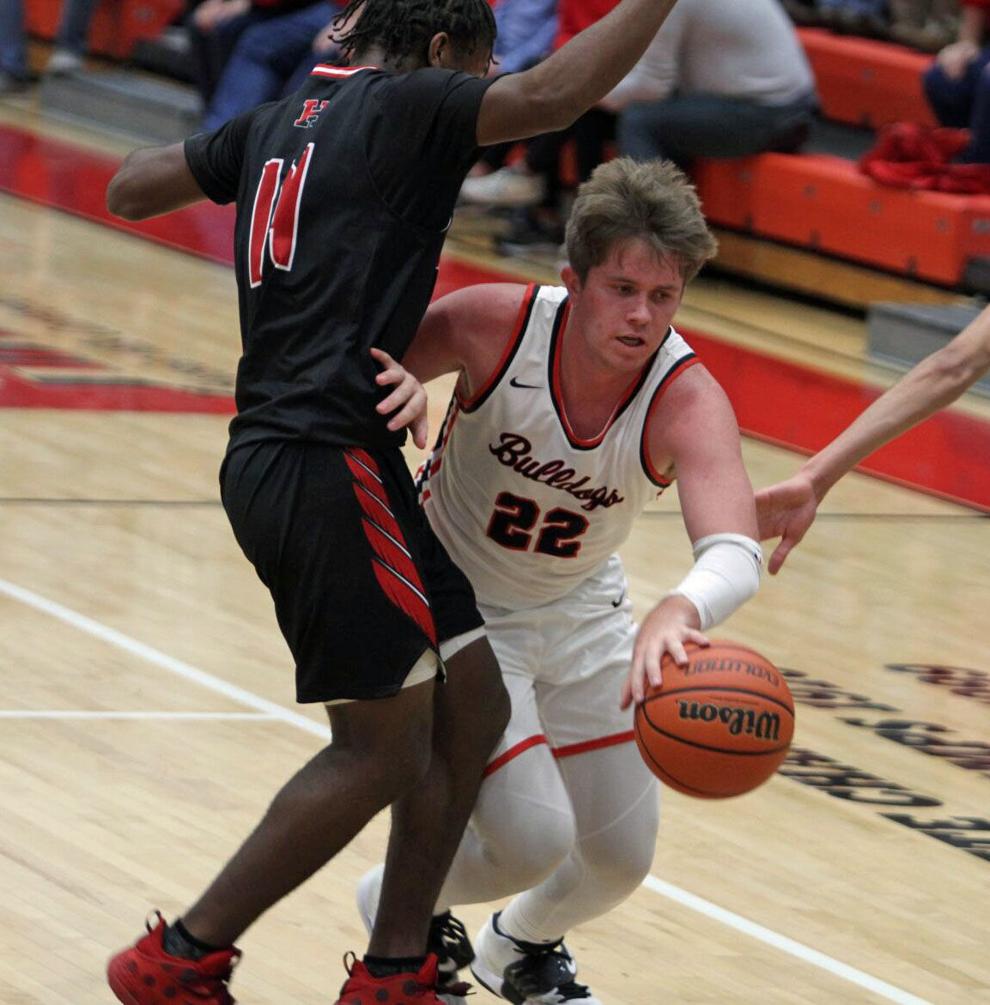 New Albany trailed 17-13 after a steal and a thunderous dunk from Harrison's Summers late into first quarter. A Dashawn Willett 3 early in the second quarter pushed Harrison to a 21-13 lead.
The 'Dogs cut the deficit to six, but the Warriors responded with seven straight points to go ahead 33-20.
The Bulldogs went on a run of their own, scoring nine straight points.
Carter, who had 18 points in the first half, had seven during the spurt as his team trailed 39-34 at the break.
"Their speed was hurting us in the first half. They hit six of 12 threes in the first half and after that they were two of 10 with us playing man," Shannon said.
Harrison had a good shooting first half making 15 of 26 from the field while New Albany was 11 of 21.
"We have a completely different team this year," said Thompson. "Everything is a little different. It was a must-win for us. I feel we faced adversity, but we stayed together."
.
NEW ALBANY 61, EVANSVILLE HARRISON 59
Harrison          19     20     11     9 — 59
New Albany     13     21     19     8 — 61
     Harrison (0-2): Dashawn Willett 7, Darius Suggs 19, Jerry Hooks 10, Johnny Summers 17, Shane Sims 6.
     New Albany (2-1): Tucker Biven 9, Jayden Thompson 19, Josten Carter 22, Jeremy Rose 3, Chase Loesch 8.
     3-point goals: Harrison 6 (Willett, Suggs 3, Summers 2); New Albany 6 (Thompson 5, Rose).
     JV score: Harrison 48, New Albany 45.