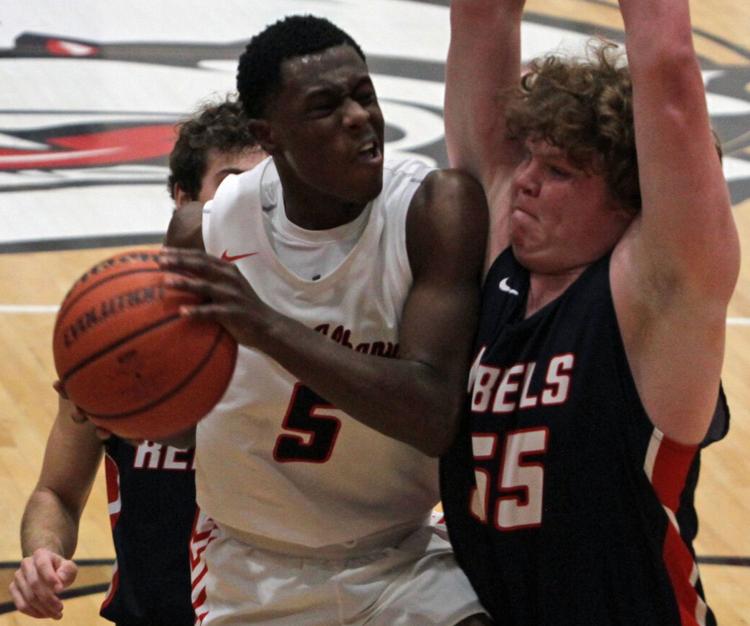 NEW ALBANY — Host New Albany notched its third straight win Tuesday night, rolling to a 79-54 victory over Class 2A No. 10 Southwestern at the Doghouse.  
The Rebels came in averaging 75 points per game, but the Bulldogs held them 21 below that mark and to a season-low point total. On the flip side, New Albany shot 58 percent from the floor, hit 10 triples and placed four players in double digits in the first-ever meeting between the two schools.
"I felt like we took good shots, for the most part, all night," said Bulldogs head coach Jim Shannon, whose team scored 25.7 points more than its season average. "We distributed the ball real well and I thought a lot of guys got involved. Jordan Thomas down low opens things up for us quite a bit. People have to respect him down there and that gives our shooters more space and the opportunity to drive. We need to play a little more inside-out, but we're working on that. For a team that has struggled at times to put up points this year, it was good to come out and have a good night of offensive production."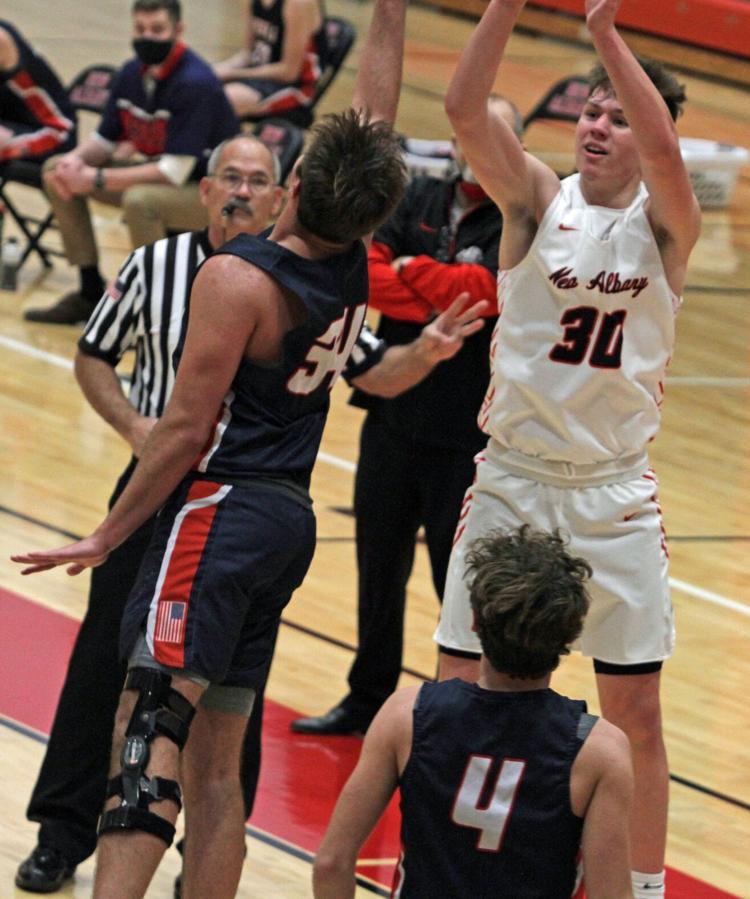 New Albany (7-3) was led by Kaden Stanton's 22 points, which included four 3-pointers. His backcourt mate, Tucker Biven, tallied 21 while Thomas added 15 and Jayden Thompson 10.
"Jordan set a couple of nice screens early that got me open and I started to feel good and my shots just kept going in," said Stanton, who started hot with 11 points in the first quarter.
While Stanton dominated the first half, Biven took care of things in the latter two periods. New Albany's leading-scorer poured in 13 in the third frame, including two from downtown.
"Kaden and I feed off of each other and I feel like we were clicking everywhere tonight," Biven said. "We were making the extra pass when needed and got good looks, and the shots usually went in tonight."
After a back-and-forth opening frame, the hosts dished out a 19-6 run to start the second stanza and forge a 34-19 lead. Southwestern battled back, though, to trim the Dogs' advantage to 39-27 at the break.
The third period, though, was all New Albany. 
Powered by Biven, the Dogs placed six players in the scoring column and pushed their lead to 64-43 heading to the fourth quarter.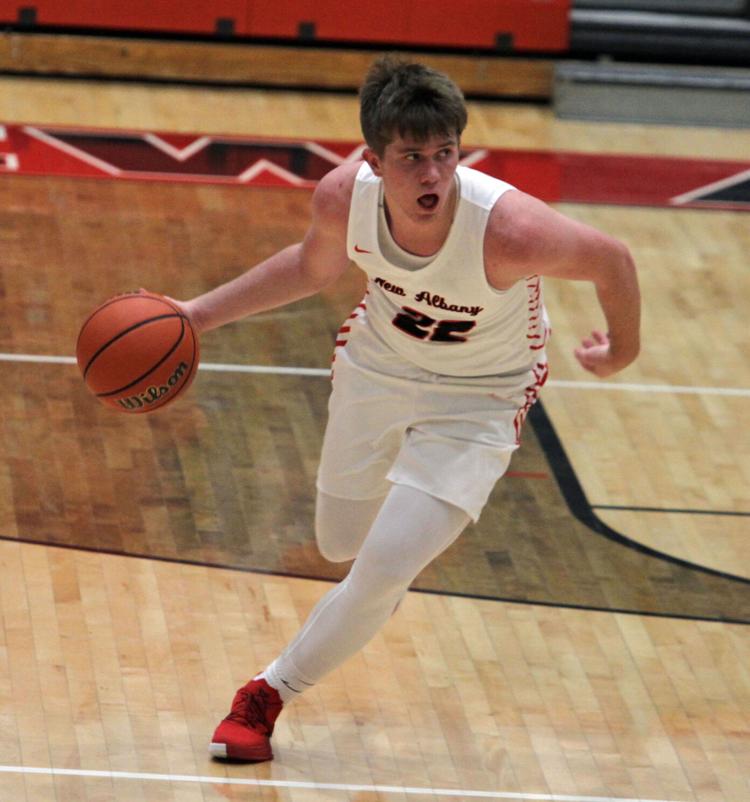 "Everyone on the floor for us can shoot," Stanton said. "Maybe people haven't seen all of our guys knock down shots, but everyone can and we're going to share the ball to get it to the open man."
New Albany's vaunted defense keyed on the Rebels' shooters all night. Southwestern managed just 4 of 18 shooting from beyond the arc — a number that put a smile on Shannon's face.
"I think our perimeter defense was really good chasing them off the three," he said. "I think we gave up too much penetration, but I think they're averaging 70-some points per game so holding them below their average was nice to see."
The COVID-19 season continues to make things strange for Indiana high school basketball. Half of the bleachers were pushed back at the Dog House, as attendance was limited to the players' families.
"The guys have handled this situation really well," Shannon said. "I don't think the kids, or our coaching staff, is coming into games feeling any different than if there's people in the bleachers. We're coming with the same amount of intensity and we expect the kids to play well, just like any year. The competition between the black lines should still be the same."
The Dogs are back in action Friday night, when they will host Madison at 7:30 p.m. in a Hoosier Hills Conference clash.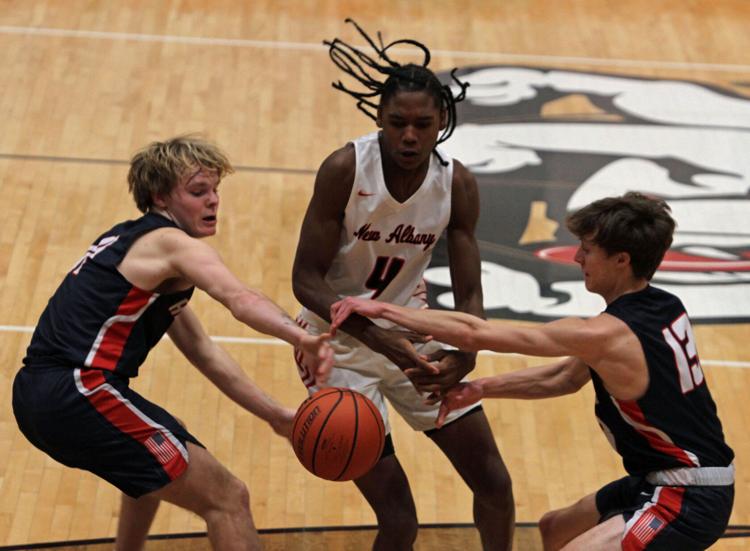 . 
NEW ALBANY 79, SOUTHWESTERN 54
Southwestern     13     14     16     11 — 54
New Albany         15     24     25     15 — 79
     Southwestern (9-2): Austin Kramer 13, Foster Mefford 13, Colton Cloud 2, Billy Eccles 2, Zach Cole 10, Parker Davis 7, Matthew Williams 7.
     New Albany (7-3): Kaden Stanton 22, Maddox Schmelz 7, Tucker Biven 21, Jayden Thompson 10, Jordan Thomas 15, Caleb Daily 2.
     3-point field goals: Southwestern 4 of 18 (Kramer 3, Mefford); New Albany 10 of 23 (Stanton 4, Schemlz, Biven 2, Thompson 2, Thomas).
     Rebounds: Southwestern 24, New Albany 9.
     Turnovers: Southwestern 11, New Albany 30.
     Field-goal shooting: Southwestern 21 of 50, New Albany 32 of 55.
     Free-throw shooting: Southwestern 8 of 10, New Albany 5 of 6.
     JV score: New Albany 69-48.