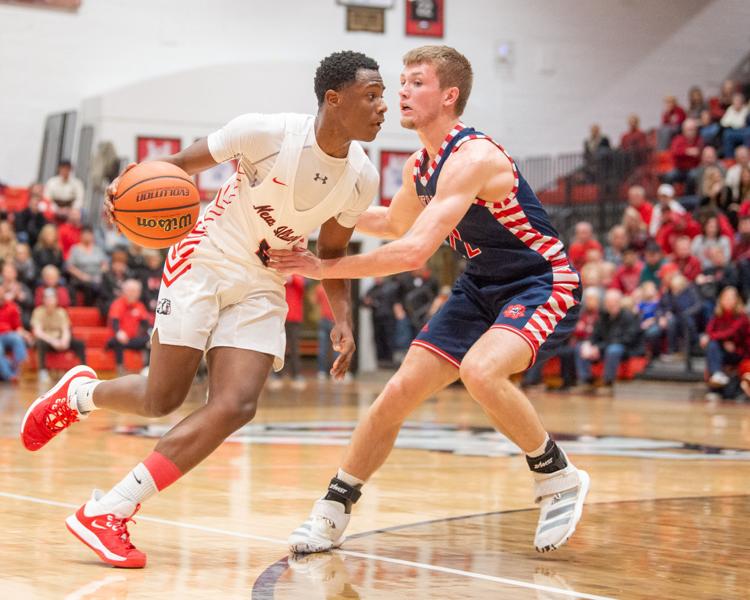 NEW ALBANY — New Albany played spoiler in a hotly-contested Hoosier Hills Conference race Friday evening at the Doghouse.
Sophomore Kaden Stanton poured in 21 points, the Bulldogs shot 50 percent from 3-point range and were plus-11 on the free throw line as they battled their way to a 44-41 win over Bedford North Lawrence. The Stars had a chance to take the lead with less than a minute remaining, but New Albany held off standout Brayton Bailey and BNL on the way to its 11th straight win in the series.
The Stars (14-9, 5-2) entered needing a win to secure at least a share of the conference title. As many as four teams can now clinch a share of the crown. Both New Albany (13-8, 5-2) and BNL can nab a share if Jeffersonville (16-5, 5-1), which has clinched at least that, loses its conference finale against Madison on Tuesday. Floyd Central (14-6, 4-2), too, can clinch a share with a Jeff loss Tuesday and a win over Columbus East on Wednesday.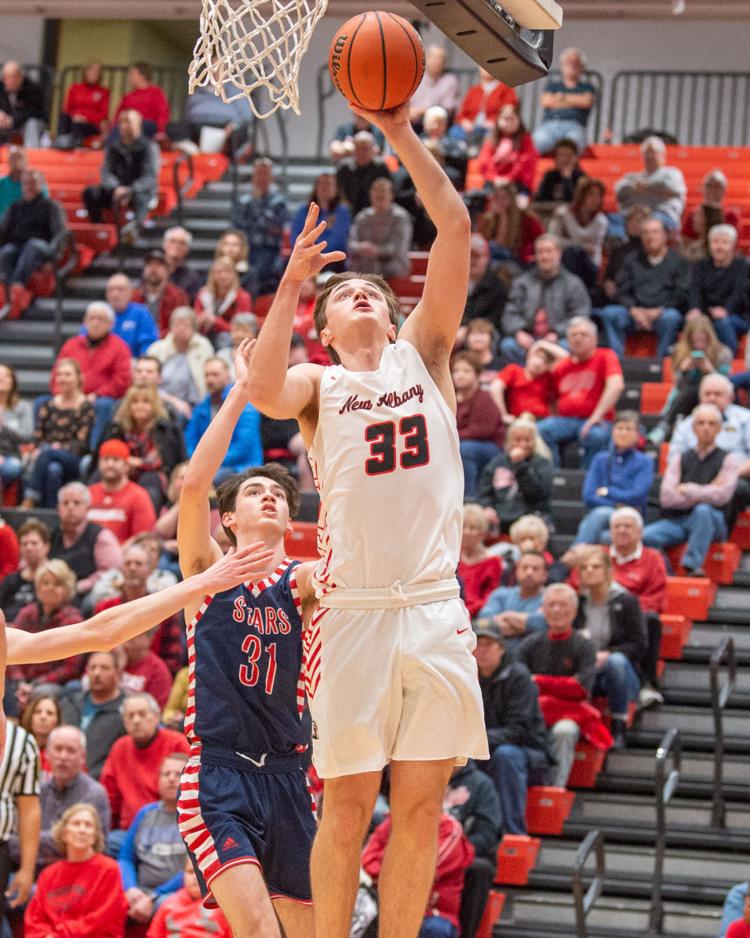 New Albany is searching for at least a share of the title for the 18th time, most in conference history. BNL has won 12 titles, good for second most.
"They're strong," New Albany coach Jim Shannon said of the Stars. " … They had extra incentive. Because if they win, they can't do any worse than tie for the conference championship. Obviously, we were just out to do what we could to play our best game and have at least a chance for the conference championship. … I was very pleased with the effort tonight."
Stanton hit six of his 10 shots and made all six of his free throw attempts. He had nine points in the final quarter. Classmate Tucker Biven added 10 points for the 'Dogs.
"I'm like, 'You have to look at the hoop, and you've got to go score for us — be a threat. And he did," Shannon said of Stanton. "Early he did. He can't go away. He's got to keep plugging away and looking for shots. … He and Tucker both looked at the rim enough to win tonight. And [Maddox] Schmelz hit some big threes."
Bailey had 19 points to lead the Stars, who shot 50 percent but turned it over 10 times, eight in the first half. After a 10-point third quarter, Bailey was held scoreless in the fourth.
"It was the zone, the zone hurt him," Shannon said. "We had thought about going to it earlier. When he got on a roll there where he hit, I think he hit, gosh, three or four in a row, we had no answer for him. … He's just a load to handle. The zone forced everybody to be helping. … When we went to it, we were able to keep Brayton from getting as many shots. He was killing our man-to-man defense in the third.
"I'd still much rather somebody else beat us than him. Because he will beat you. He'll beat you with two or three people hanging on him. He's just that good."
BNL missed its first two field-goal attempts and turned the ball over three times before its first points less than midway through the period. Stanton's first 3-pointer gave New Albany an 11-5 lead and his second of the quarter made for a 16-9 lead with 1:20 showing. The Stars turned it over five times in the first but went 4-for-6 from the floor.
The Bulldogs opened up a nine-point lead to begin the second quarter, but despite eight first-half turnovers, Kooper Staley's 3-pointer brought BNL within 18-14 with 2:31 left. A buzzer-beating jumper from Bailey inched the Stars within 20-17 at half.
Stanton had 12 points on 4-for-7 shooting while Bailey paced BNL with nine points on 4-for-6 shooting. The Stars shot 7-for-13 in the first half, to New Albany's 6-for-13 clip. The Bulldogs managed just four points on four shots in the second. They turned it over three times.
Schmelz's first of two third-quarter 3-pointers extended the lead to six to begin the second half. The second upped that advantage to 33-23 midway through. The Bulldogs, after a 2-for-4 second quarter, began the third 5-for-6 from the floor. Still, Bailey was a force for the visitors, racking up 10 points in the quarter as New Albany took a 33-29 lead into the fourth.
Stanton's third 3-pointer, with 6:14 remaining, made for a 36-29 lead, and that margin held at 42-35 after a pair of Biven free throws with three minutes left. In wake of a defensive stop, Biven missed a pair of free throws on the ensuing possession, which jump-started a BNL run. Back-to-back 3-pointers had the Stars within 42-41 with 1:23 left.
A turnover gave BNL a chance to take the lead on the ensuing trip. There was no question who the play would be drawn up for, and it appeared Bailey would have a lane to the rim, but Schmelz's on-ball defense led the Stars' standout into Trey Hourigan, who altered his shot and forced a miss. Stanton hit two momentum-swinging free throws after being fouled on the following possession.
BNL twice called timeout as it had a chance to tie with 11.5 seconds remaining, ultimately culminating in an attempt to trick Julien Hunter, who wasn't face-guarding the in-bounder. Still, the senior nabbed it away to secure the win.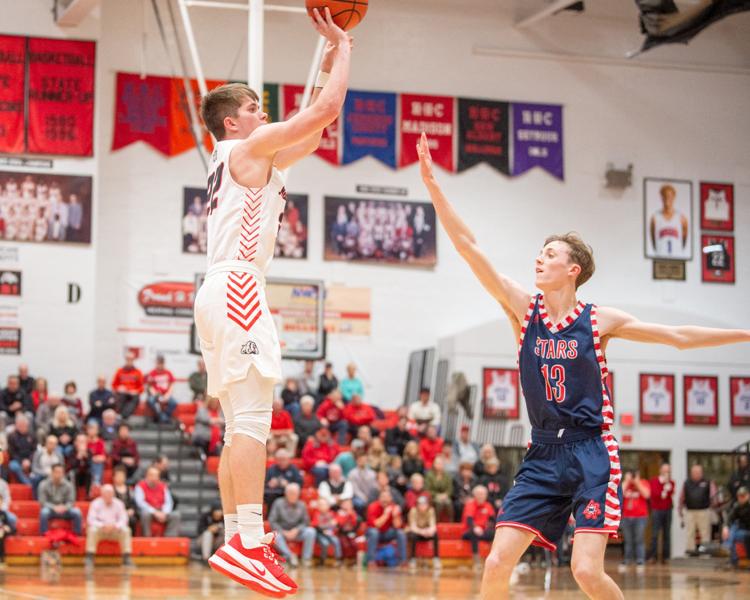 "I knew they were trying to get a three … I did not want to foul, because they're smart," Shannon said. "Especially if Bailey were to get the ball. I know if I say, 'Foul!' We'd foul and he'd still get a shot off."
New Albany closes out its season with matchups at Evansville Central (3-16) tonight and at Bloomington South (17-4) next Friday. With a pair of wins, the Bulldogs would secure at least 15 victories for the seventh consecutive season. BNL concludes its regular season next Friday at Corydon Central.
A presentation honoring New Albany senior athletes took place prior to Friday's matchup. The Bulldogs boast a pair of seniors on their boys' basketball roster in Hunter and Hourigan. Several additional New Albany seniors and programs were honored.