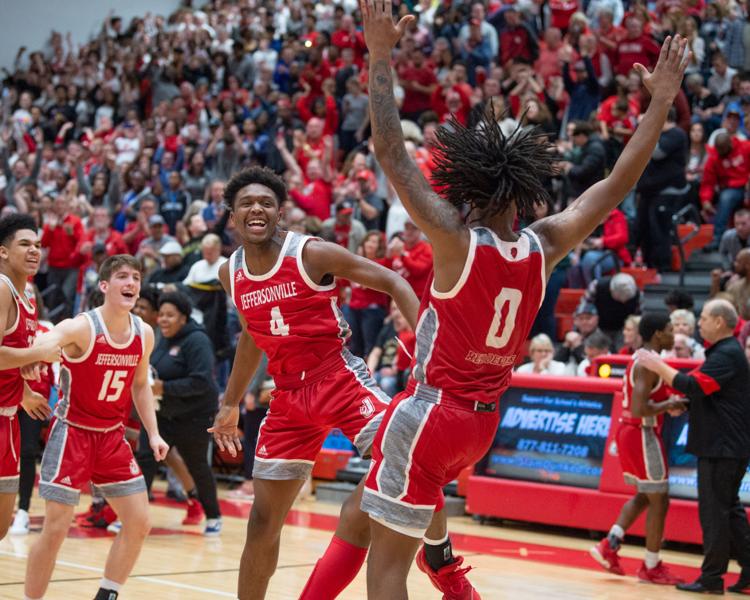 NEW ALBANY — Tre Coleman threw down a thunderous dunk and Will Lovings-Watts came through with one too. 
Those two slams bookended Jeffersonville's dominance in overtime, when the Red Devils outscored New Albany 9-2 en route to a 59-52 triumph Friday night in a big-time Hoosier Hills Conference clash. The victory was Jeff's third in a row in the long-running series between Southern Indiana heavyweights and its first in the Doghouse in eight years. 
"Any road win is sweet," first-year Red Devils coach Chris Moore said. "I was proud of all those guys … they found a way to finish and grind-it-out and I'm happy about that. That's a good team, that's a damn good team, we're lucky to get out of here with a win. Chances are we're going to see them again."
Senior point guard Jacob Jones led a balanced Jeff attack, scoring 15 points before fouling out in overtime. Lovings-Watts and Darin Starks, a former New Albany player, added 13 points apiece while Coleman contributed 11 in spite of foul trouble that kept him on the bench for a lengthy stretch in the second half. 
Tucker Biven tallied a game-high 19 points to pace the Bulldogs (6-5, 1-2). 
New Albany was in control most of the first half. Biven's 3 put the Bulldogs on top 16-8 late in the first quarter. The Red Devils (8-4, 2-0) rallied with an 11-2 run, taking their first lead on Jones' layin with 4 minutes, 28 seconds to play in the second period. However, New Albany answered by outscoring Jeff 9-3 to end the half and take a 27-22 lead the locker room. 
Trey Hourigan's jumper 23 seconds into the second half put the Dogs up seven, but the Red Devils responded with a 9-0 run. Lovings-Watts scored on a spin move, Coleman converted an old-fashioned three-point play, Jones hit a bank shot and Caleb Mason scored off a steal to put Jeff ahead 31-29. Hourigan's three-point play on the other end gave the lead back to New Albany, but it was short-lived. Lovings-Watts scored inside moments later to take the lead back for the Devils. They kept it for almost all of the remainder of regulation. 
Jeff led by seven late before Biven scored seven straight in the final 1:25. He hit a trio of free throws with 39 seconds left that sent the game into overtime.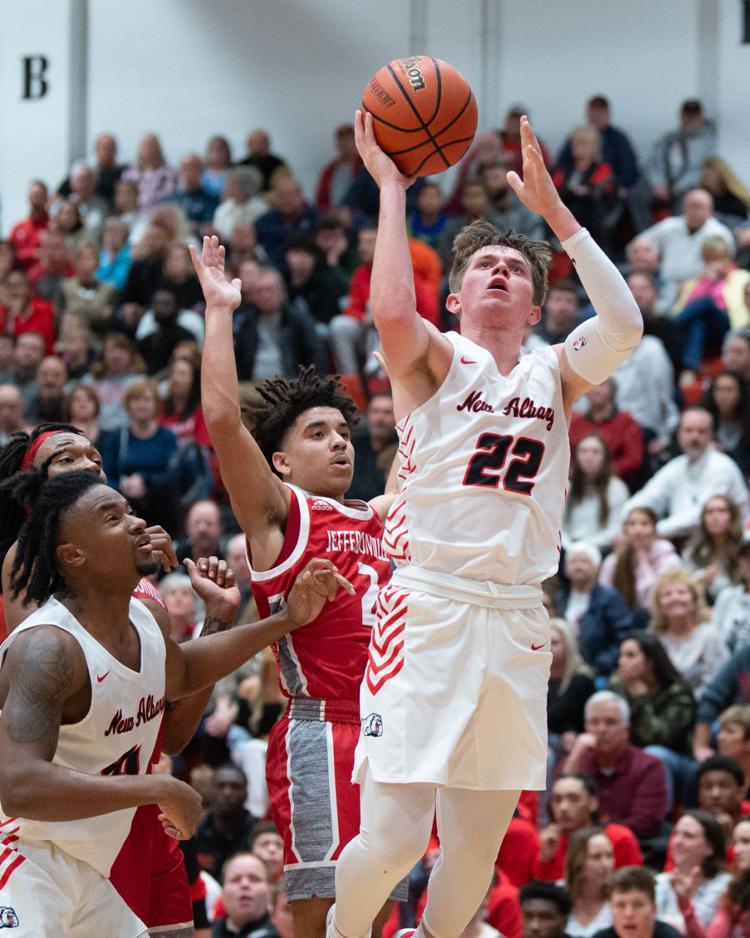 In OT both teams came up empty on their first two possessions before Coleman caught a high-low pass from Lovings-Watts, broke to the basket and threw down his dunk. 
"I was actually in warmups and somebody told me, he said, 'I got you 50 [dollars] if you dunk on somebody,'" Coleman recalled afterward with a smile. "I said, 'Bet.'" 
Added Moore: "It was a great high-low post feed from Will, it's something we've worked on. Unfortunately it took them 36 minutes to finally look for a high-low, but I'll take it." 
After Coleman rebounded a Biven miss on the other end, Jeff expanded its lead to four on Kobe Stoudemire's two free throws with 1:22 to play. 
Biven then missed a front end of a one-and-one situation before Coleman found reserve Bryan Smithers wide open underneath the basket for a layup. 
Biven ended New Albany's dry spell with a driving layin with 32 seconds left before Starks hit 1 of 2 free throws. Moments later, after a Dogs turnover, Lovings-Watts threw down his dunk. 
"We came out fighting harder, I think we just wanted it more," Coleman said. 
Hourigan added 16 while Jordan Thomas tallied 10 off the bench for New Albany.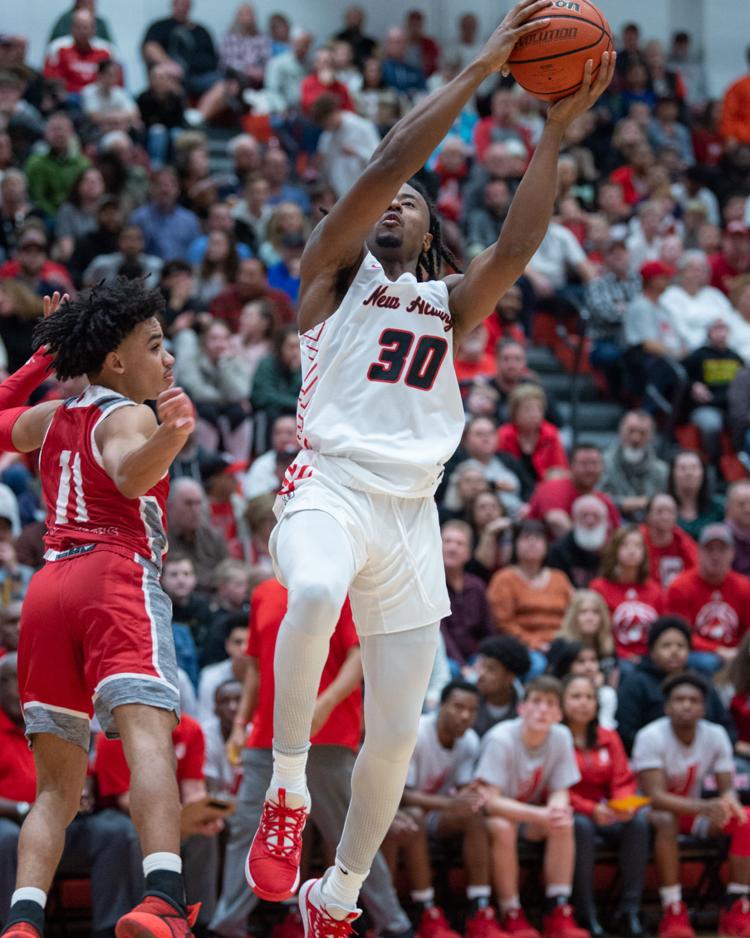 "I tried to tell our guys when we were older a few years ago, and Jones and these guys were younger, and we were putting it on them pretty good [that this was coming]," Bulldogs coach Jim Shannon said. "I think they feel like it's their turn because they're older now. Coleman's a senior, Jones is a senior, I mean those guys, they want it, and I don't blame'em because we gave it to them pretty good a few years ago. I was telling our guys 'We've just got to keep it close and maybe we'll have a chance at the end.' And that's what we did tonight. So hey, we'll be better here in the next six or eight weeks.
"All in all I'm not disappointed, I'm not discouraged, because I thought our kids played really hard, battled a really good team, really one of the state's finest and we were right there. The ball bounces here or there a different way, maybe a couple more free throws here or there, you never know what might happen." 
Jeff is back in action at 7:30 p.m. Saturday night, when it hosts Class A No. 10 Christian Academy. New Albany plays at Madison next Friday.