JEFFERSONVILLE — Host Jeffersonville had nearly erased a 15-point deficit against archrival New Albany in Friday's Hoosier Hills Conference clash before Tucker Biven took charge.
The junior guard scored the last seven points of the third period to boost the Bulldogs to a 49-37 win at Johnson Arena.
Behind 22 points from Biven, New Albany (6-3, 3-0) snapped a three-game losing streak to the Red Devils (2-3, 0-1). However, it was the defense of Maddox Schmelz and Jayden Thompson that New Albany coach Jim Shannon made note of after the contest.
Those two held Jeffersonville's high-scoring junior duo of Will Lovings-Watts and Brandon Rayzer-Moore, who entered averaging nearly a combined 50 points per game, to just 17.
"To me those kids were the stars of the game," Shannon said. "I can't say enough about how they responded to that challenge."
Biven's four-point play with four minutes left in the third quarter gave New Albany a 30-17 lead and capped a 10-0 run to start that frame. The Bulldogs' advantage continued to grow from there.
New Albany's lead was 40-25 just seconds into the fourth after Josten Carter nailed a 3-pointer from the baseline. The Red Devils, though, responded with a 12-0 run that was capped by a steal and layup from reserve guard Jered Tyson that cut the deficit to 40-37 with four minutes remaining.
But that was as close at Jeff would get.
New Albany scored the last nine points of the contest, with Biven notching the last seven on a 3-pointer and four consecutive free throws.
Jeffersonville coach Andrew Grantz said he was pleased with the way his squad battled back, but was less happy with the Devils' shot selection and impatience on offense.
"I didn't like our shot selection," he said. "I didn't think we executed our offense past our first action. I think we were impatient and didn't get our shots in rhythm because we didn't execute past the first action of our offense."
The Red Devils only made 2 of 11 3-point attempts in the first half as they trailed 20-17 break.
"I think we stood and if we didn't get our immediate action out of our set … they hung off and backed off certain players, and we fell in love with jump shots, which is exactly what they wanted us to do," Grantz said. "I'm frustrated because we talked about that all week in practice."
"It's one thing with a young group — three of which have extensive varsity experience — to do the right thing in practice, and it's another to do it in a rivalry game. We're going to learn from this and get better."
For New Albany, the win marked the second consecutive victory following a three-game losing streak. Shannon said the way the Red Devils battled back reminded him of a decision the Bulldogs dropped to Blackford in late December, but that he was happy his squad showed the grit to turn back Jeffersonville's challenge.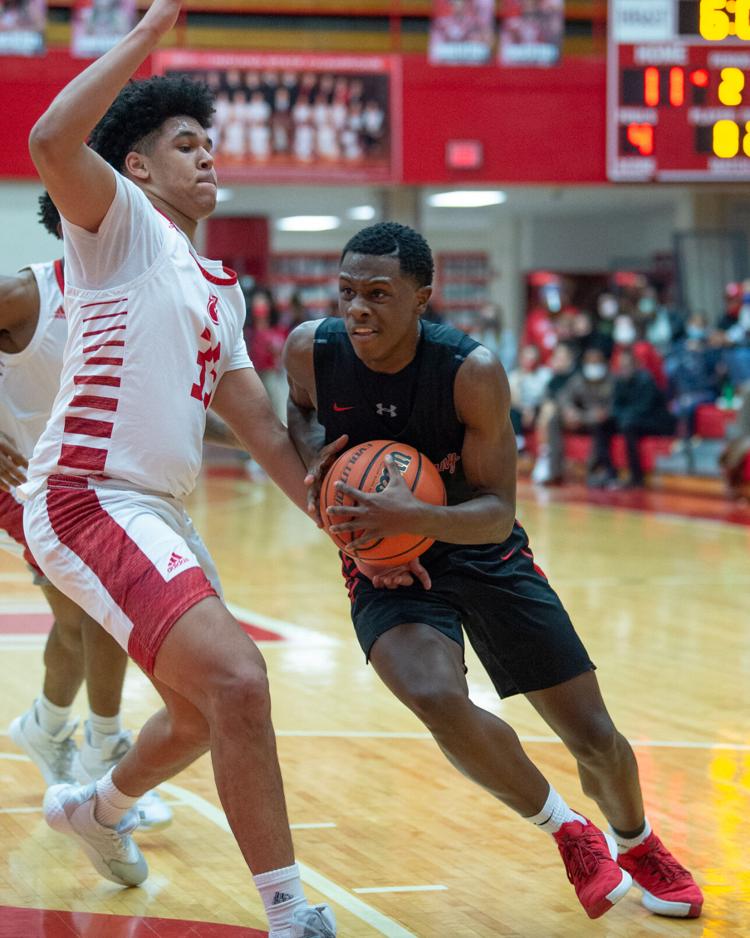 "Really, the only game I felt where we weren't competitive was against Zionsville, but those three losses came to three really good teams," he said. "And we had a nine-point lead against Blackford, but they're really good. We've got to learn not to panic at the end of these games. I think we did a little bit of that tonight, but we were able to pull it out. We have a lot to work on yet."
Kaden Stanton finished with 14 points for New Albany.
Jeffersonville was led by Kobe Stoudemire's 11 points while Lovings-Watts, who entered averaging 25.5 points, tallied 10.
The Red Devils are back in action at 7:30 p.m. tonight at Christian Academy.
The Bulldogs, meanwhile, next host Southwestern at 7:30 p.m. Tuesday night.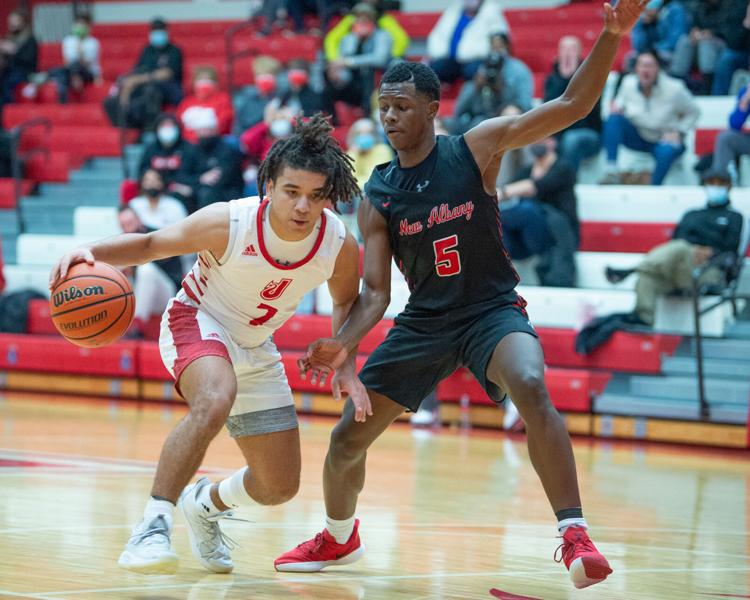 .
NEW ALBANY 49, JEFFERSONVILLE 37
New Albany   13  7  12  17 — 49
Jeffersonville 11  6   8  12 — 37
   New Albany (6-3, 3-0): Josten Carter 4, Kaden Stanton 14, Tucker Biven 22, Jayden Thompson 4, Maddox Schmelz 2, Jordan Thomas 3.
   Jeffersonville (2-3, 0-1): Tavian Palmer 2, Will Lovings-Watts 11, Kobe Stoudemire 11, Bryan Smithers 1, Brandon Rayzer-Moore 6, Michael O'Brien 2, Jered Tyson 4.
   3-point field goals: New Albany 10 (Biven 5, Stanton 4, Carter); Jeffersonville 5 (Stoudemire 3, Lovings-Watts, Rayzer-Moore).